skin care concerns
Skin Renewal Series: The Bottom Line on Fine Lines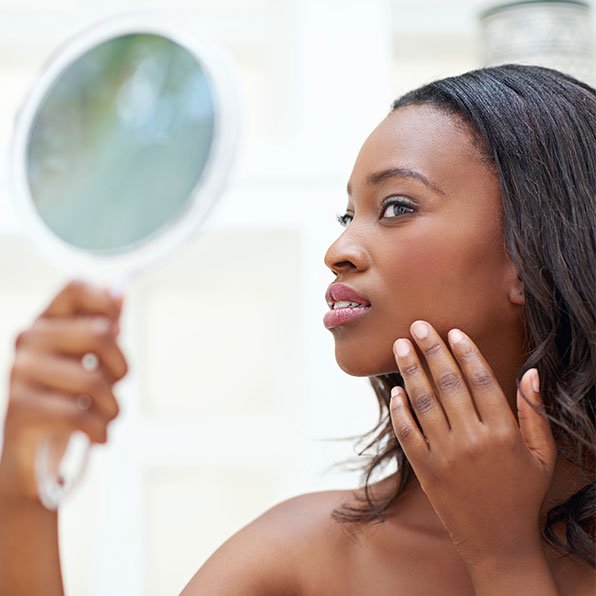 Fine lines are thin folds of the skin that are more obvious at first in the corners of your eyes, across your forehead, around your mouth and in-between your eyebrows. While they may not be as deep set as wrinkles, fine lines are one of the first typical signs of skin aging.
You can experience fine lines on an intrinsic level, simply due to the normal passage of time, and on an external one. Environmental, or external, skin aging can be a reflection of your lifestyle. Fine lines are provoked by smoking, drinking and sun exposure, but can also appear due to repetitive facial expressions and an overall lack of moisture. For most, though, the sun is typically the main culprit when it comes to the development of fine lines. The sun's rays kill and break down your skin's natural collagen and elastin, two skin fibers that keep skin plump and youthful-looking, and doesn't allow cells to produce more. In general as you age, this production slows down on its own too, so when combined with sun exposure you skin can be further weakened and become more prone to the development of fine lines.
As you continue to stress the areas of your skin where collagen and elastin formation has already decreased you skin will be more likely to fold and dip, creating the fine lines. Fine lines will eventually turn into wrinkles, but you can slow down the process. Pay attention to the areas that are already showing signs of aging and protect your skin against further external damage.
Fine lines skin renewal tip # 1: Apply and reapply SPF.
Sun exposure really is the root cause of fine lines for many, especially if you have a lighter complexion. The sun wears down your skin's natural fibers that keep it plump and full, making the skin more likely to fold and form lines. Women with darker complexions may first notice sun or dark spots before fine lines, but this simple rule still stands for everyone: Sun protection is your most important anti-aging step. Look for a day cream like,
Age Perfect® Cell Renewal* Day SPF 15 Cream,
which offers broad-spectrum protection and is formulated with LHA to help stimulate surface skin renewal.
Fine lines skin renewal tip # 2: Cleanse in the morning and at night.
Washing your face of dirt, oils and sweat that buildup throughout your day and while you sleep is essential. In order for your anti-aging products to work, they have to have a clear pathway through your pores. Try double cleansing at night, this simply means that first you concentrate on removing your makeup and then you focus on cleansing your skin in general. It is important to remember though, that you should not over-cleanse by washing your face too often or too harshly. This can strip your skin of its natural oils that it needs to stay hydrated. Look for a cream cleanser like,
Age Perfect® Nourishing Cream Cleanser,
which will help skin appear more soft and smooth.
Fine lines skin renewal tip # 3:
Moisturize with an anti-wrinkle cream that has pro-retinol A, hyaluronic acid or peptides. Anti-aging products can't stop time, but they can slow down how long that fine line will take to become a wrinkle. So, be sure to moisturize while your skin is still damp after cleansing to sufficiently replenish and hydrate your skin. Look for a night cream like
Age Perfect® Hydra-Nutrition Golden Balm,
which is formulated with 8 essential oils to nourish and hydrate dry skin.
It really can be simple to slow down the early sign of skin aging by protecting and taking care of your skin a bit more carefully.
Discover more tips & tricks
Keep your skin happy
See all articles
Shop Featured products
Discover More