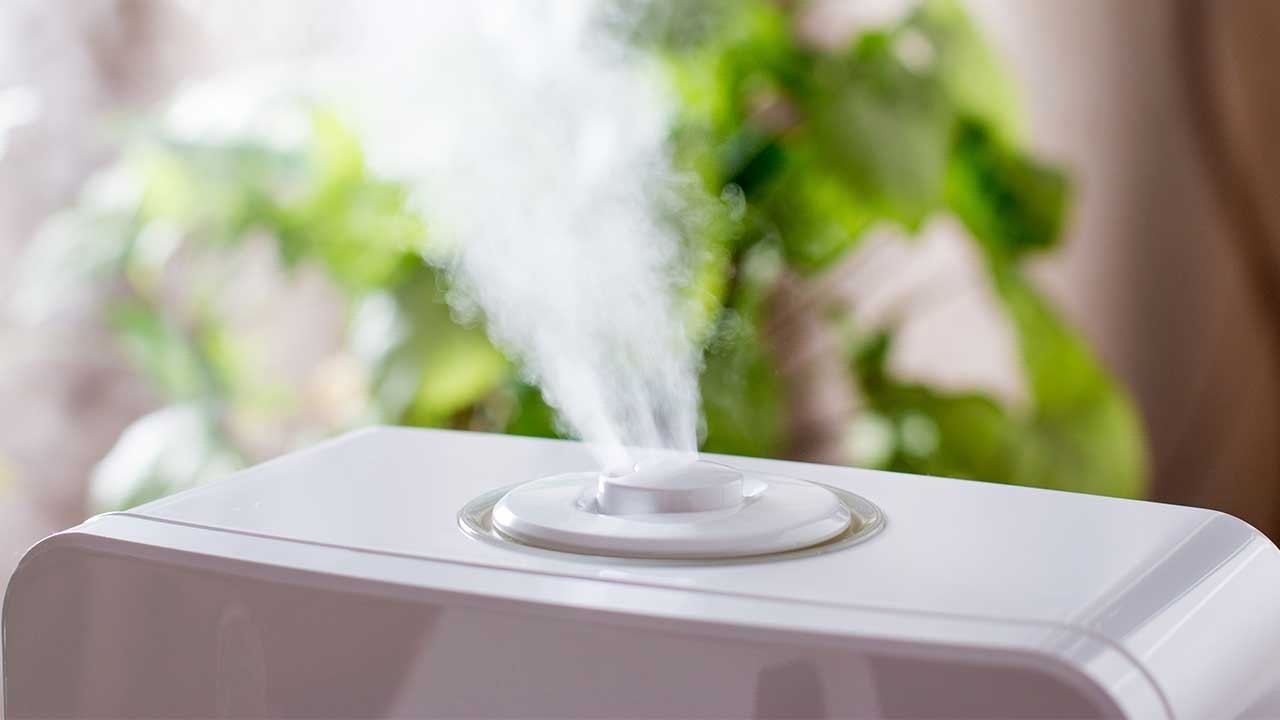 When you have dry skin, it's super important to keep your complexion hydrated. Of course, sometimes that's easier said than done. The good news is that there are some steps you can add to your skin care routine to help care for dry skin—and one of those is taking advantage of humidifier benefits. Yep, really! If you've found yourself wondering what the benefits of using a humidifier are, you've come to the right place. Here, find out what a humidifier actually does, how one can help to alleviate dryness, and other beauty tips you can add to your skin care routine for dry skin.
WHAT DOES A HUMIDIFIER DO?
A humidifier, as you can probably guess, creates a more humid atmosphere through the emission of steam. You can use a humidifier to help add moisture to the air, per the American Academy of Dermatology, which is particularly useful in the cold fall and winter months when the air tends to be drier.
HOW A HUMIDIFIER BENEFITS SKIN
Does your skin look and feel extra dry during the cold, dry winter months? This seasonal change is caused by the dry air that goes hand in hand with cold weather. Of course, you may also experience weather-related dryness in the summer—particularly if you live in a dry climate or spend a lot of time in the air conditioning—which means a humidifier can be beneficial year-round. So, consider setting one up in your bedroom for some dry skin relief!
6 OTHER DRY SKIN TIPS
While one of the top humidifier benefits is adding moisture back into the air—which may help ease some of your dryness—you won't want to rely on a humidifier as your sole defense against dryness. If you experience dry winter skin, follow these six additional tips.
DRY SKIN TIP #1. USE A GENTLE CLEANSER
When you have dry skin, gentleness is key. That means you may want to stay away from foaming cleansers. Instead, opt for micellar water, a no-rinse cleansing option that doesn't require any harsh rubbing. The L'Oréal Paris Micellar Cleansing Water Complete Cleanser - Normal to Dry Skin hydrates and soothes. It's powered by tiny micelles—oil molecules—that act like a magnet to lift dirt and oil up and away from the skin. All you have to do is saturate a cotton pad with the micellar water, then wipe the pad across your face.
DRY SKIN TIP #2. PICK THE RIGHT MOISTURIZER
We get it: We probably sound like a broken record at this point, but moisturizing is essential! If you have dry skin, you should look for a moisturizer that's designed for your specific skin type. Try the L'Oréal Paris Hydra Genius Daily Liquid Care - Extra Dry Skin. Extra dry skin has a very fragile skin moisture barrier that can easily be damaged by external factors such as pollution and UV rays. Skin consequently loses its ability to retain moisture, which means that it can become dehydrated and feel tight and uncomfortable. This water-based moisturizer is formulated with hyaluronic acid and aloe vera water to help provide long-lasting hydration and comfort.
DRY SKIN TIP #3. AND APPLY IT TO DAMP SKIN
It's not only about using the right moisturizer—it's about how you apply it. Help lock in hydration by slathering your face lotion onto damp skin post-cleansing.
DRY SKIN TIP #4. SKIP THE HOT WATER WHEN YOU WASH YOUR FACE
Speaking of cleansing, wash your face in lukewarm water, since super-hot water can strip your skin of essential oils and leave you feeling even drier.
DRY SKIN TIP #5. DON'T FORGET ABOUT THE REST OF YOUR BODY
It's not just your face that needs love. Taking lukewarm showers is also a good idea. Once you're out of the tub, apply a hydrating body lotion before drying off. Pay particular attention to areas that may be excessively dry, such as your elbows, knees, and feet.
DRY SKIN TIP #6. WEAR A RADIANT FINISH FOUNDATION
When your skin is on the dry side, it can often look dull. While moisturizing will certainly help, you may want to give your skin a more radiant look with makeup too. When it comes time to apply your makeup (after completing your skin care routine), reach for a foundation with a radiant finish, like the L'Oréal Paris Infallible Pro-Glow Foundation.
Happy humidifying and hydrating! Next up, learn the 14 Skin Care Rules for Dry Skin Types.
{ "@context": "https://schema.org/", "@type": "WebPage", "speakable": { "@type": "SpeakableSpecification", "cssSelector": ["speakable-content"] }, "url": "https://www.lorealparisusa.com/beauty-magazine/skin-care/skin-care-concerns/skin-care-benefits-of-using-a-humidifier" }
Discover more tips & tricks
See all articles
Shop Featured Skin Care products
Discover More
{ "@context": "http://schema.org", "@type": "BreadcrumbList", "itemListElement": [ { "@type":"ListItem", "position": 1, "item": { "@id": "/", "name": "Home" } } , { "@type":"ListItem", "position": 2, "item": { "@id": "https://www.lorealparisusa.com/beauty-magazine", "name": "Beauty Magazine" } } , { "@type":"ListItem", "position": 3, "item": { "@id": "https://www.lorealparisusa.com/beauty-magazine/skin-care", "name": "Skin Care For Every Age" } } , { "@type":"ListItem", "position": 4, "item": { "@id": "https://www.lorealparisusa.com/beauty-magazine/skin-care/skin-care-concerns", "name": "Skin Care Concerns" } } , { "@type":"ListItem", "position": 5, "item": { "@id": "https://www.lorealparisusa.com/beauty-magazine/skin-care/skin-care-concerns/skin-care-benefits-of-using-a-humidifier", "name": "skin-care-benefits-of-using-a-humidifier" } } ] }