skin care concerns
The Moisturizing and Priming Combo For Dull Skin
October 09, 2020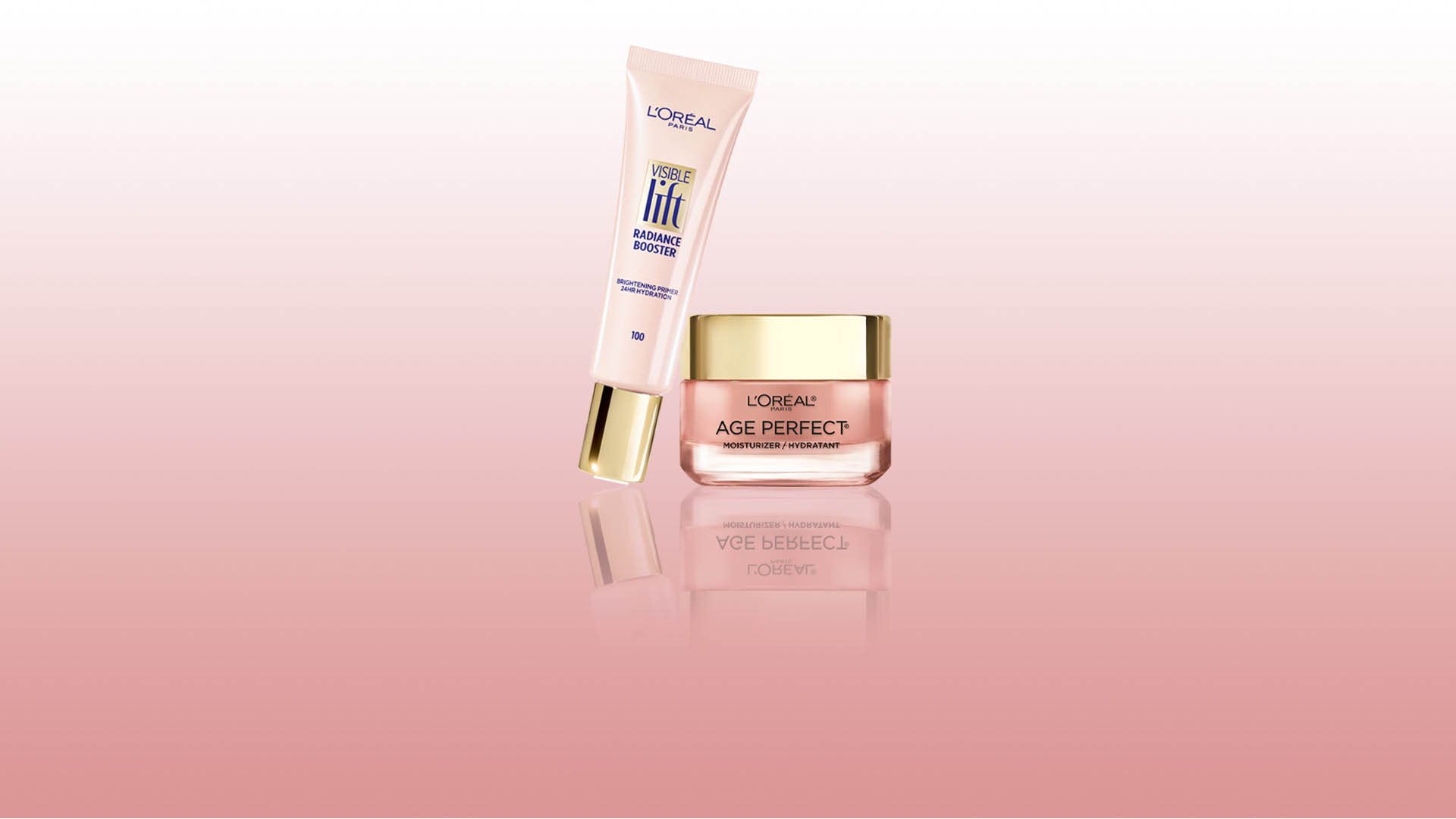 If your complexion looks a little lackluster these days, don't let dullness get you down. When it comes to dull-looking skin, it's all about finding skin care and makeup products that can help brighten the look of your complexion. Here, find a moisturizing primer and cream combo that's perfect for dull-looking skin. Then, find a makeup routine for dull complexions to match. From moisturizer to hydrating primer and foundation to blush, we've got you covered. Shine bright!
TRY THIS MOISTURIZER + PRIMER COMBO IF YOU HAVE DULL-LOOKING SKIN
When it comes to dull-looking skin, reach for products that can help brighten the look of your complexion. Try this two-step routine:
STEP #1: GRAB YOUR MOISTURIZER
For your moisturizer, you'll want to use a formula that will revive the look of your complexion. The L'Oréal Paris Age Perfect Rosy Tone Moisturizer for Mature, Dull Skin is an intense daily moisturizing cream for mature skin. The moisturizer has a formula enhanced with rosy pigments to help revive your complexion's rosy tone. It also gently exfoliates dead skin cell buildup on the surface, which could be responsible for a dull look. The rich, non-greasy formula smooths gently over the skin to help nourish it, while the rosy pigments help create the appearance of a youthful complexion. Every morning, smooth the moisturizer gently onto your face in a circular motion after cleansing.
STEP #2: APPLY YOUR PRIMER
Whether you're planning to rock a bare-faced beauty look or you want to create a smooth base for the rest of your makeup, use the L'Oréal Paris Visible Lift Radiance Booster. This hydrating primer helps instantly brighten for a radiant finish. What's more, it's designed to smooth and even the look of skin and provide long-lasting hydration. Plus, its formula is infused with nourishing oils and is lightweight and non-greasy. Use the moisturizing primer alone or under makeup to help create a smooth, illuminated base.
YOUR COMPLETE MAKEUP ROUTINE FOR DULL-LOOKING SKIN
If you want to wear more than just a primer on your face, we've got you covered with a makeup routine for banishing dullness.
1. APPLY FOUNDATION
Once you're done applying your primer, move on to foundation. The L'Oréal Paris Infallible Pro-Glow Foundation will give your complexion medium coverage with a hydrating glow. Apply it with the L'Oréal Paris Infallible Blend Artist Foundation Blender. Place a small amount of foundation onto the tip of the blender, then use the rounded edge to dab the foundation onto your skin. Bounce the blender over your face until your foundation has a seamless finish, then you're ready to move onto the next step.
2. REACH FOR CONCEALER
If you have visible signs of aging around your eyes or simply didn't get enough sleep, apply the L'Oréal Paris Infallible Full Wear Concealer Waterproof, Full Coverage under your eyes to help create the look of brightness. This full coverage concealer has a transfer-, sweat-, and water-resistant formula. You can also use the concealer to cover up any other imperfections that may be visible through your foundation. Just remember when it comes to concealer, a little goes a long way.
3. COLOR YOUR CHEEKS
Fake a youthful-looking flush with, you guessed it, blush. Dust the L'Oréal Paris Age Perfect Makeup Radiant Satin Blush with Camellia Oil—which has a creamy, ultra-blendable texture—onto the apples of your cheeks with a big, fluffy makeup brush. This blush is available in six pretty shades ranging from deep berry to popping marigold—there's something for everyone! Choose the shade that best suits your skin tone, and you'll be good to glow.
4. SPRITZ TO SET
Use the L'Oréal Paris True Match™ Lumi Shake & Glow Dew Mist to lock in (and enhance) your glowing look. Its formula is infused with quenching coconut water and brightening vitamin C, so you'll also be doing your skin a favor when you spritz. A few quick sprays and you can officially call your makeup look complete.
Next up: You're officially a dewy-skinned goddess! But just in case you want more in the way of glowing skin tips, here are 10 Easy Ways To Get Glowing Skin.
Discover more tips & tricks
Keep your skin happy
See all articles
Shop Featured Skin Care products
Discover More