skin care concerns
This Men's Face Wash Could Be the Secret to Better Skin
June 12, 2020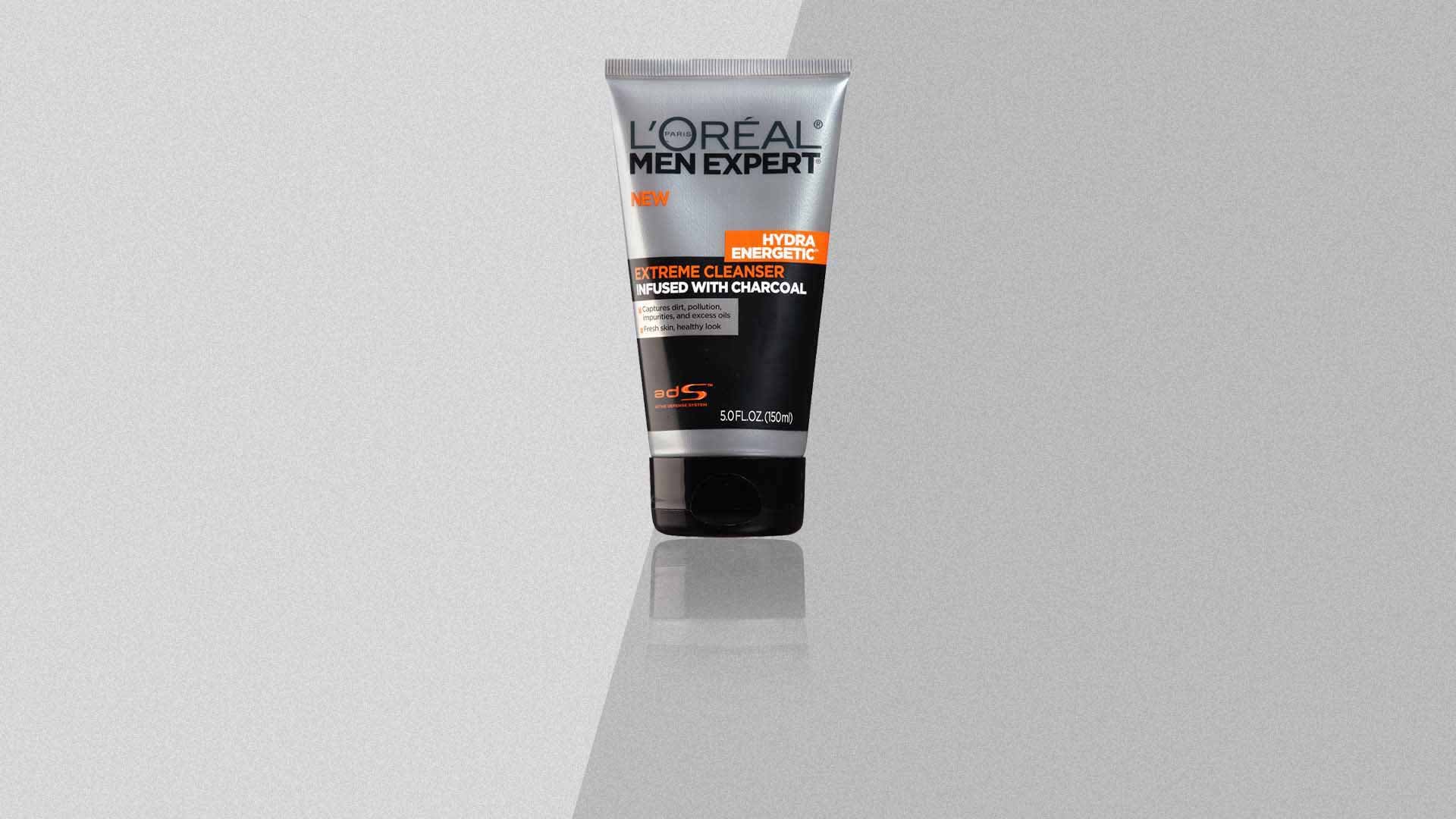 Let's be real for a sec—searching for the best face wash for men can be a challenge. After all, when you walk down the skin care aisle, it seems as though nearly every product is geared toward women. While cleanser isn't necessarily a gender-specific product, seeking out a men's face wash can help you find one with a scent you like and a formula that suits your needs. But how do you narrow down your options? If you need some guidance, allow us to point you toward our best face cleanser for men. Below, we're sharing all the details on our L'Oréal Paris face wash for men, plus a step-by-step men's skin care routine, so you can put it to use!
OUR BEST FACE WASH FOR MEN
Without further ado, allow us to let you in on a little secret and introduce you to our best face cleanser for men, the L'Oréal Paris Men Expert Hydra Energetic Extreme Cleanser Infused With Charcoal. This charcoal-infused cleanser fights the five problems caused by daily city grime: oily skin, dirt, stickiness, dullness, and clogged pores. Our face wash for men eliminates impurities and excess oils for a fresh, healthy look. Sounds like just what we all need.
HOW TO USE OUR BEST FACE WASH FOR MEN
With intros out of the way, let's talk about how to use this men's face wash. It's as simple as one, two, three—plus a bonus step.
STEP #1. CLEANSE YOUR FACE
As with any skin care routine, you'll want to start by washing your face. So, reach for your men's face wash and get to work! Apply the charcoal cleanser onto wet skin and gently massage concentrating on the forehead, nose, and chin. Rinse thoroughly with lukewarm water. Ah, squeaky clean!
STEP #2. REACH FOR AN EYE CREAM
Next, give the delicate skin around your eyes some extra love with an eye cream, like the L'Oréal Paris Men Expert Hydra-Energetic Ice Cold Eye Roller. This refreshing formula helps with signs of fatigue like dark under-eye circles and puffiness. The lightweight serum also absorbs quickly, so you can move right along with your routine. Simply roll on around the eye area and pat any excess formula in with your finger.
STEP #3. SMOOTH ON MOISTURIZER
Now that your eye area has been replenished with hydration, turn your attention to the rest of your complexion. That's where the L'Oréal Paris Men Expert Vita Lift SPF 15 Anti-Wrinkle & Firming Moisturizer and L'Oréal Paris Men Expert Vita Lift Anti-Wrinkle & Firming Moisturizer come in. In the morning, opt for the former, which contains SPF 15 for broad-spectrum UVA and UVB protection.
Both moisturizers are formulated to help reduce wrinkles and sagging skin while firming up the face and neck. To use either, squeeze a dime-size dollop of product into the palm of your hand. Then rub between your palms and apply it to your face.
Editor's note: Plan on shaving? To care for your skin post-shave, apply the L'Oréal Paris Men Expert Hydra Energetic After Shave Balm, which helps soothe skin from redness, razor burn, and excessive dryness. You can apply this balm all over your face in lieu of the above.
BONUS STEP: APPLY BEARD CREAM
While this step doesn't pertain to everyone, it's one worth mentioning! If you have a beard, you'll want to make sure the skin beneath it—and your beard itself—is hydrated, too. Enter the L'Oréal Paris Men Expert 3-Day Beard Moisturizer. This hydrating beard softener and vitamin E face cream leaves skin feeling energized and keeps your facial hair in its best condition for that signature scruffy look. Simply apply on clean skin and beard in the morning or evening.
WHEN TO WASH YOUR FACE
Let's do a quick check before we wrap things up: Do you wash your face enough? Just because you've done the work of finding the best men's face wash for your skin, doesn't mean you can get away with only using it on occasion. Just like everyone else, you should be cleansing your face every day, twice a day. Keep your face cleanser for men in the shower if it helps you be more consistent!
Next up: Let's talk about your hair. Here are 7 Hair Care Tips for Men.
Discover more tips & tricks
Keep your skin happy
See all articles
Shop Featured Skin Care products
Discover More