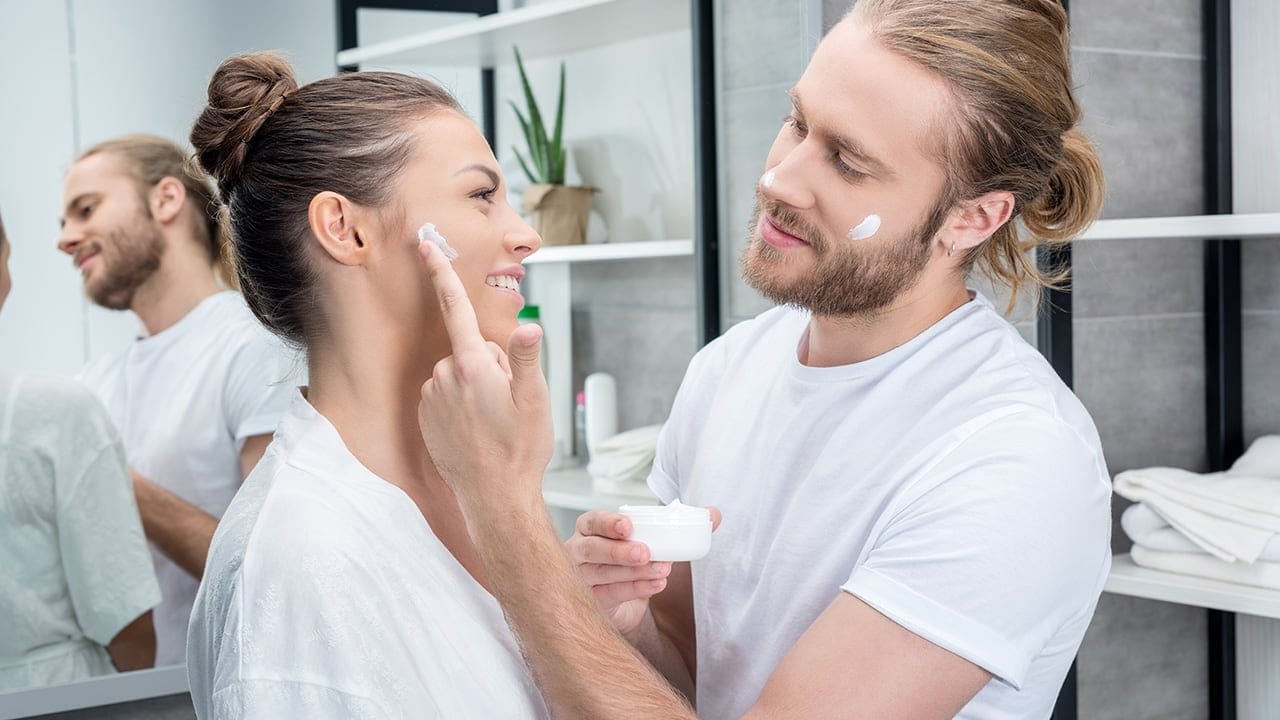 anti aging
Valentine's Day Skin Care: How to Prep Your Skin for Date Night
When you think of Valentine's Day, you likely think of your special someone and all of the ways you want to shower them with love—and you probably also think about wanting to look your best. While you'll surely stun your honey with your ever-evolving beauty, you can also ensure you feel great about yourself by encouraging youthful-looking, beautiful skin. Whether you're celebrating a budding love or a life-long romance, wow them with your beautiful skin with the help of a few skin care products worthy of your Valentine's Day skin care routine.
Valentine's Day Skin Care Tip #1: start fresh with Micellar water
Every skin care routine should start with clean skin, and micellar water is the perfect way to achieve just that. Micellar water will act like a magnet to lift dirt and oil up and away from your skin while hydrating it at the same time. Some cleansers can exacerbate dryness even further and be harsh on your skin, but micellar water will get your skin clean without drying it out. Take your pick from the L'Oréal Paris Micellar Cleansing Water Complete Cleanser Waterproof - All Skin Types.
Valentine's Day Skin Care Tip #2: bring back your natural blush
Remember when you were first falling in love and your sweetie would bring a natural flush to your cheeks? Well, you can achieve a similar effect with the right moisturizer. That's right, your V-day moisturizer should not only replenish and protect your skin, but it should also enhance your complexion's natural glow and beauty. The L'Oréal Paris Age Perfect Cell Renewal Rosy Tone Moisturizer is a moisturizer for mature skin that's formulated with rosy pigments to encourage the revival of your skin's beautiful, blushed tone.
Valentine's Day Skin Care Tip #3: practice self-care with a face mask
While you want to express your love to your significant other on Valentine's day, it's also important to show yourself a little TLC. When looking for the perfect mask, search for one that will leave your skin with a healthy glow. After all, who wouldn't want to appear radiant for date night? Try the L'Oréal Paris Pure-Clay Detox & Brighten Face Mask. This face mask formula provides a luxurious experience with three pure clays and charcoal to draw out and capture deep impurities such as dirt, oil, and pollution. After your masking session, your skin will look brighter with a healthy glow.
Valentine's Day Skin Care Tip #4: prep your pout
Get sweet, kissable lips with a lip scrub! After all, what's Valentine's Day without a little smooching? Take your pick from the L'Oréal Paris Pure-Sugar Resurface & Energize Kona Coffee Scrub, L'Oréal Paris Pure-Sugar Nourish & Soften Cocoa Scrub, L'Oréal Paris Pure-Sugar Smooth & Glow Grapeseed Scrub, or L'Oréal Paris Pure-Sugar Purify & Unclog Kiwi Scrub.
Valentine's Day Skin Care Tip #5: brighten up
Encourage a natural, youthful glow by exfoliating with a glycolic acid peel pad. This simple skin care step can boost your brightness—seriously, with just a few simple swipes, this pre-soaked peel pad will work to gently dissolve dry, dead skin cells that can build up on skin's surface and block your skin's natural glow. Try the L'Oréal Paris RevitaLift Bright Reveal Brightening Daily Peel Pads to see what we're talking about.
Valentine's Day Skin Care Tip #6: address skin care concerns
Serums are our favorite method of tackling skin care concerns since they feature potent formulas that target various concerns. Get the look of smooth, bright skin with the help of a vitamin C serum like the L'Oréal Paris RevitaLift Derm Intensives 10% Pure Vitamin C Serum. This serum is formulated with 10% pure vitamin C to restore a healthy radiance to your skin and reduce wrinkles.
Discover more tips & tricks
Keep your skin happy
See all articles
Shop Featured Skin Care products
Discover More