anti aging
The How, When and Whys of Micellar Water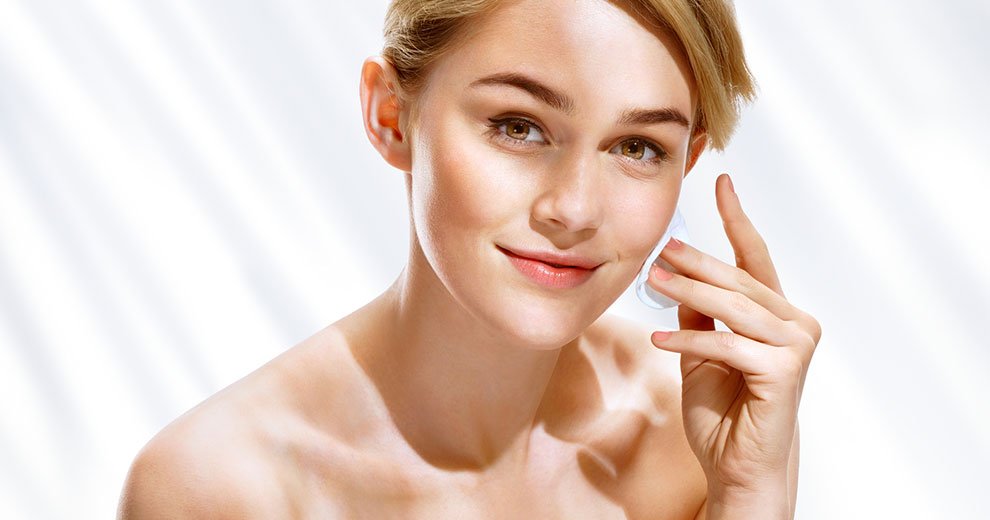 If you've been keeping track of the skin care trends, then you've surely heard of micellar water. While the name may sound familiar, do you know what it is, how it works and why you should use it? It's easy to ignore some of the skin care fads that come and go since there are so many – but micellar water is one that is here to stay – and actually worth a try too.
What is Micellar Water?
Micelles, super-small, fatty oil bubbles, are suspended in soft water, treated water that typically won't contain calcium, magnesium and other metal cations. Typical water from your tap is described as hard water—an unfiltered water with a high mineral content. The alkaline pH of hard water can actually disrupt the optimal pH balance of your skin, says
Skincare.com
. And hard water can actually contribute to some skin care concerns like breakouts, dryness, and sensitivity. Micellar water formulas act like magnets to attract makeup, oil and dirt off and away from the skin, so you can cleanse . These no-rinse cleansers are suitable for all skin types, even sensitive skin, because its formula is free of oil, soap, and alcohol.
Now that you understand what micellar water formulas actually are, get some tips on how to find the best one for you.
Find the Right Micellar Water for Your Skin Type:
Micellar water option #1: L'Oréal Paris Micellar Cleansing Water Normal to Oily Skin.
This micellar water purifies and mattifies the surface of your skin and removes makeup. It delivers a gentle, yet effective clean to those who typically experience oily skin.
Micellar water option #2: L'Oréal Paris Micellar Cleansing Water Normal to Dry Skin.
Great for overall dryness, this micellar water formula hydrates and soothes your skin, removes makeup and cleans dirt and impurities. Unlike traditional cleansers, it won't dry out your skin in the process.
Micellar water option #3: L'Oréal Paris Micellar Cleansing Water All Skin Types.
Get an intense clean and remove makeup – even waterproof mascara – with this micellar water formula that is super gentle on your skin, whether it's oily, dry or normal.
Use Micellar water in the morning and at night in three easy steps:
Step #1: Shake well.
Step #2: Saturate a cotton pad.
Step #3: For Eye makeup removal: Hold pad over closed eyes for a few seconds then gently wipe to remove residue.
All over face: Gently wipe pad over skin until skin is completely clean.
Micellar water will simply air dry, follow up this cleansing step with your regular day or nighttime moisturizing skin care products.
Use micellar ways in more ways than one:
Cleanse with micellar water in the morning:
Your skin can build up sweat and oil while you sleep. So, even if you cleansed your skin at night before bed – which you always should – your skin can still be in need of a refresh when you wake. Micellar water can offer a quick and gentle way to get clean skin in the morning.
Remove makeup with micellar water at night:
Micellar water can also be used as a multi-tasking cleansing product at night, removing makeup and cleansing your skin at the same time. Sometimes, makeup can be difficult to remove entirely, leaving you to harshly rub your skin. This gentle formula can remove makeup without all that tugging and scrubbing. If you are strictly removing your makeup with micellar water, be sure to focus on the areas of your face with makeup, including your eye area.
Touch up your face and clean away smears:
If you want to quickly freshen up your daytime makeup for a night out, consider rinsing away parts of your makeup with micellar water. Instead of washing your entire face, you can wash away midday smears with the targeted help of micellar water. It can also act as an eraser when you make a mistake when applying makeup; when applied to a Q-tip, micellar water can remove and fine tune makeup mistakes that may occur when applying eye liner, mascara or even lipstick.
Cleanse with micellar water while traveling:
Since micellar water requires no water to dampen the skin or rinse with, it makes it a great cleansing option to take with you when you are on a plane or on-the-go. Simply pack it in your purse of carry-on along with a cotton pad or two and you can freshen up your skin practically anywhere, anytime.
Use micellar water after a workout:
It's important to clean your skin after a workout so that sweat won't mix with oil and clog your pores. But, cleansing too many times throughout the day can dry out your skin. Micellar water eliminates that worry, as these formulas hydrate and cleanse at the same time.
This multi-tasking skin care product has made its mark in the skin care world and for good reason. Make it a part of your skin care routine, after all, a skin care product that can clean skin, remove makeup and hydrate skin is one worth at least giving a try!
Discover more tips & tricks
Keep your skin happy
See all articles
Shop Featured Skin Care products
Discover More