anti aging
6 Tell-Tale Signs of Aging Skin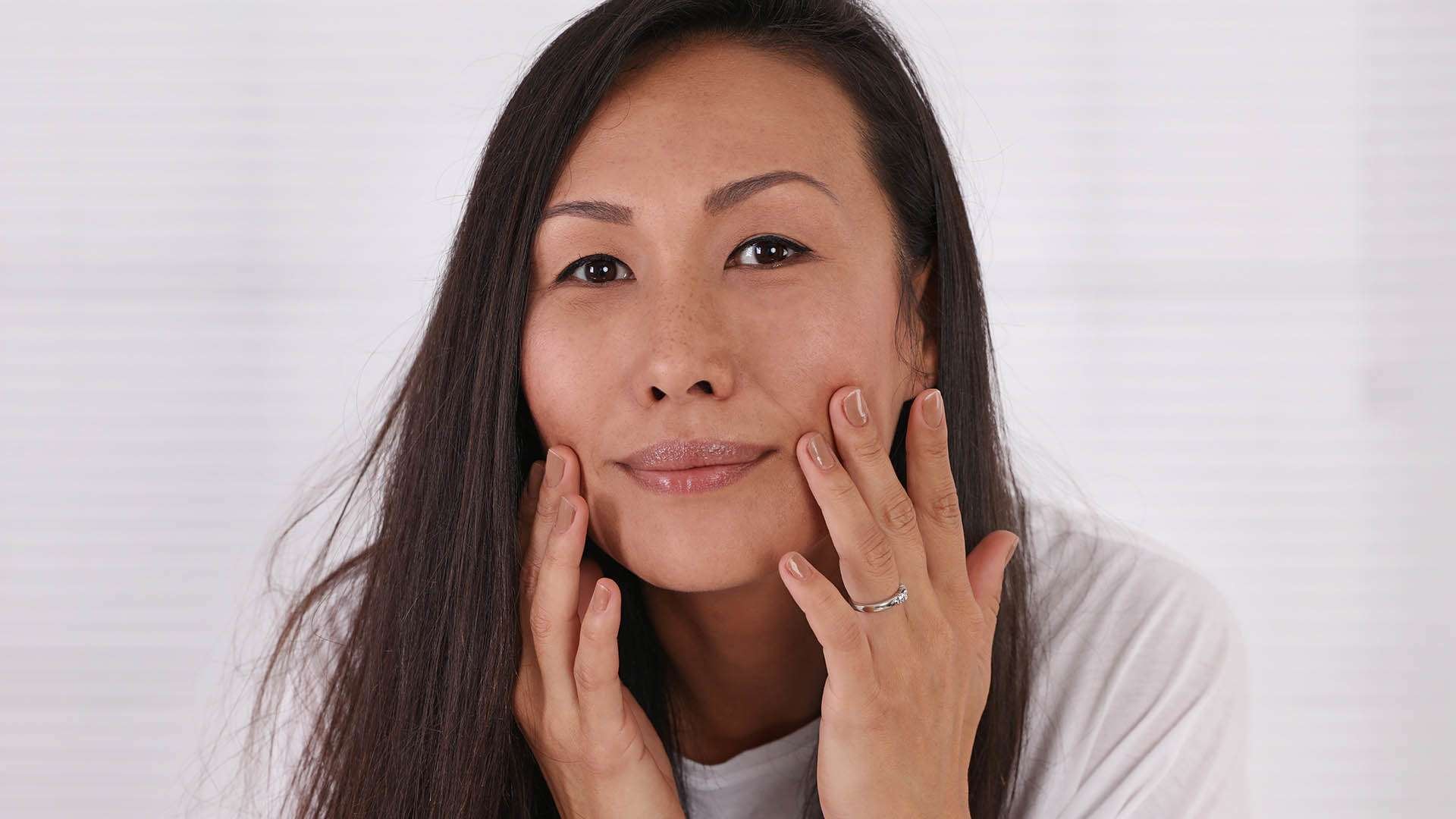 Like it or not, everyone deals with aging skin at some point. While the thought may frighten you, it shouldn't stop you from taking the appropriate measures to keep your skin in shape. If you're new to the anti-aging skin care scene, however, you may not even know what the first signs of skin aging are. Knowing what to look for is key, because the longer you go without addressing them, the more prominent the effects of aging can become.
Luckily, by learning what to look for and understanding how to address aging skin, you can keep your skin looking radiant and healthy. Follow along as we share six signs of aging skin and skin care products to help you manage them the right way.
SIGN #1. Fine lines
The amount of collagen and elastin—two key components for bouncy, plump-looking skin—your skin produces naturally slows down in your late 20s to early 30s, according to the Cleveland Clinic. So, it's not uncommon to see a few fine lines develop during this time—especially if you make a lot of facial expressions or sleep on your side. While wrinkles are one of the more common effects of aging, if you're noticing lines and creases forming in your late teens or early twenties, this could be a sign of sun damage. It may also be linked to other skin aging factors like smoking, pollution, and overall skin care neglect.
To help address fine lines and wrinkles, start taking care of your skin by washing your face in the morning and night with the L'Oréal Paris Age Perfect Nourishing Cream Cleanser. This nourishing cream cleanser works to gently cleanse skin without over-drying. Follow up with a serum, like the L'Oréal Paris Revitalift Derm Intensives 1.5% Pure Hyaluronic Acid Serum, which helps to replenish skin with hydration and visibly reduce the appearance of wrinkles in just two weeks. Seal the deal with a day cream that's formulated with SPF broad-spectrum protection, like the L'Oréal Paris Revitalift Triple Power Day Lotion SPF 30.
Keep things simple by starting and ending your day with clean skin, protecting it from the elements, and replenishing it with moisturizing skin care products daily.
SIGN #2. Crow's feet
Noticing stubborn little lines beginning to form at the corners of your eyes? You're likely looking at crow's feet. Crow's feet can develop for many of the same reasons that contribute to the formation of wrinkles in the other areas of your skin, including squinting, smiling, and frowning, per the Cleveland Clinic, or not regularly providing this dry area with moisture.
Help reduce the look of crow's feet with skin care products like eye creams and balms that are specially formulated to address the delicate skin around your eyes. The L'Oréal Paris Age Perfect Hydra Nutrition Manuka Honey Eye Gel contains manuka honey, antioxidants, and nurturing oils that help to cushion mature, dry skin with moisture. It also works to reduce the look of puffiness, bags, and dark circles for youthful-looking skin.
You can also further protect the area by shielding it from daily aggressors like the sun by wearing sunglasses regularly while outdoors.
SIGN #3. Brown spots
After wrinkles, dark spots are probably the most obvious effect of aging. Also referred to as age spots and sun spots, the Cleveland Clinic states they're a result of sun exposure that occurs over time. When they develop early on, like in your 20s or 30s, there's a good chance that unprotected sun exposure is to blame. This pesky sign of aging skin will only look more and more apparent with continued exposure to harmful UV rays. To keep the appearance of dark spots on your face from becoming more obvious, try to get in the habit of wearing a day cream that's formulated with antioxidants and SPF broad-spectrum protection.
Consider giving the L'Oréal Paris Revitalift Bright Reveal Brightening Day Lotion SPF 30 a go. Formulated with glycolic acid, vitamin C, and Pro-Retinol, this day lotion hydrates, reveals brighter skin, helps correct uneven skin tone, and reduces the appearance of wrinkles in just one week. Not to mention, it provides the ultimate level of sun protection thanks to its broad-spectrum SPF 30.
Remember that dark spots can develop in other areas of your skin, too, so apply sunscreen daily to your neck, chest, and tops of hands in addition to your face. The FDA recommends limiting your amount of time in the sun (especially between 10 a.m. and 2 p.m., which are the sun's peak hours), seeking shade, and covering up exposed areas in long sleeves, pants, a broad-brimmed hat, and UV-blocking sunglasses.
SIGN #4. Sagging skin
Speaking of your neck, chest, and hands, these areas are typically among the first areas of skin to show signs of aging—including sagging skin, which occurs as your skin naturally loses elasticity, according to the National Center for Biotechnology Information (NCBI). To help address this skin concern, look for formulas that are meant to improve—you guessed it—elasticity. The L'Oréal Revitalift Triple Power Anti-Aging Overnight Mask features an innovative ELASTI-FLEX texture that acts to mimic skin's own elasticity, making it a great pick.
You can also turn to formulas with antioxidants for help. The NCBI states that with continued use of topical antioxidants, it's been shown that skin elasticity can be improved.
SIGN #5. Dull, dry skin
Loss of skin moisture, paired with a slower surface cell turnover rate, can leave skin looking dry, dull, and rough. While dry skin is a common skin care concern, it's also a tell-tale sign of aging skin, per the American Academy of Dermatology.
Keep dull, rough skin at bay by applying the L'Oréal Paris Pure-Sugar Nourish & Soften Face Scrub after cleansing. This essential works to gently remove dirt, oil, and impurities from the surface of the skin, leaving you with soft and refined skin. Follow up with a moisturizer on damp skin to lock in moisture.
SIGN #6. Dark circles
This skin care concern may have made its first appearance in your younger years, but the American Academy of Ophthalmology states that dark circles are also among the normal effects of aging. While genetics are usually to blame, dark circles can also appear due to a lack of sleep, insufficient hydration, and thinning skin under the eyes. As your skin matures, the skin under your eyes becomes thinner, which causes the blood vessels underneath to become more prominent and leads to a darker hue under your eyes.
So, it's only right you show your eye area some extra attention with the L'Oréal Paris Revitalift Anti-Wrinkle + Firming Eye Cream. Formulated with Pro-Retinol, this eye cream can help firm skin around the eyes and diminish the appearance of dark circles with continued use over time.
Next up: Now that you have the 4-1-1 on the tell-tale signs of aging, it's time to take things a step further. Here's The Best Skin Care Routine for Aging Skin.
Discover more tips & tricks
Keep your skin happy
See all articles
Shop Featured Skin Care products
Discover More