anti aging
Get Your Beauty Sleep: Revive Mature Skin Overnight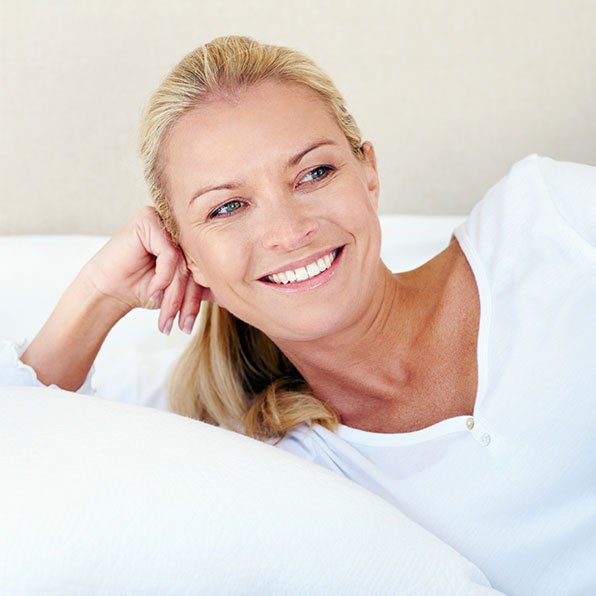 Your mature skin may require an overhaul of your old skin care routine – or maybe you don't feel like that much has changed. Your skin is most likely drier now, wrinkles may be more prevalent and perhaps even a few age spots have developed. These are typical signs of skin aging, what's important is that you feel comfortable and equipped to address any new skin needs. Everyday hydration and protection are two ways you can care for your mature skin – but wouldn't it be fabulous if you could address your top mature skin concerns while you sleep? You may not be able to turn back time, but you can use the hours you spend resting to your skin's advantage. Getting your beauty sleep – target for at least eight hours a night – is the first step to keeping your skin feeling and looking refreshed, take a few extras measures to wake up with your most beautiful skin.
Spring for silk pillowcases.
While you may have thought silk pillowcases were an unnecessary splurge, the luxurious fabric won't only feel cool and smooth against your skin, but won't pull or harshly rub it while you sleep like some other fabrics can. After continuous use, some rough fabrics can encourage dry skin that is more prone to wrinkle and crease. Silk will actually better help your skin hold onto its natural moisture, compared to cotton, which can draw some oils out. Make the most comfortable bed with silk pillowcases to pamper your mature skin overnight.
Use a humidifier in your bedroom.
A sometimes overlooked component of beauty sleep: Plugging in a humidifier will help keep your mature skin, which most likely suffers from dryness, better hydrated while you rest. Humidifiers keep moisture in the air and come in both cool and warm mist varieties, depending upon your preference.
Look for a serum with anti-aging benefits.
Before you turn in and after cleansing apply a serum that will help you address your mature skin concerns. Serums' light weight formulas are packed with concentrated ingredients that work better than your night cream alone.
RevitaLift® Triple Power™ Concentrated Serum
is formulated with Pro-Xylane and hyaluronic acid to visibly reduce the look of wrinkles overtime.
Tap on a nourishing eye cream.
Dab on three dots below your eye and three dots on your lid. Then tap the hydrating eye cream in – never rubbing or smearing the formula. The skin around your eye is especially delicate, so using an eye cream specifically formulated for the area and using gentle tapping motions will ensure the area is better nourished and not aggravated in the process. Look for an eye cream that will address some of your mature skin concerns, like puffiness.
Age Perfect® Hydra-Nutrition Eye Balm
nourishes and strengthens mature skin; firming the delicate skin around the eyes.
Apply an anti-aging overnight mask.
Leave on a creamy mask that will get to work on your mature skin while you get your beauty sleep.
RevitaLift® Triple Power™ Intensive Overnight Mask
re-tones skin's elasticity, firms and addresses wrinkles, visibly improving the look of your skin in just one night.
Deeply hydrate your hands and feet.
When addressing mature skin, you must include your hands and feet. The tops of your hands and feet have most likely been left vulnerable to sun damage. You may notice that the skin on your hands is less taut and you have a few sunspots of the tops of your feet. It's easy to miss these spots when applying sunscreen and it's not too hard for formulas to rub off; not delivering the protection your skin needs. Protect your hands and feet by applying a nourishing cream formulated for the areas. Then cover with soft gloves and socks to keep the moisture in – and off your sheets. It's okay to remove the gloves or socks after a few hours.
Slip a sleep mask over your eyes.
Provide further comfort and protection to your eye area by covering your eyes with an eye mask, there are many varieties; some that are silk, have aromatherapy benefits or even anti-aging qualities.
Sleep face up.
If you can help it, try to sleep face up – some pillows help to encourage sleeping this way. Sleeping on one side or the other can encourage wrinkle development and deepen existing lines.
Getting your beauty sleep may have never sounded so appealing – you're beautiful, mature skin deserves a little pampering and extra care, even overnight. Revive your skin and wake up feeling and looking more refreshed.
Discover more tips & tricks
Keep your skin happy
See all articles
Shop Featured Skin Care products
Discover More