anti aging
Address Dull-Looking Skin and Visible Signs of Skin Aging with Alpha Hydroxyl Acids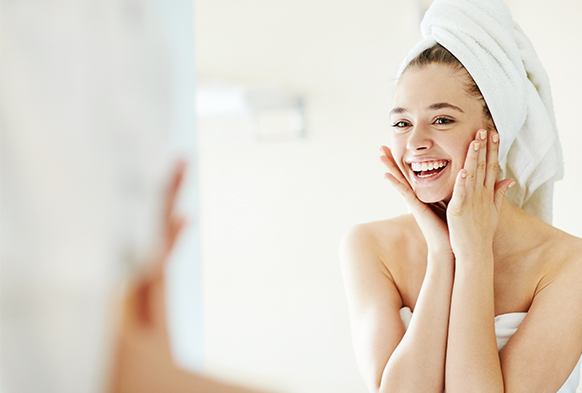 If you have dull-looking, drab skin you may just think it is a side effect of the winter season or just another common sign of visible skin aging that you simply can't do anything about. As temperatures drop and the cold air becomes dry, it's not uncommon for your skin to react by looking dry and flaky as well. And, as you age your skin will produce less and less natural oil, resulting in the appearance of dryness and dullness. It may seem, that while you slather on your moisturizer every day and night, your skin remains dry, despite your best efforts. Well, while moisturizers and face creams can help hydrate your skin, there is another component that may be missing from your skin care routine: exfoliation.
Exfoliating your skin is one way to help keep the appearance of dryness at bay. If you don't exfoliate, dead skin cells will pile atop one another and keep doing so, burying your fresher, brighter-looking surface skin. You can help skin by exfoliating either with a chemical exfoliation method, like with a pre-soaked peel pad or mechanical exfoliation method, like with a facial scrub or tool, about two to three times a week. And, those aren't the only ways to exfoliate: Some serums, moisturizers, creams and even facial cleansers are formulated with exfoliating agents, that can help loosen dead, dull and dry cells gently from skin's surface– and alpha hydroxyl acids are a skin care ingredient that can offer just that benefit.
Alpha Hydroxyl Acids (AHAs) are a class of chemical compounds that occur both naturally and synthetically. AHAs predominantly exfoliate the skin's surface which can improve the look of skin elasticity, wrinkles, skin tone evenness and the appearance of dark spots.AHA's can work by gently sloughing away dead surface skin cells revealing the appearance of radiant and glowing skin.
One alpha hydroxyl acid that can help address and refine the appearance of fine lines, wrinkles and dullness is glycolic acid. The derivative of cane sugar, glycolic acid can help improve the look of your skin's texture by sloughing away dead surface skin cells that can make the appearance of lines and roughness appear more noticeable. Glycolic acid can also help your skin maintain moisture and when your skin is hydrated, visible fine lines, wrinkles and dullness can appear less noticeable. Lactic acid is another AHA that can help hydrate skin, reduce the visible signs of skin aging and help keep skin looking nourished. And, citric acid, naturally found in many citrus fruits like lemons and limes, is another alpha hydroxyl acid found in skin care product formulas to help address the appearance of uneven skin, encouraging surface exfoliation.
Get one step closer to hydrated skin by working exfoliation into your skin care routine and by introducing skin care products that are formulated with alpha hydroxyl acids into your regular regimen to help keep your skin looking nourished and smooth year-round.
Discover more tips & tricks
Keep your skin happy
See all articles
Improve your routine
Show your new look more love:
makeup