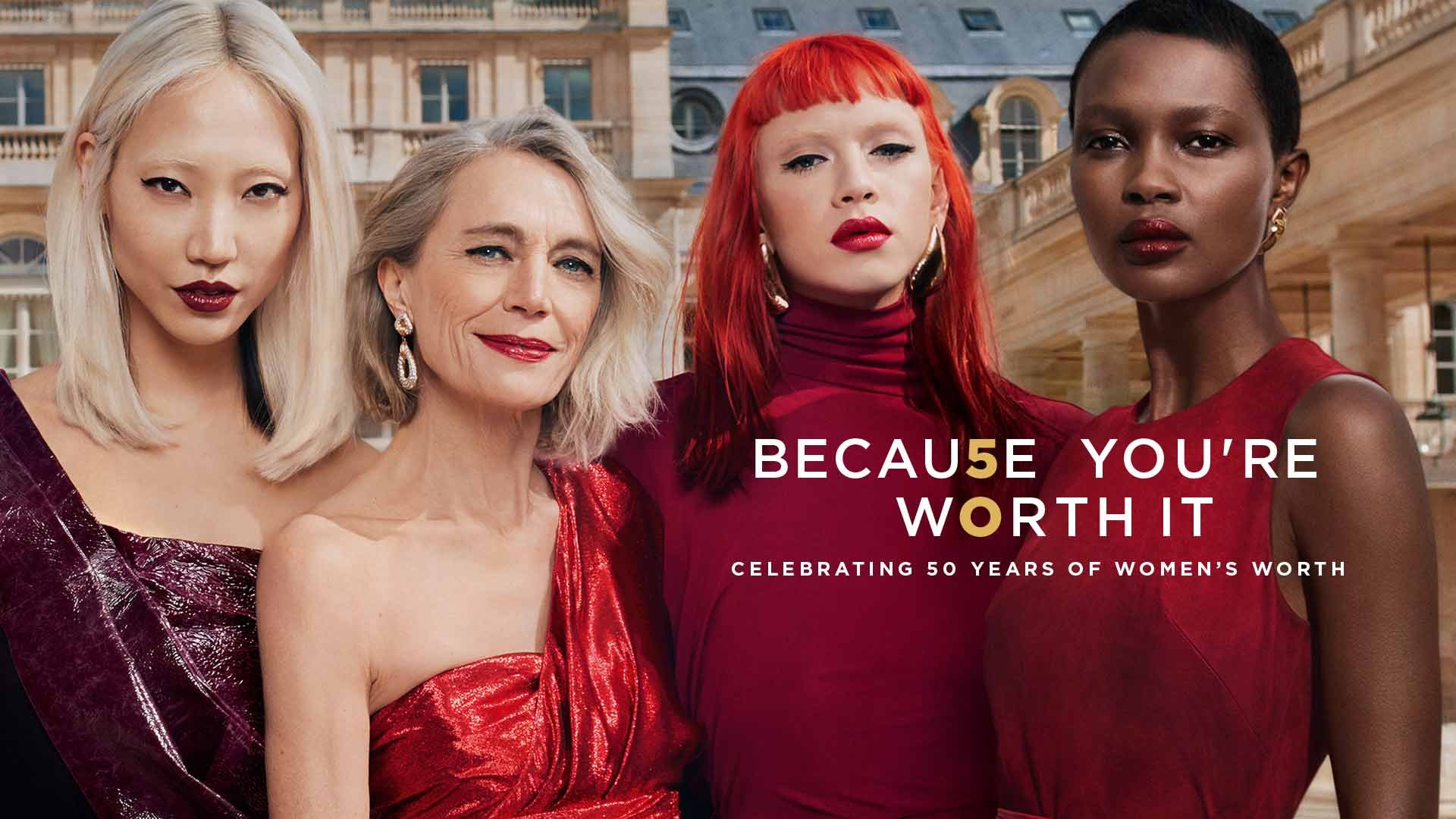 makeup trends
L'Oréal Paris Celebrates 50th Anniversary Of "Because You're Worth It" Slogan
During a time when women's empowerment is as relevant and important as ever, L'Oréal Paris is celebrating 50 years of its iconic slogan "Because You're Worth It." Just a couple of months ago the United States watched as the country swore in its first ever female vice president. The world has listened as young women have fiercely advocated for positive progression in the climate movement and some of the largest and most powerful companies in the world are appointing women CEOs. There is no arguing that women's accomplishments are constantly reaching new heights, but the truth is that there is still much work to be done. Large companies have the power to use their reach and influence to advocate for women's prosperity and L'Oréal Paris has made this a priority for decades. So in this notable year, we're taking a look back at how the powerful slogan reaffirming women's worth originated, and the impact it's had on women everywhere.
HOW IT ALL STARTED
The origin story of this iconic slogan is in its own right a triumph for women. In the 1970's when conversations around women's rights were picking up steam, mainstream advertisements still objectified women rather than empowered them. During an age when men dominated the advertising industry, a young female junior copywriter named Ilon Specht dared to step outside of the norm.
"Almost everything you ever saw was about women doing things because they wanted to be attractive to men," said Specht. "I wanted a more assertive, more contemporary real woman, and I wanted it to benefit the women."
She created a commercial for Preference hair color that spoke to women directly and told them that they had identities beyond the men in their lives, and for that reason, they were worth it. It was bold and unifying, and ultimately, became timeless. It encouraged women to recognize their own worth and it has continued to do that and so much more in the years since its inception. The slogan has gone on to be uttered by powerful female figures such as Céline Dion, Viola Davis, Eva Longoria and so many others.
WHAT IMPACT IT'S HAD
Throughout the years, consumers have watched as L'Oréal Paris ambassadors have spoken these words in various ads. Strong female figures speaking about worth has not only resonated with their audiences, but in saying them, the words have resonated with the figures themselves.
"Because I'm worth it means taking the leap and flying on your own." - Camilla Cabello
"Because You're Worth It" has given encouragement and reassurance to communities that have been historically ignored by the beauty industry. L'Oréal Paris has commissioned a diverse group of women to represent their brand and this slogan in the hopes of empowering women all over the world to recognize their value. No matter your beginnings or destination, gender identity, ethnicity, nationality, skin color or age, you have the right to feel valued, seen and heard.
For the past 16 years, L'Oréal Paris has been working on its Women of Worth initiative which aims to highlight incredible women working towards bettering their communities and making a positive difference in the world. Not only does it highlight these heroic women, but it encourages women to honor and uplift one another by nominating and voting for other candidates to be celebrated.
THE NEXT 50 YEARS
Fifty years of "Because You're Worth It" remaining relevant and impactful is an incredible achievement, but L'Oréal Paris is committed to ensuring that the slogan retains its impact over the next 50 years. Just recently, L'Oréal Paris teamed up with Hollaback!, a non-profit organization working to end street harassment, through their Stand Up initiative which aims to educate people on the impact of street harassment on women and even provides training on how to deal with it.
The brand also recently added actress and activist Gemma Chan, to its roster of strong, intelligent, inspiring women that represent L'Oréal Paris and its values. With a passion for equal rights, women's empowerment and climate change, she's proud to be part of a heritage that includes "an affirmation that if you are living your own truth, wherever you are on your journey, you are enough."
Along with initiatives and ambassadors that aim to encourage women to recognize their worth and celebrate empowered women empowering women, L'Oréal Paris will continue to produce quality and affordable products that put the needs of women first. Its Rouge Signature Matte Lip Stain Empowered Reds Collection is just one example of that. Creating products that make women feel confident, beautiful and empowered is what L'Oréal Paris does—because we are all worth it.
Photo: Courtesy of L'Oréal
{ "@context": "https://schema.org/", "@type": "WebPage", "speakable": { "@type": "SpeakableSpecification", "cssSelector": ["speakable-content"] }, "url": "https://www.lorealparisusa.com/beauty-magazine/makeup/makeup-trends/loreal-paris-because-youre-worth-it-anniversary" }
Discover more tips & tricks
Keep your skin happy
See all articles
Improve your routine
Show your new look more love:
makeup
{ "@context": "http://schema.org", "@type": "BreadcrumbList", "itemListElement": [ { "@type":"ListItem", "position": 1, "item": { "@id": "/", "name": "Home" } } , { "@type":"ListItem", "position": 2, "item": { "@id": "https://www.lorealparisusa.com/beauty-magazine", "name": "Beauty Magazine" } } , { "@type":"ListItem", "position": 3, "item": { "@id": "https://www.lorealparisusa.com/beauty-magazine/makeup", "name": "Makeup Tips For Every Look" } } , { "@type":"ListItem", "position": 4, "item": { "@id": "https://www.lorealparisusa.com/beauty-magazine/makeup/makeup-trends", "name": "Makeup Trends" } } , { "@type":"ListItem", "position": 5, "item": { "@id": "https://www.lorealparisusa.com/beauty-magazine/makeup/makeup-trends/loreal-paris-because-youre-worth-it-anniversary", "name": "loreal-paris-because-youre-worth-it-anniversary" } } ] }