makeup trends
3 Elevated Ways to Wear Glitter Eye Makeup
Adults can play with glitter, too.
March 28, 2022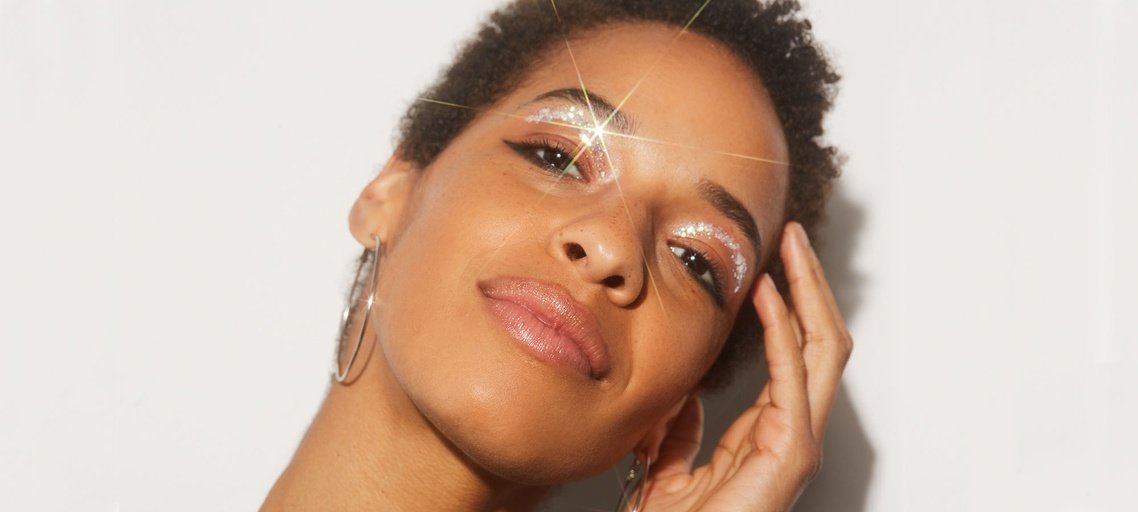 If you think that glittery makeup is juvenile, think again. While it's understandable that you might associate glitter with art projects from your childhood, the sparkly product has cemented its place in makeup — most commonly as a feature in eye makeup looks. And along with pearl accents and metallic eyeshadow, glitter eye makeup has been trending as of late.
There are endless ways to experiment with glittery makeup, but if you're looking for inspiration on how to wear it in ways that feel chic and elevated, we're sharing three of our favorites below. Whether you want to create a graphic look or opt for something more minimal, we've got you covered.
1. As a Subtle Wash On Your Eyelids
Don't feel like a glittery eye makeup look always needs to be paired with glam makeup. Adding a sheer wash of a fine glitter on your eyelids and pairing it with minimal face and lip makeup is a great way to add just a hint of something special to an otherwise simple look. The best part? It's incredibly easy to achieve.
Apply a powder or liquid glitter eyeshadow, like the L'Oréal Paris Brilliant Eyes Shimmer Liquid Eye Shadow Makeup, on the center of your eyelids and blend it out with a fluffy eyeshadow brush. That's all you need to do for a one-and-done pop of shine on your eyes.

2. As Graphic Eyeshadow
Graphic eyeshadow is trending and we can't think of a better way to wear it than with glitter. You can use just one glitter shade to create a monochromatic graphic look, or you can combine hues and get ultra-creative with it.
You can use a loose glitter and some eye-safe glitter glue to create your look, or you can take the simpler route and opt for a liquid eyeshadow full of glitter flecks, like L'Oréal Paris Brilliant Eyes Shimmer Liquid Eye Shadow Makeup. Use the doe foot applicator to draw on your shape and clean up the edges with the L'Oréal Paris Micellar Cleansing Water Complete Cleanser Waterproof - All Skin Types.

3. As Glitter Eyeliner
Before there was the graphic eyeshadow craze, it was all about graphic eyeliner. If you're feeling bold, take a glitter eyeliner and embellish your eyes with graphic designs. But if you want to experiment with glitter makeup in a more subtle way, you can create a simple line or winged liner along your upper lash line.
Draw on your liner and clean up the edges with a cotton swab and micellar water to ensure you've got a clean, polished look. Then, finish it off with a volumizing mascara, like the L'Oréal Paris Voluminous Lash Paradise Washable Mascara, which you can build up to your desired thickness.
Next: 5 Makeup Trends From the Fashion Week Runways to Inspire Your Next Look
Written by: Alyssa Kaplan, Image Credit: Chaunte Vaughn
Discover more tips & tricks
Keep your skin happy
See all articles
Improve your routine
Show your new look more love:
makeup