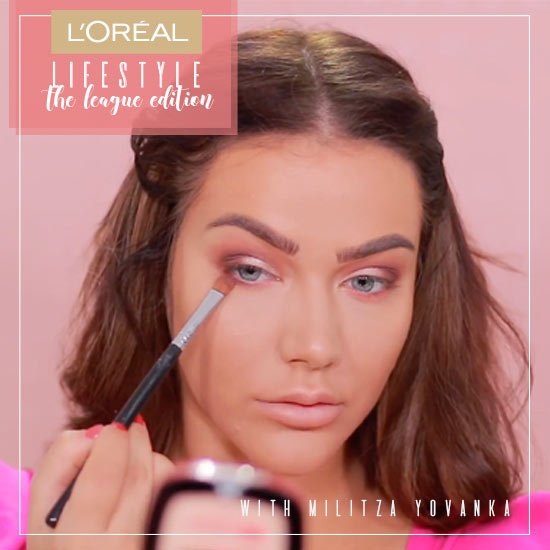 makeup looks
L'Oréal Lifestyle: Get Ready with Militza Yovanka
If you're on the hunt for a new beauty look to try, why not take inspiration from a beauty guru herself? Militza Yovanka is no stranger to the beauty influencer scene, and lucky for you, you can study—and copy—how she gets ready. From applying liquid highlighters to swiping on matte lipstick, watch the above video to see exactly how Militza creates her luminous, selfie-worthy makeup looks—then read below for a complete breakdown of all the steps seen in the video.


Step #1: Define Your Brows
This look begins with defining your brows. Brush the L'Oréal Paris Brow Stylist Boost & Set Mascara—Militza uses the Dark Brunette shade—through your brows, using the angled skinny brush to boost volume and create a naturally thicker-looking brow.
Step #2: Get Glowing
Follow Militza's lead and use the L'Oréal Paris True Match™ Lumi Glotion Natural Glow Enhancer in Deep to give your skin a sun-kissed glow. Apply the highlighter in dots all over your face before blending out with a foundation brush.
Step #3: Apply Foundation
Give yourself a flawless complexion by applying the L'Oréal Paris True Match™ Super Blendable Makeup. Dab a little onto your skin at a time and blend out using a makeup blender.
This foundation has buildable coverage, meaning you can fine-tune and build the coverage to your preferences. When all is said and done, you'll practically look filtered!
Step #4: Contour
Don't reach for your contour color straight away. First, use the L'Oréal Paris True Match™ Super-Blendable Multi-Use Concealer in a shade that's lighter than your foundation. Apply it in an upside-down triangle under your eyes, on your cupid's bow, and in the center of your forehead. Blend the concealer out with your makeup blender. Then, take a concealer a few shades darker than your foundation and apply it around your hairline for seamless shading. Blend again before moving on to the next step.
Step #5: Highlight
Apply the L'Oréal Paris True Match™ Lumi Glotion Natural Glow Enhancer in Fair to your cheekbones, blending the highlighter in with a few pats of your finger.
Step #6: Grab Your Eye Shadow
It's time to move on to your eye makeup! If you want to replicate Militza's look exactly, you'll need the L'Oréal Paris Paradise Enchanted Scented Eyeshadow Palette. In your crease, apply the brown shade from the middle of the second to last row with a fluffy brush. Then, take the darker brown shade (next to your first shadow) and deepen your crease. Add extra intensity by applying the palette's darkest brown shade to the outer "V" of your eyelid, making sure to blend well. Next, use a flat eye shadow brush to pat the first row's final shade onto your eyelid. Then, use your first shadow again, applying it to your lower lash line for a smoky effect. To complete your eye shadow look, apply the highlight shade from the palette's second row to the inner corners of your eyes and below the arches of your brows.
Step #7: Coat Your Lashes
Of course, you have to use mascara! But before you break it out, apply the L'Oréal Paris Voluminous Lash Paradise™ Mascara Primer/Base to thicken and prep your lashes. Then, before it dries, apply the L'Oréal Paris Voluminous Lash Paradise™ Washable Mascara overtop for intense length and voluptuous volume.
Step #8: Add Some Color
Add a pop of color to your complexion by applying the L'Oréal Paris Paradise Enchanted Fruit-Scented Blush Makeup in Fantastical to the apples of your cheeks. Not only is this a seriously gorgeous pink shade, the blush also has an enchanting fruit scent!
Step #9: Highlight (Again)
Militza loves a glowing makeup look—which means using a second highlighter is a must! Amp up your highlighter by dusting the L'Oréal Paris Infallible Crushed Foils Metallic Highlighter onto your cheekbones for a radiant metallic glow.
Step #10: Paint Your Pout
To finish the look, apply a matte lipstick. Militza's lip color is the L'Oréal Paris Colour Riche Ultra Matte Highly Pigmented Nude Lipstick in Daring Blush. This lipstick is highly pigmented and formulated with silky oils, allowing it to be both hydrating and matte.
Next: 5 Makeup Tips to Help Create the Appearance of Glowing Skin.
Discover more tips & tricks
Keep your skin happy
See all articles
Shop Featured Makeup products
Discover More