makeup looks
How to Get a Vampy Smoky Eye and Red Lip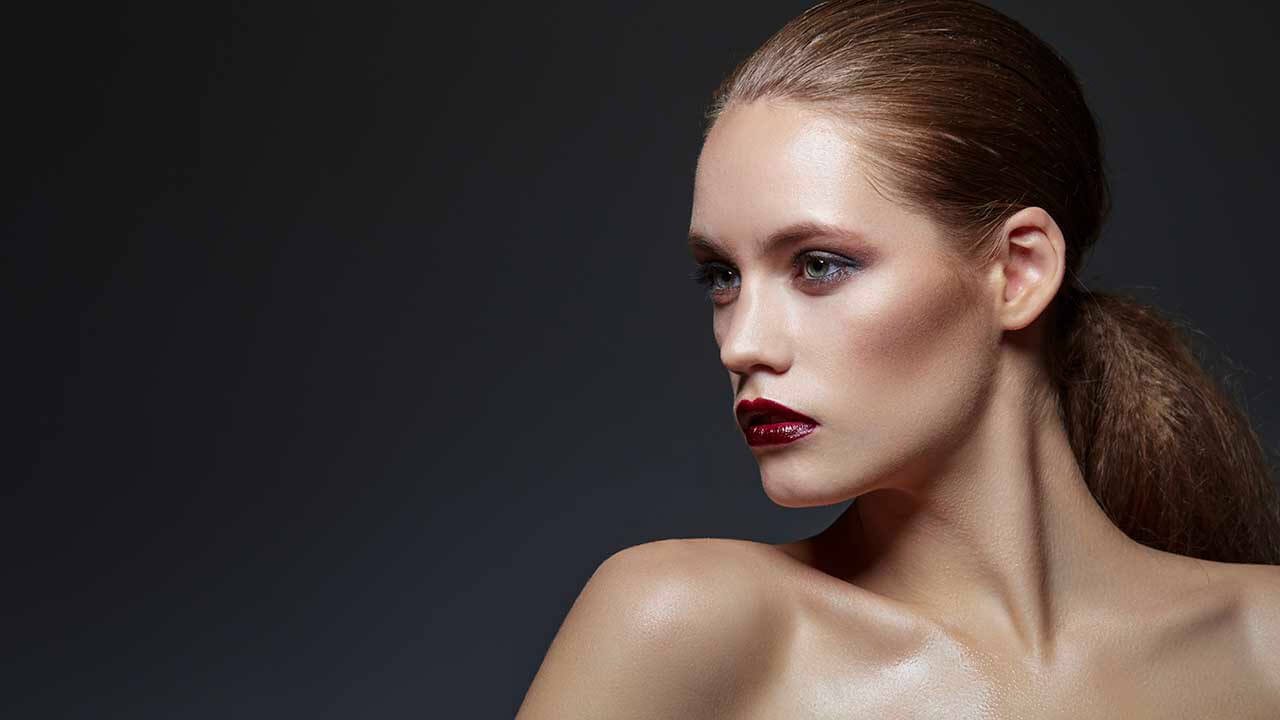 A truly great makeup look never goes out of style. The perfect smoky eye combined with the perfect red lip is just that. This staple beauty look is an essential go-to that will rival even the most current makeup trends. It can take you almost anywhere, from a black-tie gala to a first-date dinner. Timeless, sultry, and seductive, you'll be a stunning sight no matter the occasion.
STEP 1: CREATE A BLANK CANVAS
The first thing you will want to do when creating this look is to give yourself a flawless complexion. Apply your perfect shade of the L'Oréal Paris True Match™ Super Blendable Makeup and dot it on your forehead, nose, cheeks, and chin. Choose your preferred method of application, whether that's blending with a sponge like the L'Oréal Paris Infallible Blend Artist Foundation Blender, using your fingers, or using a makeup brush. Make sure to smooth the edges along your hairline and jaw to create a flawless base that perfectly matches your skin tone and texture.
STEP 2: MATTIFY IT
You won't want any shine in sight for this look as the attention should be on your eyes and lips. To complete the perfect blank canvas, mattify your complexion with a light dusting of a face powder. The L'Oréal Paris Infallible Pro-Sweep & Lock Loose Setting Face Powder is a translucent powder that will lock in your makeup and keep away any shine.
STEP 3: KEEP IT SUBTLE
Since this dramatic look focuses on eyes and lips, using a more subdued, soft shade of blush is key. L'Oréal Paris True Match™ Blush in Subtle Sable delivers just the right amount of color to give you a sultry flush. Sweep it along your cheekbones and you're good to go!
STEP 4: MAKE IT SMOKY
The smoky eye is what creates the sizzle of this beauty look. The key is a range of eye shadow tones, from inky-black to silvery gray. The L'Oréal Paris Colour Riche Quads Eye Shadow in Cookies & Cream has every shade you need in one convenient palette. Start with the darkest shade and use it to line your upper lash line. Draw a line along top lashes, starting at inner corner and extending slightly at the edge. Draw another line along your lower lash line. Blend both lines to connect. Next, smudge with a cotton swab to fade the lines slightly so they match the smoky eye you're about to apply to your lid. Apply the darker gray shade to the entire lid and into the crease, then use the lightest shade to highlight your brow bone.
STEP 5: BRIGHTEN UP
With the overall goal being to have a dark, smoky eyeshadow look, brightening the whites of your eyes will allow the look to pop even more. To make the whites of your eyes really stand out, we love this tip: Line inner rims of the eye, top and bottom, with the L'Oréal Paris Infallible Pro-Last Waterproof Pencil Eyeliner in Nude.
STEP 6: GRAB YOUR MASCARA
To truly tie this vampy look together, you'll need lots and lots of dark black mascara. After curling your lashes for added definition, apply two generous coats of L'Oréal Paris Voluminous False Fiber Lashes in Blackest Black to pull your eye look together.
STEP 7: PAINT YOUR LIPS RED
The final step of this makeup look that makes it an unmistakable classic is the cherry-red lip. You'll want to make sure your lips are moisturized so your lipstick will apply smoothly and evenly. Start by laying down a base of lip balm for hydration and shine. Then, use a lip brush to apply L'Oréal Paris Colour Riche® Lipcolour in British Red. Blot (for lasting power), and reapply. If you're in the mood to take an extra step for some added glam, feel free to add a red gloss for a bolder lip. The L'Oréal Paris Infallible Pro-Matte Gloss in Shanghai Scarlet will do the trick.
Love the drama of this makeup look? Check out this article on How to Try the Metallic Eyebrow Trend to add another statement look to your arsenal.
Discover more tips & tricks
Keep your skin happy
See all articles
Shop Featured Makeup products
Discover More