lip makeup
This Non-Sticky Pink Lip Gloss Is a Must-Have
May 01, 2020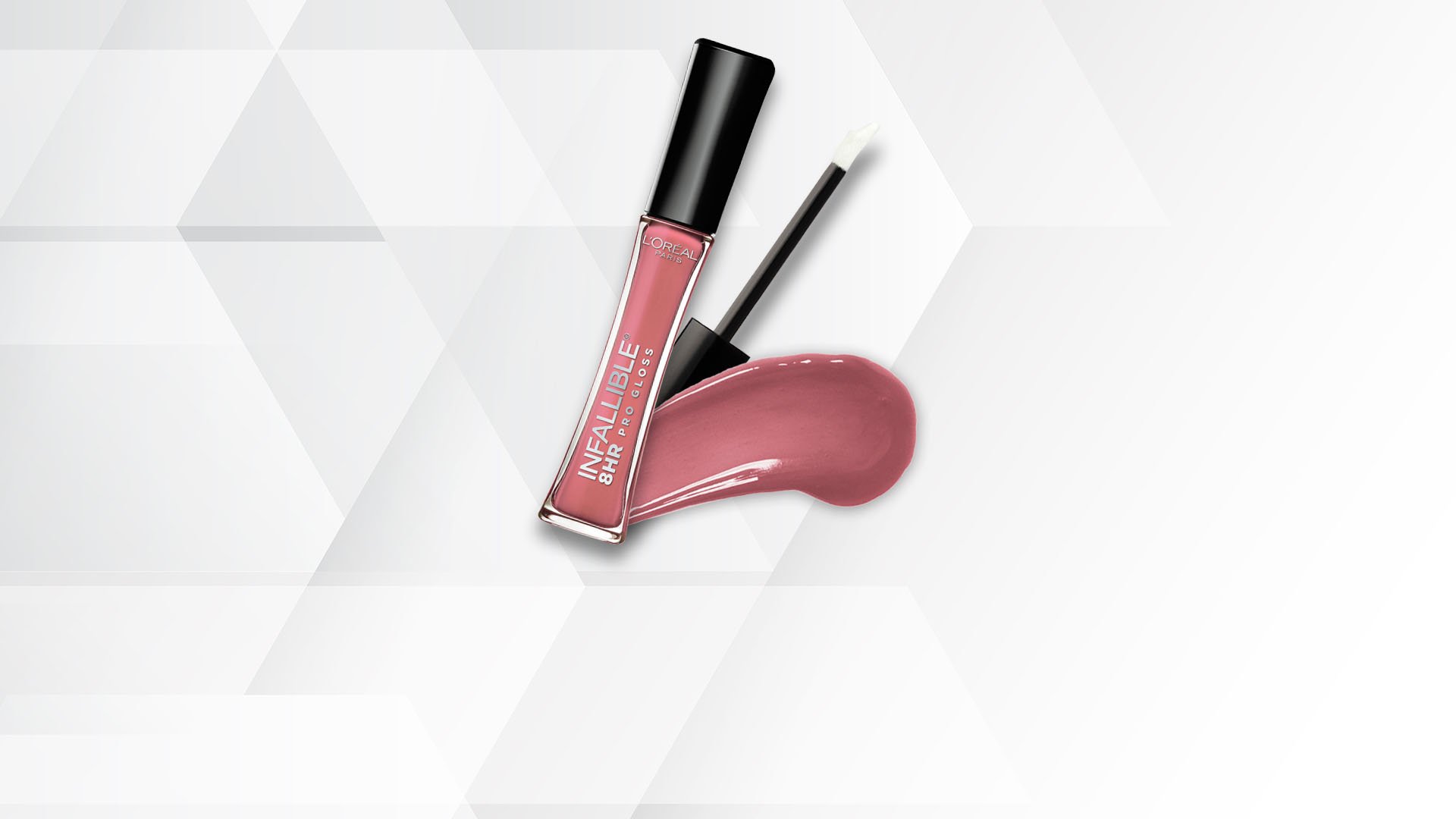 In case you haven't already heard, matte lipstick is taking a backseat in the beauty world—at least this summer. Yup, we're seeing more and more glossy lips making an appearance on our social media feeds, and if you're anything like us, this likely has you wanting to pick up a new tube to add to your makeup bag ASAP. But finding a perfect lip gloss that doesn't leave a sticky film on your lips and provides enough shine—plus a pretty pink hue—is easier said than done. If you're on the hunt for a new pink lip gloss that won't leave your pout stuck together like glue, we have a recommendation. Below, we're introducing you to our favorite non-sticky pink gloss.
OUR FAVORITE PINK LIP GLOSS
Meet the L'Oréal Paris Infallible 8 HR Le Gloss. While not only limited to pink shades, you'll find 10 pretty pink colors in the line, ranging from baby pink to a popping fuchsia. The lip gloss has a hydrating formula that will keep your pout soft, smooth, colorful, and shiny—sans the sticky feel you may have dealt with in the past.
Each shade offers sheer, luminous color that doesn't feather, fade, or dull. Consider this lip gloss your new partner-in-crime. You just have to find your perfect pink lip gloss hue—remember, there are 10 to choose from.
If you love a soft pink lip…try Blush, Suede, and Sunset.
If you love a natural pink lip…try Bloom, Modern Mauve, Posy, and Sangria.
If you love a statement pink lip…try Cherry Flash, Glistening Berry, and Pink Topaz.
HOW TO APPLY PINK LIP GLOSS FOR A PERFECT POUT
Putting on lip gloss may seem like a walk in the park—and it is—but there are a few extra steps that can help you get the most out of your favorite glossy formula.
Step #1. Use a lip scrub. The trick to flawless lip gloss application is all in the prep work. Start by using a lip scrub to exfoliate your pout, leaving you with a smooth, soft surface. Try the L'Oréal Paris Pure-Sugar Nourish & Soften Cocoa Scrub, which doubles as both a lip and face scrub.
Step #2. Smooth on a lip balm. After exfoliating, you'll want to give your lips a boost of moisture. Slather on a hydrating lip balm to do just that.
Step #3. Line your lips. Next, take the time to define your lip shape with the help of a coordinating lip liner, like the L'Oréal Paris Infallible Never Fail Lipliner in Pink. Line just outside your natural lip line, then fill in your lips with the liner.
Step #4. Apply your gloss. The moment you've been waiting for—your pink lip gloss! Apply beginning in the center of your upper lip. Work from the center to the outer edges of your lips, following the contour of your mouth. Glide across the bottom lip and fill in.
5 TIMES TO WEAR A PINK LIP GLOSS
Not completely sold on pink lip gloss just yet? If you need further convincing, perhaps it's worth listing a few occasions that are perfectly suited to wearing a pretty pink lip gloss.
Wear a pink lip gloss…when you're headed to the office. It's a natural-looking shade that's both professional and stylish—especially if you opt for a softer pink.
Wear a pink lip gloss…on a first date. Instead of dealing with the stress that comes with a bold lip color potentially ending up on your teeth, a pink gloss will give you a subtle flush of color without the worry. Not to mention, the shiny formula will help your lips appear fuller!
Wear a pink lip gloss…while running errands. Whether you're headed to the grocery store or going on a shopping spree, you can rock the no makeup, makeup look with a swipe of pink gloss.
Wear a pink lip gloss…on vacation. Pink lip gloss and a bronze glow—need we say more?
Wear a pink lip gloss…when you want your eye makeup to shine. If you're doing a dramatic eye makeup look, let it be the star by swiping on a subtle pink lip gloss.
Suddenly feeling like you're all about pink? Next, learn How to Wear Pink and Blue Eyeshadow.
Discover more tips & tricks
Keep your skin happy
See all articles
Shop Featured Makeup products
Discover More