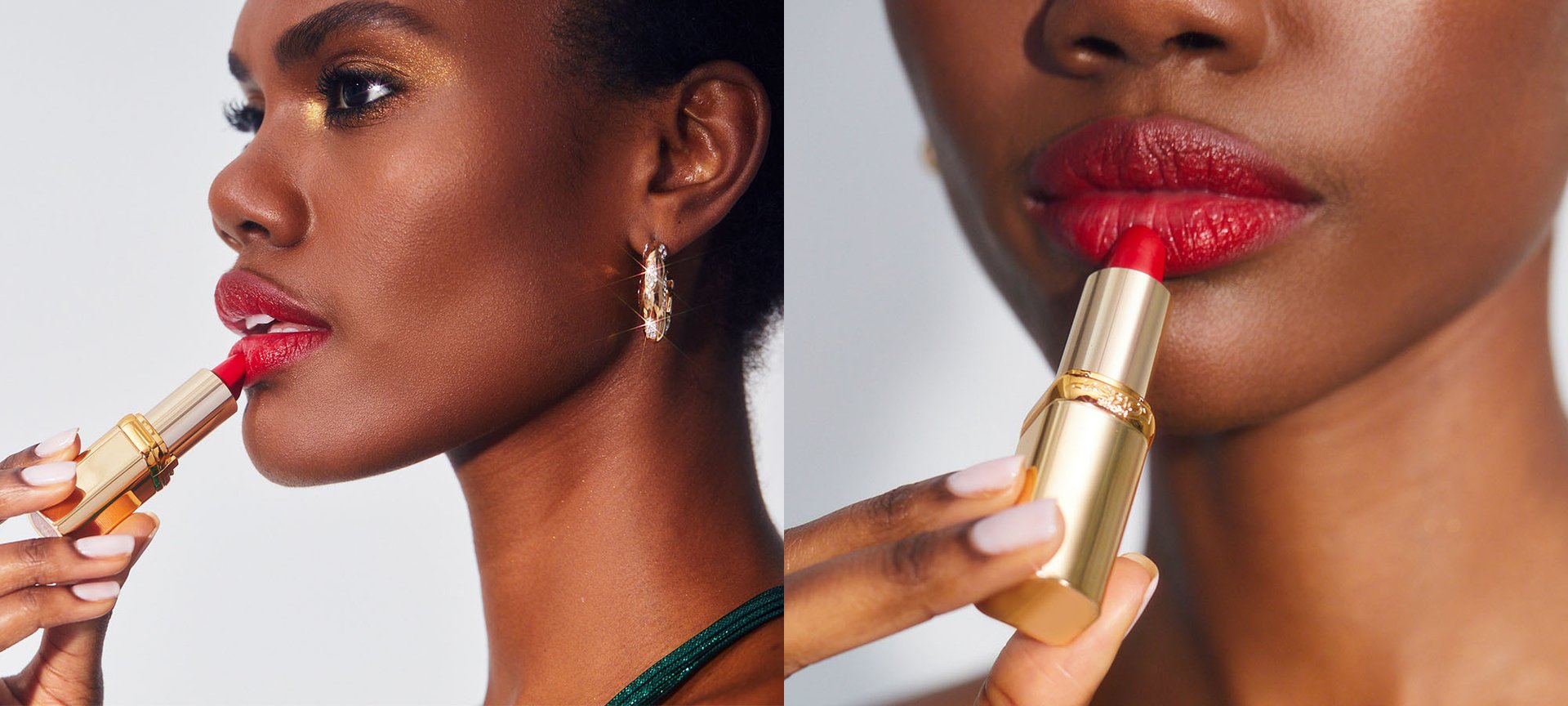 lip makeup
4 Ways To Use Red Lipstick As Face Products
It's the perfect color corrector in a pinch.
Red lipstick is one of the most versatile makeup products out there — it can actually be used as more than just a lipstick. That's right, thanks to its bright, crimson pigment, red lipstick can be incorporated into your face and eye makeup routine to color correct, conceal and more. Ahead, we're sharing four of our best red lipstick hacks that let you get the most bang for your buck from that little cherry bullet.
Hack #1: Red Lipstick As A Under-Eye Color Corrector
Probably the most unheard of red lipstick hack out there but the most effective one — it's true, red lipstick can be used as a concealer companion. The bright red pigment in lipstick actually does an excellent job helping to cover up dark circles in the under-eye area. After cleansing and prepping your skin for makeup, apply a small swipe of a red lipstick (we love the L'Oréal Paris Colour Riche Reds of Worth Lipstick collection for this because it has soothing vitamin E) under each eye and blend it out with a makeup sponge. Next, layer your foundation and concealer, like the L'Oréal Paris True Match Eye Cream in a Concealer, 0.5% hyaluronic acid, on top. You'll be left with a brighter, more-even toned finish. Under-eye circles, begone!
Hack #2: Red Lipstick As A Complexion Color Corrector
Color correcting doesn't just have to occur in the area under the eyes when it comes to red lipstick. If you have a medium to deep skin tone, red lipstick can actually be used anywhere on the face to color correct areas — particularly around the nose and mouth. Following the same steps as in the first hack, apply a few dabs of red lipstick to areas on the face you want to brighten, then blend it out. We love the L'Oréal Paris Reds of Worth Lipstick in Lovely Red for this because it has a cool, blue undertone that can cancel out orange tones.
Hack #3: Red Lipstick As A Blush
If you love a flushed makeup finish, we recommend using red lipstick as blush. Simply apply the red lip to the back of your hand, dip a stippling brush in it and gently dab it onto your cheeks. A little goes a long way with this, so remember to use a light hand.
Hack #4: Red Lipstick As An Eye Tint
Another way to make the most out of your red lipstick is to mix it with a balm for a pretty, but subtle monochromatic finish. Grab the L'Oréal Paris Reds of Worth Lipstick in Respected Red and apply a nickel-sized amount to the back of your hand. Add some lip balm and mix them together with your fingertips. Dab it onto your eyelids (and lips) for a balmy, red finish.
Next: 7 Ways To Tone Down Red Lipstick For A Subtle Look
Written by Alanna Martine Kilkeary, Photography: Chaunte Vaughn, Associate Creative Director: Melissa San Vicente-Landestoy, Art Director: Hannah Packer, Associate Creative Producer: Becca Solovay, Associate Content Director: Shalwah Evans, Makeup Artist: Jonet Williamson, Hair Stylist: Akihisa Yamaguchi, Wardrobe Stylist: Alexis Badiyi, Digital Tech: Erik Dalzen, Photo Assistant: Sam Kang, Model: London Knight
{ "@context": "https://schema.org/", "@type": "WebPage", "speakable": { "@type": "SpeakableSpecification", "cssSelector": ["speakable-content"] }, "url": "https://www.lorealparisusa.com/beauty-magazine/makeup/lip-makeup/best-red-lipstick-hacks" }
Discover more tips & tricks
Keep your skin happy
See all articles
Improve your routine
Show your new look more love:
makeup
{ "@context": "http://schema.org", "@type": "BreadcrumbList", "itemListElement": [ { "@type":"ListItem", "position": 1, "item": { "@id": "/", "name": "Home" } } , { "@type":"ListItem", "position": 2, "item": { "@id": "https://www.lorealparisusa.com/beauty-magazine", "name": "Beauty Magazine" } } , { "@type":"ListItem", "position": 3, "item": { "@id": "https://www.lorealparisusa.com/beauty-magazine/makeup", "name": "Makeup Tips For Every Look" } } , { "@type":"ListItem", "position": 4, "item": { "@id": "https://www.lorealparisusa.com/beauty-magazine/makeup/lip-makeup", "name": "Lip Makeup" } } , { "@type":"ListItem", "position": 5, "item": { "@id": "https://www.lorealparisusa.com/beauty-magazine/makeup/lip-makeup/best-red-lipstick-hacks", "name": "best-red-lipstick-hacks" } } ] }