lip makeup
Our Best Lip Crayon
November 15, 2019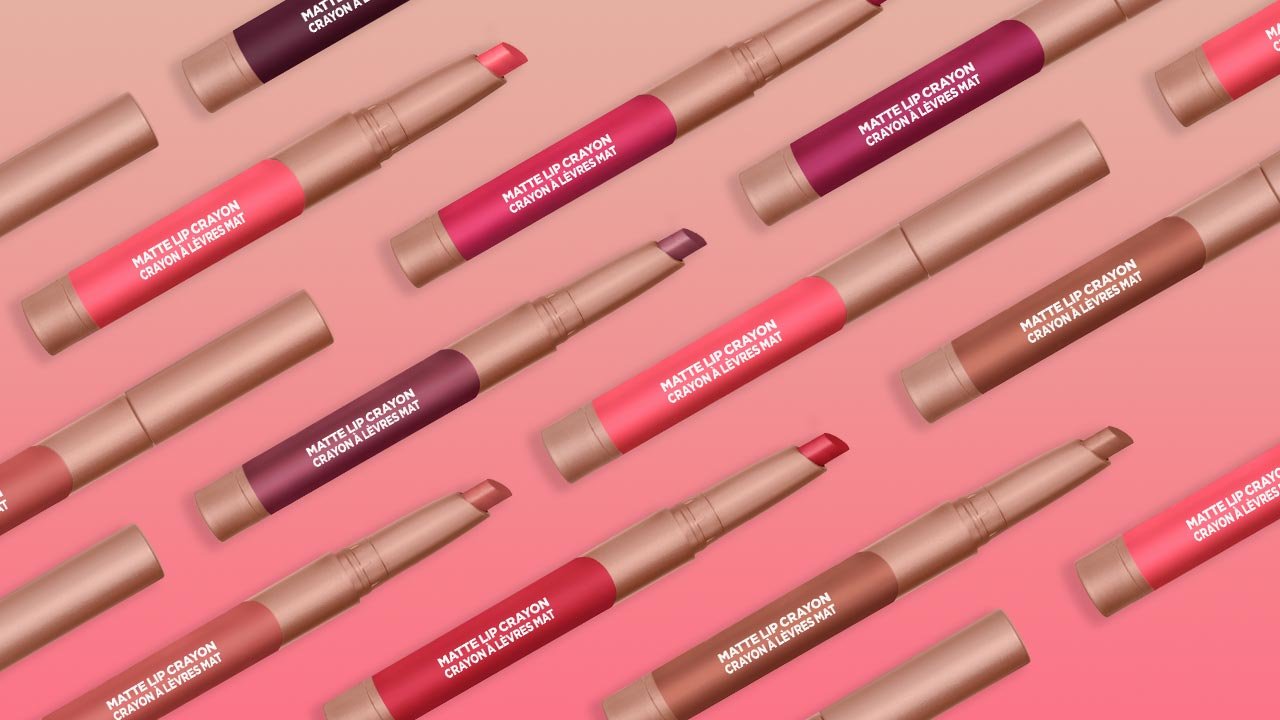 Who says crayons are just for coloring books? Whether lip stains, glosses, balms, or lipsticks tickle your fancy, there's one lip product that might have slipped under your radar: the lip crayon! While you shouldn't color your lips in with actual crayons, this makeup staple is a liner and lipstick all in one, meant to keep your pout smooth, supple, and filled with color. Basically, it's safe to say you need a couple of lip crayons in your makeup collection. And not just any lip crayon! Keep reading to learn all about our best lip crayon and how to add it to your lip makeup stash.
OUR BEST LIP CRAYON
Ready to give a lip crayon a try? Look no further than the L'Oréal Paris Infallible Matte Lip Crayon, Lasting Wear, Smudge Resistant, which provides all-day coverage without skimping on color. Beyond its comfortable, creamy formula, this lip crayon has a mechanical tip for easy application that's perfect for when you're on the go. Offering a smudge-free and feather-free finish, you can count on long-lasting wear that will go the distance right alongside your makeup look. Not to mention, this lip crayon is available in 18 matte shades, giving you plenty of options to experiment with for your next beauty look.
HOW TO USE A LIP CRAYON IN YOUR MAKEUP ROUTINE
Now that you have all the deets on our best lip crayon, it's time to put it to good use. You can rock any of the aforementioned 18 shades, but for this simple step-by-step, let's talk about how to use a lip crayon to get that classic red lip look. Here's what to do.
STEP #1: EXFOLIATE
The key to the perfect lip makeup look is a smooth base. Use a lip scrub to gently exfoliate your pout and slough away dead skin cells sitting on the surface of your lips.
STEP #2: PRIME, PRIME, PRIME
Before you reach for your lip crayon, show your pout a little extra care by applying a lip balm to hydrate and prep. No dry lips allowed!
STEP #3: ACCENTUATE YOUR CUPID'S BOW
Now that your lips are soft and smooth, it's time to set the stage with your cupid's bow. On bare lips, apply the L'Oréal Paris Matte Lip Crayon, Lasting Wear, Smudge Resistant in Caramel Rebel on the tip of your cupid's bow.
STEP #4: OUTLINE YOUR LIPS
Using the same lip crayon, outline your lips following your natural lip line. This will help keep your color right where you want it—on your lips!
STEP #5: APPLY LIP COLOR TO YOUR LIPS
Once your lips are lined to perfection, use the same lip crayon and swipe the color across the middle of your top lip. Be sure to stay inside the lines for a clean finish. Repeat this step on your bottom lip and follow the lines toward the corners of your pout.
Editor's tip: Want to add some depth to your lip makeup look? Use two different lip crayons. One to line your lips and another to fill them in. Use a lip crayon that's two to three shades darker than your lip color to line your lips and cupid's bow. In this case, a great pick to complement the red hue you're wearing would be the L'Oréal Paris Matte Lip Crayon, Lasting Wear, Smudge Resistant in Spice Of Life.
STEP #6: HIGHLIGHTER
Ready to give your lips a nice pop? Reach for a highlighter and apply it to your cupid's bow for a touch of dimension. Try the L'Oréal Paris True Match Lumi Shimmerista Highlighting Powder for a gorgeous shimmer that will definitely have all eyes on you. Voila!
And that's how you can rock our best lip crayon like a pro! Now, are you ready to expand your lip makeup knowledge by adding a trendy technique to your repertoire? Head on over to our article, Lip Contouring: How to Master This Makeup Technique, to do just that.
Discover more tips & tricks
Keep your skin happy
See all articles
Shop Featured Makeup products
Discover More