face makeup
Our Best Illuminating Foundation for Dewy Skin
October 11, 2019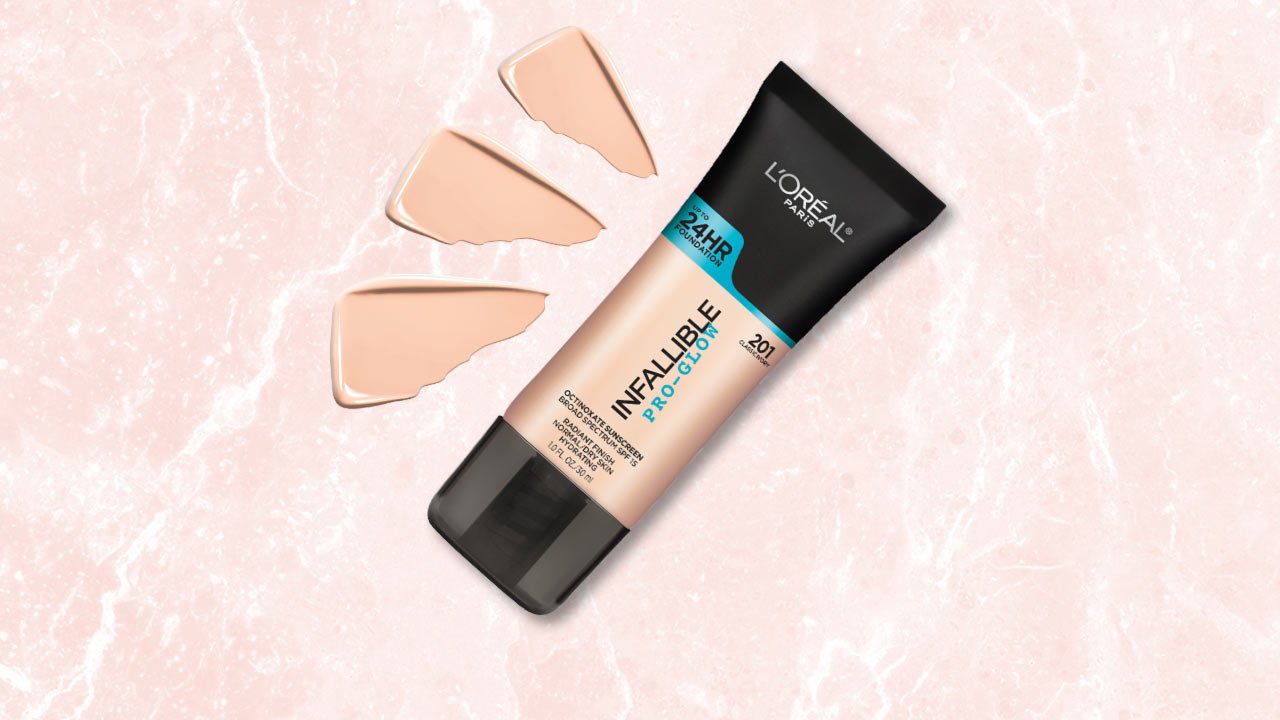 Searching for an illuminating foundation to combat the dry, dull skin that goes hand in hand with the fall and winter seasons? You can stop your quest! There's no denying that a dewy foundation is a must for your makeup bag, and we have just the one for you. Read on to learn more about our best dewy foundation and how to use it, so your next makeup look can feature beautifully radiant skin.
OUR BEST ILLUMINATING FOUNDATION
Allow us to introduce you to our best dewy foundation, the L'Oréal Paris Infallible Pro-Glow Foundation. This long-lasting liquid foundation lasts up to 24 hours for all-day glowing skin. Lightweight and creamy, the formula goes on smooth to provide your skin with medium coverage. It instantly hides imperfections for a clear complexion. The hydrating foundation is ideal for normal to dry skin. Bonus: It also contains SPF 15, making it perfect for everyday use!
HOW TO USE OUR BEST DEWY FOUNDATION
So, how does one use our illuminating foundation to create a glowing complexion? It's as easy as one, two—that's it!
STEP #1: PRIME YOUR FACE
First thing's first, prep your skin with a radiant makeup primer, like the L'Oréal Paris Infallible Pro-Glow Lock Makeup Primer. The longwear formula primes for makeup, perfects, and illuminates while it hydrates skin for a better makeup application. Your skin will be left with a healthy, radiant glow that lasts all day.
STEP #2: APPLY YOUR FOUNDATION
It's time to grab your foundation! Apply a dot of the liquid formula on your cheeks, forehead, and chin. Then, blend the foundation outward by bouncing the L'Oréal Paris Infallible Blend Artist Foundation Blender on your skin. Build the coverage as desired.
HOW TO FINISH YOUR RADIANT SKIN MAKEUP LOOK
Want to take your radiant skin makeup look up a notch? Complete your routine with the following steps, post-dewy foundation.
STEP #1: BRIGHTEN YOUR UNDER EYES
As far as concealers go, it's no surprise that the L'Oréal Paris Infallible Pro-Glow Concealer is a must for this look. The lightweight, ultra-blendable formula offers luminous, buildable coverage. Grab a color that's one to two shades lighter than your skin tone, then apply the concealer in an upside-down triangle under your eyes. Blend with your makeup blender and admire your instantly brightened under-eye area.
STEP #2: AND SOME COLOR
We're not done yet! Think blush doesn't have to be part of your glowing complexion? Think again! Rosy cheeks may not be the first thing you think of when imagining dewy skin, but they're certainly a must when it comes to creating a healthy-looking and radiant lit-from-within complexion. Sweep the L'Oréal Paris True Match Blush in Rosy Outlook onto the apples of your cheeks.
STEP #3: ADD SOME SHIMMER
What would a radiant makeup look be without a bit of highlighter? Dust the L'Oréal Paris True Match Lumi Shimmerista Highlighting Powder across your cheekbones, tip of your nose, and cupid's bow for the added glow you crave.
Not a fan of powder highlighters? If liquid is more your style, give the L'Oréal Paris True Match Lumi Glow Amour Glow Boosting Drops a try. Apply it to the same key areas mentioned earlier, then blend out with a fingertip or makeup sponge.
STEP #4: SET YOUR LOOK
Ready to top off your glowy makeup look? No one wants all their hard work to go to waste—which is why a setting spray is a must for finishing up your radiant complexion. Even better, you can actually give your glowing skin another boost at the same time. Grab the L'Oréal Paris True Match Lumi Shake & Glow Dew Mist, which will instantly refresh your complexion with a natural, dewy glow. Shake and spray over your face to set your look.
Next up: Speaking of glowing skin, want to be able to say, "I woke up like this?" Check out our article, 5 Ways to Encourage a Natural Glow and Address Skin Dullness.
Discover more tips & tricks
Keep your skin happy
See all articles
Shop Featured Makeup products
Discover More