face makeup
These Cream Bronzers and Contours Are Perfect for Summer
June 05, 2020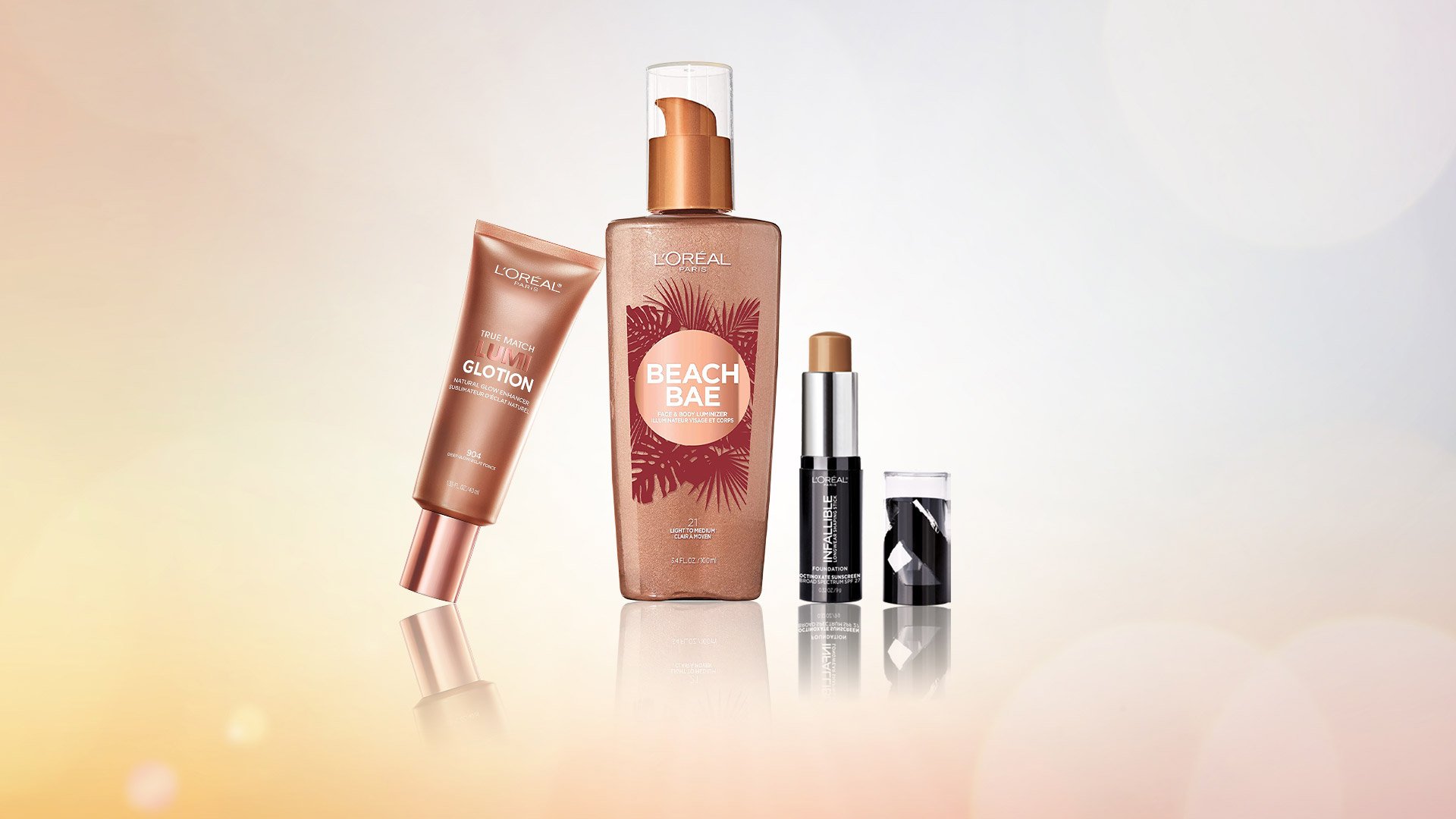 There's no denying a perfectly contoured, sun-kissed face is seriously stunning. While you might be familiar with using powder makeup products to contour and bronze your complexion, cream formulas totally change the game. Sure, powders are great, but cream bronzer and contour products make sculpting your face and warming up your complexion that much easier with their smooth, easily blended formulas. Don't believe us? Read on to learn about our best liquid bronzer and cream contour products—they're a total summer essential.
OUR BEST CREAM CONTOUR PRODUCT
Not only do cream contours make perfect blending a possibility, but they also can be used to get a more dramatic, sculpted effect. Carve out high cheekbones, a defined jawline, and even poutier lips with the help of the right creamy product. Our favorite is the L'Oréal Paris Infallible Longwear Foundation Shaping Sticks. Available in a range of shades for shaping your visage, this cream contour is buildable and glides on to define your features. The long-wear formula also contains SPF 27, which never hurts. (Just make sure to still wear broad-spectrum sunscreen all over!)
OUR BEST CREAM BRONZERS
Summer makeup can be simplified by liquid and cream formulas that can be quickly smoothed on with your fingers or a makeup sponge, and this truth definitely extends to bronzer. Using a little bronzing cream can give you sun-lit skin in a matter of seconds—and we're totally here for it.
Stock your vanity with either the L'Oréal Paris True Match Lumi Glotion Natural Glow Enhancer or the L'Oréal Paris Summer Belle Makeup Beach Bae Face & Body Liquid Luminizer. The former is a cream bronzer and highlighter (depending on the shade you choose) that delivers an illuminating color tint to enhance your skin's natural glow for a healthier-looking, brighter complexion. The latter is a liquid bronzer with a hydrating, lightweight, and ultra-bendable formula, offering dewy, sheer bronze color.
HOW TO USE CREAM CONTOUR AND BRONZER
Ready to put the above to use? Follow the steps below, and you'll have a flawlessly contoured, radiant complexion in no time at all!
STEP #1. PREP YOUR FACE
As with any face makeup look, it's important to begin with applying primer. Smooth either the L'Oréal Paris Infallible Pro-Matte Lock Makeup Primer or the L'Oréal Paris Infallible Pro-Glow Lock Makeup Primer, depending on whether you prefer a matte or glowing finish, over your skin to create an even canvas for the rest of your makeup.
STEP #2. PERFECT YOUR BASE
It's time to reach for foundation. Look for one that has a lightweight formula to avoid ending up with a cakey makeup look, since you'll be layering on your cream contour products next. With a makeup sponge, apply the L'Oréal Paris Infallible 24 Hour Fresh Wear Foundation, Lightweight, which offers lightweight, buildable medium-to-full coverage.
STEP #3. BRONZE
It's time to warm up your face. Reach for your bronzer and blend the formula onto three key spots: your temples, your cheekbones, and your jawline. These are spots where the sun would actually hit, making for a natural look.
STEP #4: CONTOUR
While bronzer can offer a bit of definition, the real sculpting power comes from your cream contour. Take the shaping stick (one in a color that's one to two shades darker than your skin tone) and use it to draw lines on your cheekbones, around your forehead, along your jawline, and down either side of your nose.
STEP #5. BLEND IT OUT
The key to a flawless cream contour is to blend, blend, blend! Bounce the L'Oréal Paris Infallible Blend Artist Foundation Blender over your face to buff out the lines you drew for a seamlessly chiseled face.
STEP #6. DOT ON CREAM HIGHLIGHTER
Of course, a summer makeup look wouldn't be complete without highlighter. Dot an illuminator—with a cream formula, of course—onto your cheekbones, tip of your nose, cupid's bow, and beneath the arch of your brows for the perfect amount of glow.
STEP #7. SET YOUR MAKEUP
You wouldn't want all that hard work to go to waste—melting off throughout the day—would you? We thought not! To ensure your makeup lasts day and night, be sure to set your look. Since cream products tend to be more hydrating, they can have a tendency to wear away. Prevent that by setting with a translucent face powder. Sweep the L'Oréal Paris Infallible Pro-Sweep & Lock Loose Setting Face Powder over your face with a fluffy kabuki brush.
Next up: Now that you're well-versed in the ways of cream contouring, perhaps you'd like the tackle another contouring technique. Check out How to Contour Your Body and How to Contour Your Lashes.
Discover more tips & tricks
Keep your skin happy
See all articles
Shop Featured Makeup products
Discover More