face makeup
Our Best Contour Stick for a Sculpted Visage
October 18, 2019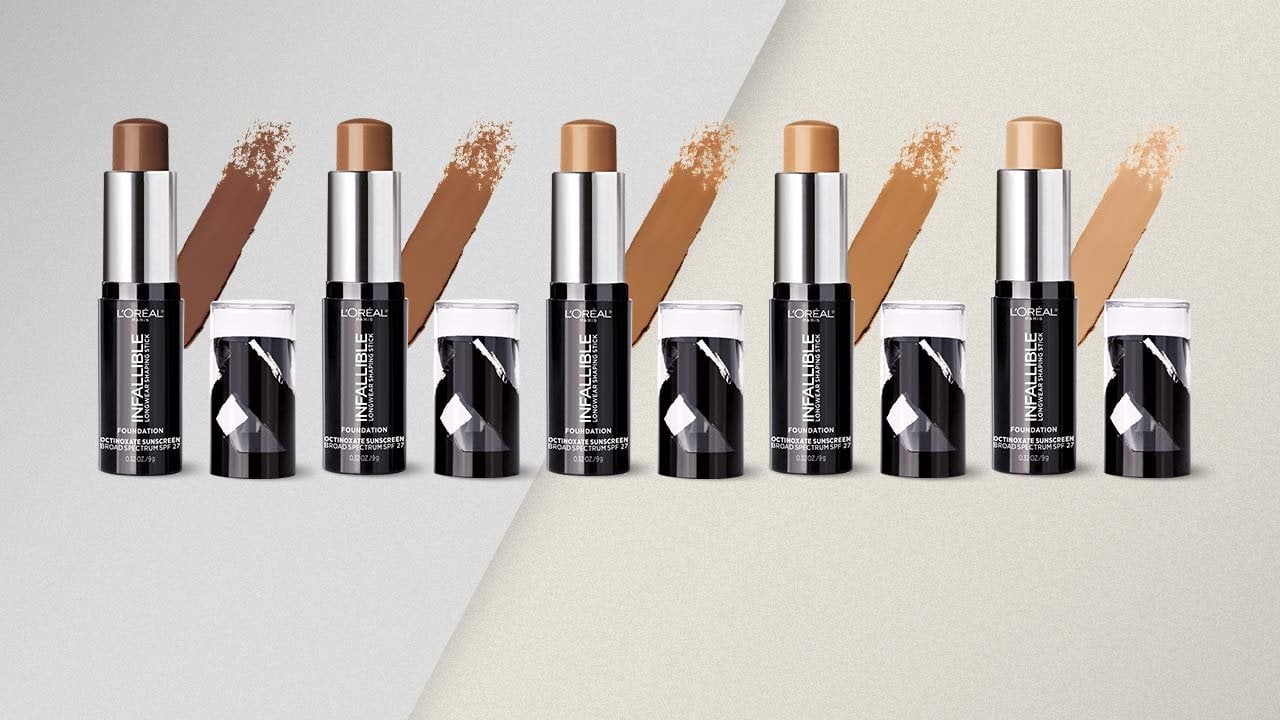 If you haven't already tried one, using a contour stick to give yourself a sculpted complexion just might change the way you do your makeup forever. A cream contour product has the power to help you create sharply defined—yet well blended—features. Whether you're a contour fanatic or a newbie, we'd say our best drugstore contour stick is a must for your makeup bag. Ready to put your best cream contour forward? Below, we're sharing all the details on our contour stick, including how to use it to create a perfectly sculpted visage.
OUR BEST DRUGSTORE CONTOUR STICK
Introducing our best contour stick: the L'Oréal Paris Infallible Longwear Foundation Shaping Sticks. The creamy, glide-on formula melts onto skin and provides weightless, long-lasting coverage that doesn't cake or drag. You can easily achieve a sculpted look while giving your complexion buildable, medium-to-full coverage. Bonus: the longwear formula contains SPF 27 to help protect your skin from the sun's harmful UV rays. With a few quick swipes, you'll be ready to show off a perfectly defined makeup look that lasts all day and night.
Editor's note: You won't be putting this contour product all over your face, so don't use it as your main source of sun protection! A broad-spectrum sunscreen is still a must.
HOW TO USE OUR CONTOUR STICK FOR YOUR BEST CREAM CONTOUR
Ready to get your cream contour on? Follow the steps below to create a chiseled, sculpted visage.
STEP #1: PREP AND PRIME
You know the drill! If you want a long-lasting makeup look, it's important to start by prepping your complexion with a makeup primer. Smooth on the L'Oréal Paris Studio Secrets Professional Magic Perfecting Base to perfect your skin texture. The silky, lightweight formula will glide onto your skin and minimize the look of pores and fine lines.
STEP #2: APPLY FOUNDATION
Next up: Foundation. It's important to stay consistent with your face makeup formulas, as this will allow for better blending and a more seamless look overall. Since you'll be using a cream contour stick, skip the powder and opt for a cream or liquid foundation. We recommend the L'Oréal Paris Infallible Up to 24HR Fresh Wear Foundation, Lightweight because it has a lightweight formula that won't feel cakey under your cream contour. Use the L'Oréal Paris Infallible Blend Artist Foundation Blender to buff and blend the liquid foundation for a flawless complexion.
STEP #3: GRAB YOUR CONTOUR STICK
It's time to contour! When picking the proper shade, choose a color that's one to two shades darker than your skin tone. This will allow you to create natural-looking shadows that define your features without too harsh of a contrast. Once you've picked your shade, you're ready to contour. Swipe the stick along the hallows of your cheeks, jawline, sides of your nose, and temples. Then, blend the product out with your makeup blender.
STEP #4: MAKE IT ROSY
We're not done yet! Remember what we said about keeping formulas consistent?
Continue to perfect your complexion by adding some color with the help of a cream blush. Swipe the L'Oréal Paris Infallible Longwear Blush Shaping Sticks onto your cheekbones, then gently rub the color out with your fingertip.
STEP #5: ADD SOME GLOW
What's a contoured complexion without a bit of highlighter? Draw the eye to the high points of your face and intensify your chiseled look by applying the L'Oréal Paris True Match Lumi Glow Amour Glow Boosting Drops onto your cheekbones, cupid's bow, and tip of your nose.
STEP #6: SET YOUR LOOK
Almost done! Last but not least, you'll want to make sure all of your hard work doesn't go to waste. Seal in your cream contour with the help of a setting spray. For a natural finish, use the L'Oréal Paris Infallible Pro-Spray & Set Makeup Extender Setting Spray. For a dewy finish, spritz on the L'Oréal Paris True Match Lumi Shake & Glow Dew Mist.
Next up: Now that you're a pro at using a contour stick to create a sculpted visage, perhaps you'd like to learn how to take your contouring skills elsewhere. Head over to our article, How to Contour Your Body, for another contour lesson.
Discover more tips & tricks
Keep your skin happy
See all articles
Shop Featured Makeup products
Discover More