face makeup
Can You Wear Makeup to the Gym?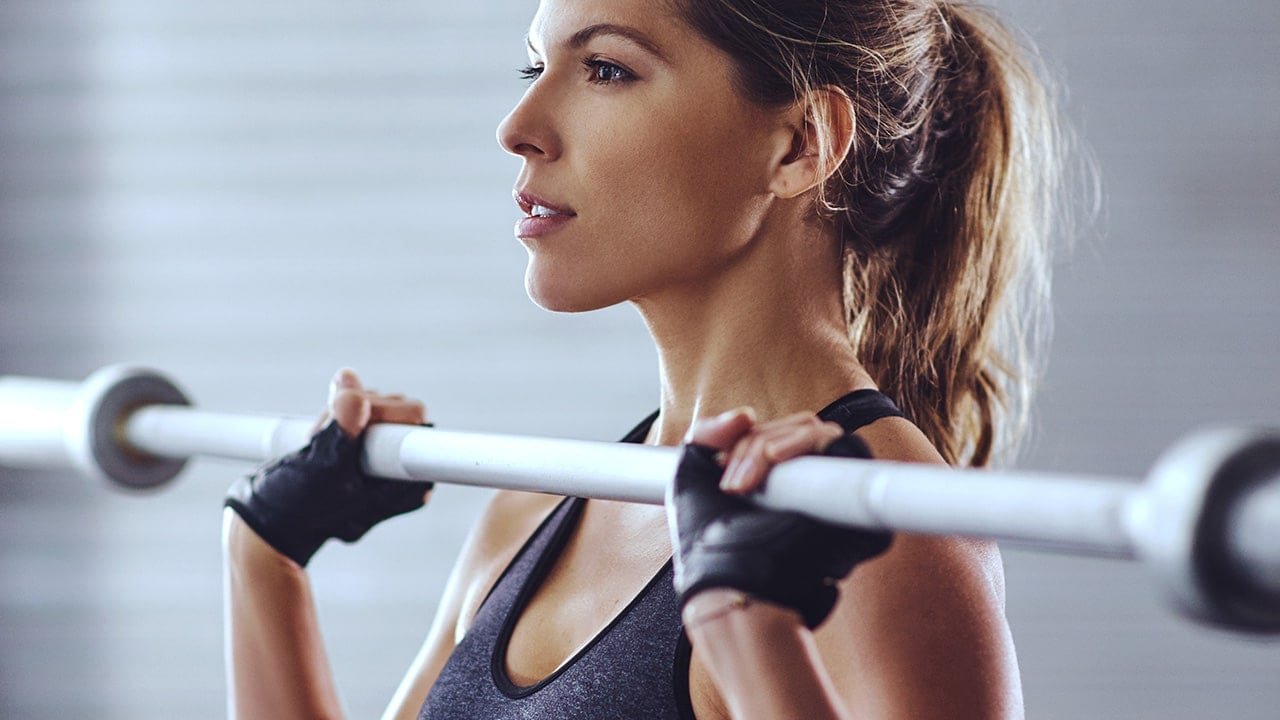 There are plenty of factors that go into deciding whether or not you decide to go to the gym. You may feel as though you don't have enough time to squeeze in a good workout, you could be exhausted from a long work day, or you might have a fear of running into your gym crush (or even worse—an old high school classmate) not looking your best. After all, it's not easy to look good when you're working up a sweat, struggling to power through that last rep, and on top of that rocking an au naturel beauty look. And so the question arises: Can you wear makeup to the gym? Maybe just a little concealer? We're here to answer just that, as well as give you some tips to add to your gym beauty routine that will keep you from ducking behind the elliptical next time you run into a hottie.
Can You Wear Makeup to the Gym?
While we're all for wearing a killer makeup look, the American Academy of Dermatology suggests that you take your makeup off prior to hitting the gym in order to keep your workout routine from causing or worsening acne. To prep your skin for exercising, follow our Easy, 3-Step Pre-Gym Skin Care Routine.
If you feel as though you simply can't go out in public with a bare face—don't sweat it. Not everyone is comfortable going makeup-free, and that's okay. Instead of ditching your beauty routine you can pare down your products and simplify your look with a few gym-proof essentials.
Editor's note: It's always a good idea to wash your face after exercising, but if you do decide to wear makeup to the gym, it becomes especially important to use a facial cleanser post-workout. So, don't try to maximize your makeup look and get it to last for the rest of the day. Head to the locker room immediately after you complete your gym sesh and start on your post-workout skin care routine. You can always reapply your makeup afterward!
5 Makeup Products to Wear to the Gym
Not ready to go to the gym without putting on a little makeup first? Here are five gym-proof makeup products to get you workout-ready:
Gym Makeup Product #1: BB Cream
If you want to even out your complexion and cover up a few imperfections, BB cream is the way to go. The L'Oréal Paris Magic BB Anti-Redness (For All Skin Tones) is about to be your new workout buddy. The cream is formulated with beautifying beads that contain color-transforming pigments to counteract redness—which, let's face it, is bound to occur after running on the treadmill. The multi-tasking, ultra-light lotion also evens your skin tone, hydrates, and perfects for a flawless, bare skin finish.
Gym Makeup Product #2: Waterproof Concealer
For any blemishes you want to hide, a waterproof concealer is a must. After all, you don't want all your hard work to fade away once you start working up a sweat! For any areas where you'd like some extra coverage, reach for the L'Oréal Paris Infallible Full Wear Concealer Waterproof, Full Coverage. This full coverage concealer has a waterproof formula that can conceal dark circles, acne scars, and discoloration in just one swipe. It also has a matte finish, allowing it to balance out any unwanted shine.
Gym Makeup Product #3: Waterproof Mascara
Long, voluminous lashes can seriously transform your face—so we understand why you wouldn't want to part with mascara for the duration of your workout session. For the gym, make sure to opt for mascara with a waterproof formula, like the L'Oréal Paris Unlimited Lash Lifting and Lengthening Waterproof Mascara Blackest Black or the L'Oréal Paris Voluminous Lash Paradise™ Waterproof Mascara.
Gym Makeup Product #4: Lip Balm
A lip balm is a must for the gym—even if you want to go sans makeup. If you're opting to take a break from your makeup, smooth on a nourishing lip conditioner. If you want a gym-ready makeup look, try popping on a tinted lip balm instead. Use the L'Oréal Paris Colour Riche Lipstick Glossy Balm in your shade of choice to smooth and condition your lips while coating them in a kissable hue.
Gym Makeup Product #5: Eyebrow Gel
Can't be seen without your brows done? Neither can we! Give yourself brows that are "on fleek" and can withstand your workout by using a waterproof eyebrow gel to fill them in. We recommend the L'Oréal Paris Unbelieva-Brow Longwear Waterproof Brow Gel as its H2O-proof formula won't smudge or transfer.
Next: Post-Workout Beauty: How to Take Your Makeup and Hair from Gym to Drinks
Discover more tips & tricks
Keep your skin happy
See all articles
Shop Featured Makeup products
Discover More