eye makeup
How to Use a Brow Pomade for Perfect Arches
November 26, 2019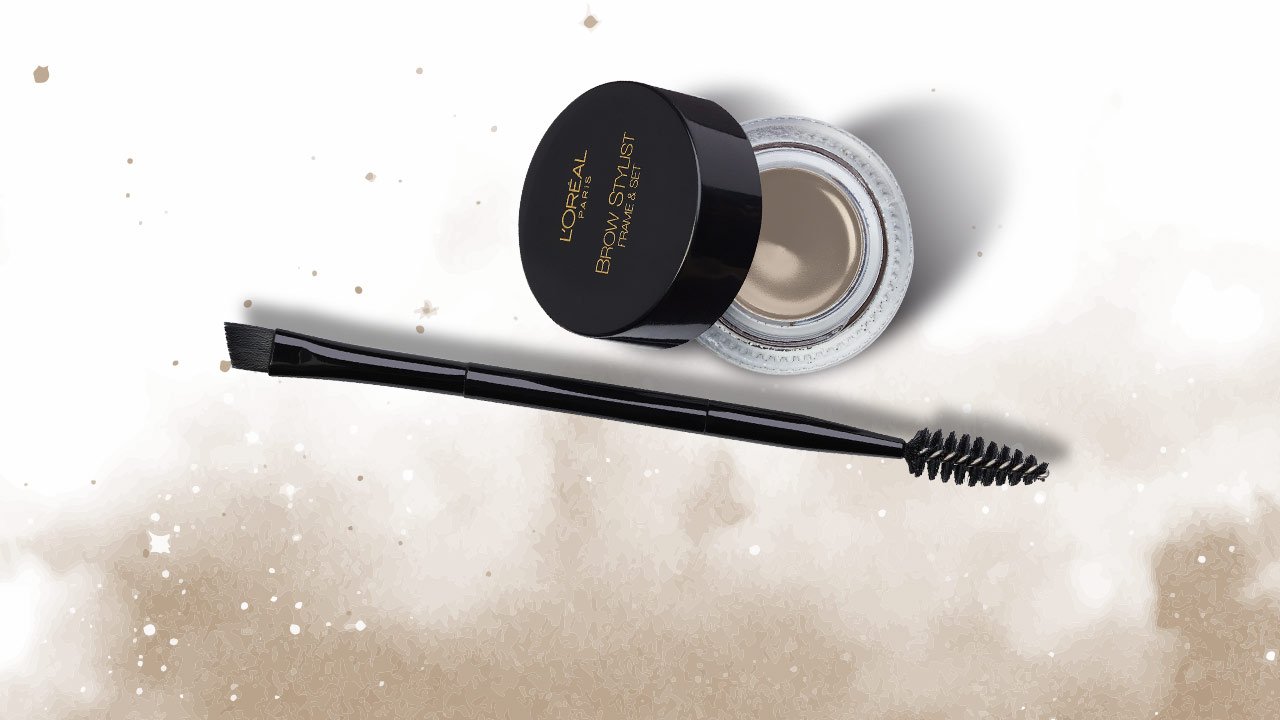 Raise your hand if you want perfectly sculpted eyebrows! It's no secret that the right eyebrow shape can completely change your face. And with so many rising eyebrow makeup trends—from brushed up brows to soap brows—it's safe to say your makeup collection is more inundated with eyebrow products than ever.
Amongst the brow mascaras and pencils, there's one eyebrow product in particular we've become partial toward: eyebrow pomade. With the proper technique, a brow pomade can be used to give you sharp, defined arches that can totally make your next Instagram selfie. Want to see what we mean? First, we'll introduce you to our best eyebrow pomade; then we'll share a step-by-step tutorial on how to use it.
OUR BEST EYEBROW POMADE
Without further ado, allow us to tell you about the L'Oréal Paris Brow Stylist Frame and Set. This cream brow pomade comes with an angled brush and blending spoolie—everything you need to create your next flawless brow look. The lightweight formula easily glides onto skin and brow hairs to frame and set your look. With the help of the angled brush, you can easily draw individual hairs, precisely shape your arches, and fill in any sparse areas for a naturally defined and styled brow look that stays put. Oh, and did we mention the formula is waterproof? Say no more!
HOW TO USE A BROW POMADE
Ready to put our best brow pomade to good use? Follow the steps below, and you'll be a brow pomade pro in no time!
STEP #1: CLEAN YOUR BROWS
To ensure you achieve the flawless brows you're after, make sure your eyebrows are free of any residue. Saturate a cotton pad with the L'Oréal Paris Micellar Cleansing Water Complete Cleanser Waterproof - All Skin Types and brush it over your brows to give yourself a clean slate.
STEP #2: BRUSH IT OUT
Once your brows are clean, use the included spoolie to brush through them and prep your brow hairs for the pomade.
STEP #3: GRAB YOUR POMADE
Dip the angled brush into the pomade. After dipping the makeup designer brush into the creamy formula, lightly dab to remove excess product for more precise application and to prevent any potential mishaps. When it comes to pomade, a little product goes a long way!
STEP #4: OUTLINE YOUR SHAPE
Use light, short strokes to begin to outline your brow shape. Take special care to define your arch! It's best to take your time while doing this—but if you do have any bumps along the way, a bit of micellar water on a cotton swab will be your saving grace.
STEP #5: FILL IN SPARSE AREAS
Once you have your outline completed, dip the angled brush back into the pomade and use a light hand to create feathered, hair-like strokes to fill in any sparse areas.
STEP #6: BUILD UP YOUR LOOK
Continue to create hair-like strokes throughout your brows, building up the color, density, and boldness to the look that you desire. Like we said, less is more, so take your time to avoid an overdramatic brow look!
STEP #7: COMB AND BLEND
Use the spoolie to comb through your brows and blend the pomade for a natural, realistic brow look. This will get rid of any harsh lines and also allow you to position your brow hairs to your liking.
STEP #8: FINE-TUNE WITH CONCEALER
Last but not least, if you want absolutely perfect arches, you'll want to reach for a concealer. The L'Oréal Paris Infallible Full Wear Concealer Waterproof, Full Coverage has a full coverage, waterproof formula that'll do the trick. Take a little of the liquid formula on a small, tapered brush and apply it along the outline of your brow shape. This will sharpen your arch and cover up any minor mistakes. Make sure to blend to avoid any harsh lines!
Discover more tips & tricks
Keep your skin happy
See all articles
Shop Featured Makeup products
Discover More