hair color ideas
How To Get An Apple Cider Hair Color For Fall
'Tis the season for this cozy shade.
October 28, 2021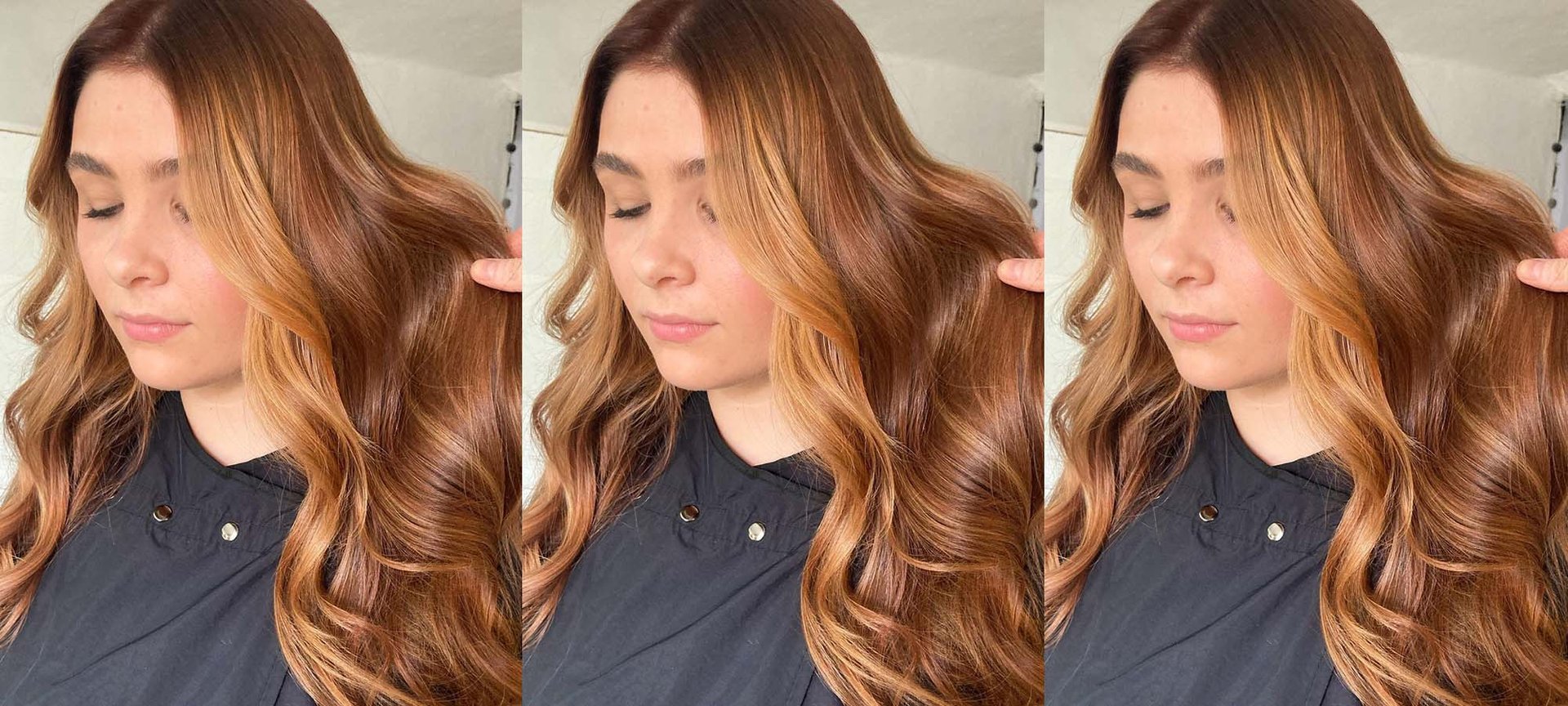 During the cooler months, you're probably looking for ways to get cozy, like lighting your favorite candles, putting on a face mask, or sipping on a hot beverage. And while changing your hair color won't physically warm you up, opting for a warm, seasonal-inspired hue can add to the cozy vibes. Enter: apple cider hair color. If you're in the market for a hair color change, keep reading to learn how to get this sweet shade that's perfect for the chilly seasons.

What Is An Apple Cider Hair Color?
Just like the name suggests, apple cider hair color is inspired by the fall favorite drink. It's a warm, light auburn hue with hints of gold and copper. If you're a fan of toasty shades that add tons of warmth and brightness to your look, this is the fall and winter hue for you.

How To Achieve Apple Cider Hair Color
When it comes to transforming your strands in order to sport this cozy hair color, there are several ways to do it. Below, we're sharing a few of them.

1. All-Over Permanent Hair Color
For a solid, even coat of apple cider color, you can head to a salon and have a colorist transform your hair using a consistent shade all over. Or if you're into changing up your color DIY style, try the L'Oréal Paris Superior Preference Fade-Defying Shine Permanent Hair Color in Lightest Auburn. It provides a rich tint that's fade resistant for up to eight weeks. If you're looking for something to cover stubborn grays, the L'Oréal Paris Excellence Créme Permanent Triple Protection Hair Color in Light Auburn is for you. It has 100% gray coverage and is gentle on the hair.

2. Balayage Highlights
If you're looking to sport a hair color with dimension and depth, opting for balayage highlights will get you there. You'll want to start with a light auburn base color and add in gold and copper balayage to achieve a multi-faceted apple cider hair color. The balayage technique involves strategically painting the highlights onto the hair to give it a natural look, so be sure to head to a trained professional to get the best results.

3. Ombré
Because apple cider hair color is a combination of warm hues like copper, gold, and red, it's an excellent color choice if you're looking to try the ombré hair trend. Ask your color specialist to give you a rich auburn shade at your roots that subtly fades into copper and gold towards the tips. It will make for a gorgeous, dimensional look full of warmth and brightness.
How To Care For Apple Cider Hair Color
When coloring your hair 一 no matter the shade 一 it's important to understand the dos and don'ts of caring for your colored hair. Below, we're sharing a few tips to keep your new color in prime condition.

1. Use Color-Safe Shampoo And Conditioner
In order to ensure your new hair color looks its best, opt for color-safe shampoo and conditioner like the L'Oréal Paris EverPure Sulfate-Free Bond Strengthening Shampoo and L'Oréal Paris EverPure Sulfate-Free Bond Strengthening Conditioner which are safe on color and work to address damage as a result of bleaching and heat styling.

2. Use Heat Protectant When Heat Styling
Speaking of heat styling, excessive heat can seriously damage your hair and cause your color to fade. When using hot tools on your tresses, always be sure to use a heat protectant like the L'Oréal Paris Elvive Dream Lengths Heat Slayer Pre-Iron Spray Leave-In which protects the hair from heat up to 450 degrees.

3. Add A Hair Gloss Into Your Hair Care Routine
Another great way to maintain your color is by adding a hair gloss into your hair care routine. To enhance your apple cider hair color and add smoothness and shine to your strands, try the L'Oréal Paris Le Color Gloss One Step In-Shower Toning Gloss in Copper. In just 15 minutes, this hair gloss tones and conditions the hair 一 without having to head to the salon.
Next: How To Go From Brown To Blonde Hair The Right Way

Written by: Alyssa Kaplan, Photo Credit: IG/@sarahgazard_colour
{ "@context": "https://schema.org/", "@type": "WebPage", "speakable": { "@type": "SpeakableSpecification", "cssSelector": ["speakable-content"] }, "url": "https://www.lorealparisusa.com/beauty-magazine/hair-color/hair-color-ideas/how-to-get-apple-cider-hair" }
Discover more tips & tricks
Keep your skin happy
See all articles
Improve your routine
Show your new look more love:
makeup
{ "@context": "http://schema.org", "@type": "BreadcrumbList", "itemListElement": [ { "@type":"ListItem", "position": 1, "item": { "@id": "/", "name": "Home" } } , { "@type":"ListItem", "position": 2, "item": { "@id": "https://www.lorealparisusa.com/beauty-magazine", "name": "Beauty Magazine" } } , { "@type":"ListItem", "position": 3, "item": { "@id": "https://www.lorealparisusa.com/beauty-magazine/hair-color", "name": "Bold Ideas From Hair Color Pros" } } , { "@type":"ListItem", "position": 4, "item": { "@id": "https://www.lorealparisusa.com/beauty-magazine/hair-color/hair-color-ideas", "name": "Hair Color Ideas" } } , { "@type":"ListItem", "position": 5, "item": { "@id": "https://www.lorealparisusa.com/beauty-magazine/hair-color/hair-color-ideas/how-to-get-apple-cider-hair", "name": "how-to-get-apple-cider-hair" } } ] }