sulfate free
A Scalp Scrub Is a Must For Your Routine—This Is Why
December 11, 2020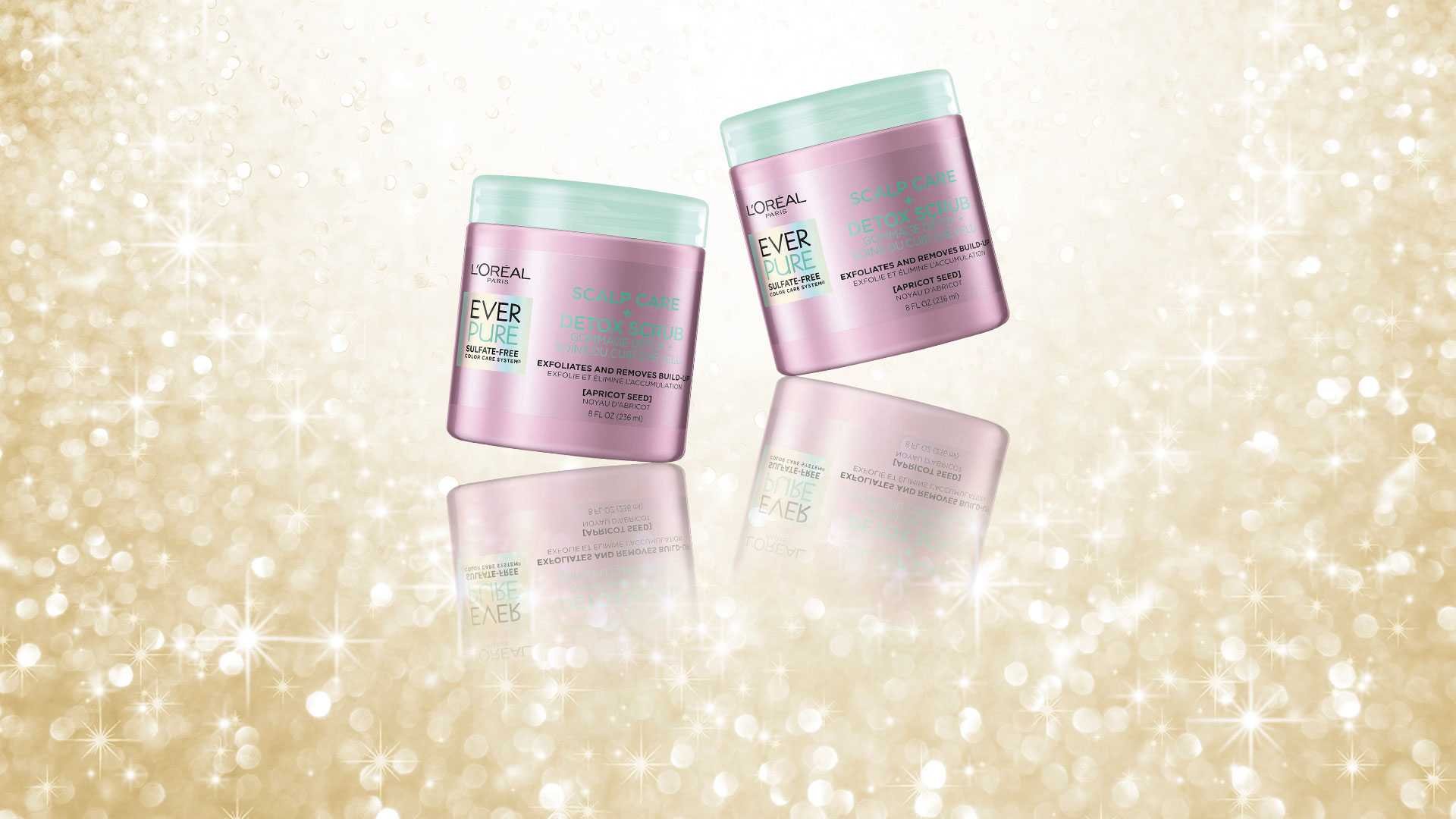 Washing your hair may be second nature in your beauty routine. You start by hopping in the shower, applying shampoo, and rinsing. Then, you finish up with a conditioner and a final rinse session. However, it turns out there might be one step you're missing in your hair-care regimen that could be pretty useful—and that's using a scalp scrub. Your scalp could benefit from a little exfoliation. If your locks are looking flat and weighed-down, or you're experiencing a dry scalp, scalp exfoliation could be just what you're missing in your hair-care routine. Ahead, we're sharing our best scalp scrub, along with a step-by-step tutorial on how to exfoliate your scalp.
OUR BEST EXFOLIATING SCALP SCRUB
If you're ready to add some scalp exfoliation into your routine, you need to use an offering that can give your mane the attention it needs. We love the L'Oréal Paris EverPure Sulfate-Free Scalp Care + Detox Scrub. The sulfate-free scalp scrub is formulated with apricot seeds and menthol. This essential works to exfoliate and remove unwanted product buildup to purify your scalp. It's also designed to manage a dry, flakey and oily scalp along with dandruff.
HOW TO EXFOLIATE YOUR SCALP
Don't worry—adding this scrub into your hair-care routine is pretty simple. Wet your hair and apply the scrub to the roots. Gently massage the product onto your scalp before rinsing thoroughly. Once complete, take things a step further with the L'Oréal Paris EverPure Sulfate Free Scalp Care + Detox Shampoo and L'Oréal Paris EverPure Sulfate Free Scalp Care + Detox Conditioner. These products are formulated with neem leaf extract and menthol and work to give your hair and scalp a detox. This duo purifies and cleanses the scalp of product buildup and oil without stripping your hair. It also helps to prevent scalp-flaking and itching that's associated with dandruff.
4 TIPS TO HELP PREVENT YOUR HAIR FROM GETTING WEIGHED DOWN
As we mentioned, the buildup of dirt and excessive oils on your scalp can weigh your hair down. And flat, greasy-looking hair is something no one wants to deal with (and can make anyone want to hide under a giant hat all day). But it doesn't have to be that way. Follow these tips to achieve luscious, voluminous locks in no time.
1. ADD AN EXFOLIATING SCALP SCRUB TO YOUR HAIR CARE ROUTINE
Like we mentioned, you'll want to kick things off by applying the scalp scrub before using your shampoo and conditioner. Gently massage the scalp exfoliator onto your wet scalp, rinse it out thoroughly, and follow up with the rest of your hair-care routine.
2. ONLY APPLY CONDITIONER TO YOUR ENDS
When it comes to using conditioner, there's no need to go overboard. This is one of a few conditioner mistakes you could be making. The trick is to only use it on your mid-lengths to ends since they tend to be drier than the rest of your mane. Using this essential on your roots will weigh your hair down and keep it from looking full and voluminous.
3. GO EASY ON STYLING PRODUCTS
Since you now know that dirt and excessive oils can build up on your scalp, keep that in mind when you're using hair-styling products in your daily routine. Remember: A little goes a long way. The more products you use on your hair, the more you'll end up weighing it down.
4. WASH YOUR HAIR
It's not news that dry shampoos, like the L'Oréal Paris Elvive Dream Lengths Air Volume Dry Shampoo, are total lifesavers. However, that doesn't mean you should forgo washing your hair. Waiting too long to wash your hair can lead to a buildup of dirt and oils, which can weigh down your strands. Follow your regular shampoo and conditioner routine to keep your strands in shape.
THE BOTTOM LINE ON SCALP EXFOLIATION
If you've noticed that your strands have been falling flat lately, you may want to consider adding a scalp exfoliator to your hair-care routine. It can help remove impurities from your scalp that can be weighing your hair down. Take it from us—you'll have volume and bounce back in your strands in a pinch.
{ "@context": "https://schema.org/", "@type": "WebPage", "speakable": { "@type": "SpeakableSpecification", "cssSelector": ["speakable-content"] }, "url": "https://www.lorealparisusa.com/beauty-magazine/hair-care/sulfate-free/how-to-use-a-scalp-scrub" }
Discover more tips & tricks
Keep your skin happy
See all articles
Shop Featured Hair Care products
Discover More
{ "@context": "http://schema.org", "@type": "BreadcrumbList", "itemListElement": [ { "@type":"ListItem", "position": 1, "item": { "@id": "/", "name": "Home" } } , { "@type":"ListItem", "position": 2, "item": { "@id": "https://www.lorealparisusa.com/beauty-magazine", "name": "Beauty Magazine" } } , { "@type":"ListItem", "position": 3, "item": { "@id": "https://www.lorealparisusa.com/beauty-magazine/hair-care", "name": "All Things Healthy Hair" } } , { "@type":"ListItem", "position": 4, "item": { "@id": "https://www.lorealparisusa.com/beauty-magazine/hair-care/sulfate-free", "name": "Sulfate-Free" } } , { "@type":"ListItem", "position": 5, "item": { "@id": "https://www.lorealparisusa.com/beauty-magazine/hair-care/sulfate-free/how-to-use-a-scalp-scrub", "name": "how-to-use-a-scalp-scrub" } } ] }