damaged hair
How to Care for Fried, Heat Damaged Hair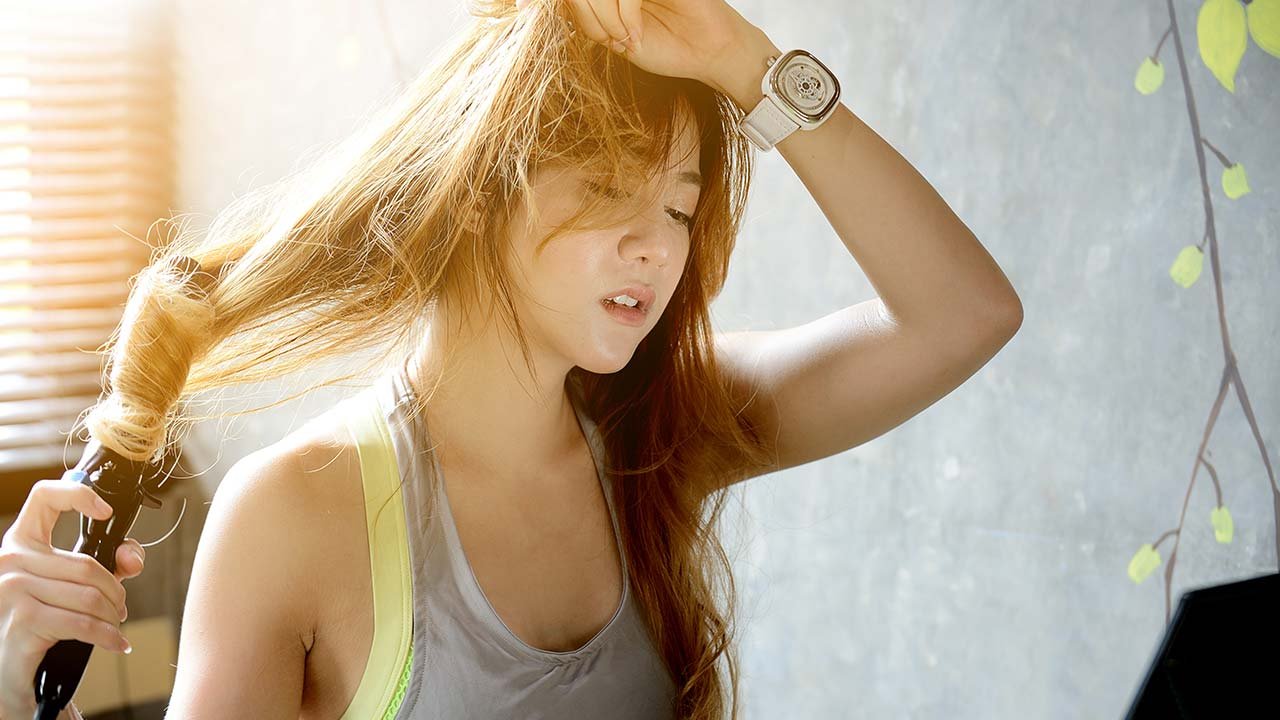 There's just something about hair styled with hot tools that seems to look so much more put together. That being said, excessive heat styling (especially without the use of heat protectant) can seriously take a toll on your strands. While most of us are aware of this fact by now, it's easy to get into the habit of heat styling on the daily—or forgetting to apply protection prior to doing so. If your strands are suffering from heat damage, a hair care routine for fried hair is in order. Not sure where to start? Below, we're sharing seven tips for taking care of heat damaged hair so you can add life back into your locks.
FRIED HAIR CARE TIP #1: GET A TRIM
We hate to break it to you, but fried, heat damaged hair can't be magically returned to its former glory—no matter what products you use. If you notice you have split ends or breakage, your best bet is to head to the salon for a trim. Think of your hair as a string of yarn. When yarn begins to unravel, there's no going back. Instead, the yarn continues to unravel down the entire length of the string. Don't let this happen to your hair! Make the chop now as the first step toward caring for your fried, heat damaged hair.
FRIED HAIR CARE TIP #2: USE A MOISTURIZING HAIR CARE SYSTEM
While you can't repair fried, damaged hair, you can care for it. As you can probably guess, fried hair is typically dry and dull. To restore moisture and in turn bring vibrancy back to your locks, use a moisturizing system of shampoo and conditioner, like the L'Oréal Paris EverPure Moisture Shampoo and L'Oréal Paris EverPure Moisture Conditioner.
FRIED HAIR CARE TIP #3: RESTORE SHINE
Speaking of dullness, you can also add shine to your strands by using a hair serum in your routine. The L'Oréal Paris Elvive Extraordinary Oil Deep Nourishing Treatment Serum hydrates and nourishes to transform lifeless, dry hair, so it's soft and lustrous—leaving you with shiny, silky strands.
FRIED HAIR CARE TIP #4: DEEP CONDITION YOUR STRANDS
Like we said before, fried, heat damaged hair tends to be dry and in need of some TLC. When you feel like giving your strands some extra love, swap your conditioner for a daily deep conditioner, like the L'Oréal Paris Elvive Total Repair 5 Rapid Reviver Deep Conditioner.
FRIED HAIR CARE TIP #5: LOAD UP ON HAIR TREATMENTS
The right hair treatments can help tackle the concerns that come with having heat damaged hair. Consider incorporating one of the following into your routine, based on your hair's needs.
L'Oréal Paris Elvive Total Repair 5 Protein Recharge Treatment: This leave-in conditioner and heat protectant for damaged hair nourishes with each use to help increase strength and flexibility and protect against everyday damage caused by heat and styling for incredibly soft yet resilient hair.
L'Oréal Paris EverPure 10-In-1 Elixir: This hair and scalp beauty solution with Indian lilac helps hair grow stronger while delivering 10 benefits in one, including nourishment, hydration, repair, and shine.
L'Oréal Paris EverStrong Break Proof Lotion: This hair breakage treatment forms a protective shield defending against UV rays and heat styling while strengthening fragile hair and repairing split ends.
FRIED HAIR CARE TIP #6: TAKE A HOT TOOLS HIATUS
While it may be tempting to continue styling your locks with your favorite hot tools, your heat damaged hair will thank you for taking a break. Instead, opt for heat-free styling options. For effortless, loose waves sans heat, spritz towel-dried hair with the L'Oréal Paris Advanced Hairstyle AIR DRY IT Wave Swept Spray, braid it, then allow it to air dry. Remove the braid once your hair has dried to reveal your waves!
FRIED HAIR CARE TIP #7: PASS THE HAIR DYE
Tempted to try a new hair color? Not so fast! While we're all about switching up your 'do, coloring your already damaged hair can take a toll on your strands. If you can't seem to resist a color change, use a temporary, wash out hair coloring option instead! Take your pick from the array of colors in the L'Oréal Paris Colorista 1-Day Spray and L'Oréal Paris Colorista Hair Makeup 1-Day Color lines.
Next up: Think your ends need more attention? Here's How to Get Rid of Split Ends.
Discover more tips & tricks
Keep your skin happy
See all articles
Shop Featured Hair Care products
Discover More