all hair types
Our Best Silicone-Free Hair Care Product
September 18, 2020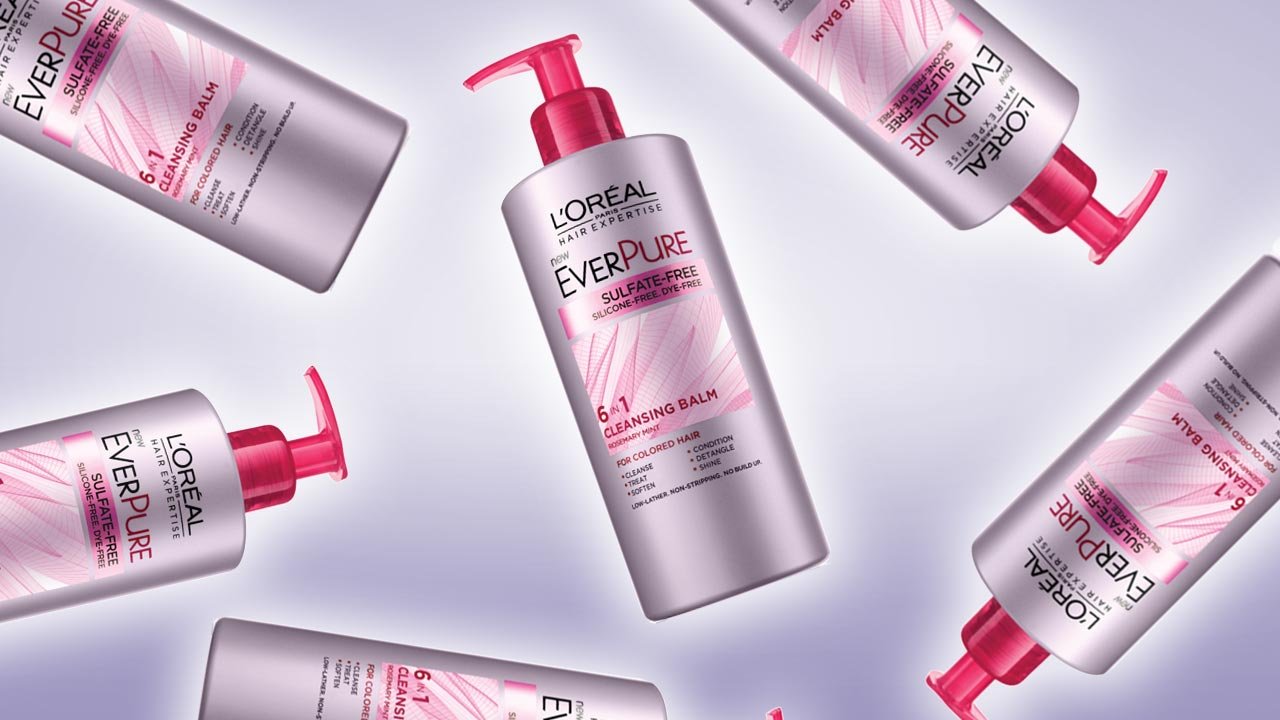 You may or may not realize that many of your favorite hair-care products double as silicone hair products. Yes, silicone in hair products is a common occurrence, and while it isn't a bad thing (we're sure you've pondered, "Is silicone bad for hair?"), many people are opting to clean up their routine with products that have fewer ingredients. We're sure by now you're familiar with the paraben-free and sulfate-free crazes that are closely related to this trend, so you may want to give silicone-free shampoo and other alternatives a try. If you're looking to take a break from silicone for hair, we know one product you may want to have on your radar. Keep reading to learn more about our best silicone-free hair-care product, as well as how to use it in your hair-care routine.
OUR BEST SILICONE-FREE HAIR-CARE PRODUCT
Allow us to introduce you to our best silicone-free hair-care product: the L'Oréal Paris EverPure Cleansing Balm. It's a conditioner that transforms into a gentle cleanser, providing six benefits in one. The cleansing conditioner is formulated for color-treated hair, and it won't strip your hair of crucial natural oils, as it contains no sulfates, parabens, or silicones. The low-lather formula will give your mane a full hair-care regimen in just one step—it cleans, conditions, treats, detangles, softens, and adds shine. If that sounds too good to be true, we promise it's not.
HOW TO USE OUR BEST SILICONE-FREE HAIR-CARE PRODUCT
If you want to part ways with silicone in hair products and add our best silicone-free product to your routine, follow the steps below to complete your regimen.
STEP #1: HOP IN THE SHOWER
First thing's first—hop in the shower and rinse your hair with lukewarm water. You wouldn't want to apply your cleansing balm to dry strands; it's just like a regular shampoo or conditioner in that way.
STEP #2: LATHER UP
Apply six to eight pumps into the palm of your hand, then work it throughout your wet hair. Massage gently and distribute evenly throughout your mane until it's fully saturated.
Editor's note: If you have longer hair, you may need a few more pumps to saturate your strands. Add additional pumps as needed.
STEP #3: WAIT IT OUT
You know what they say—life's a waiting game. Leave your cleansing balm on your hair for three to five minutes.
STEP #4: RINSE AWAY
We're sure you've got this step down pat. Rinse thoroughly to remove any trace of your new favorite silicone-free hair-care product. That's it! No need to use a separate conditioner.
STEP #5: STYLE YOUR MANE
Of course, no hair-care routine would be complete without a hairstyle regimen to follow. Keep things clean (and show your strands some extra TLC) by taking a break from your hot tools and opting for a heat-free styling method.
For heat-free curls…apply the L'Oréal Paris Advanced Hairstyle CURVE IT Elastic Curl Mousse to towel-dried strands, then scrunch. Once your hair is air-dried, you'll be left with defined heat-free curls.
For heat-free volume…look no further than the L'Oréal Paris Advanced Hairstyle BOOST IT High Lift Creation Spray. To use, hold eight to twelve inches from dry hair, and spray directly on your roots for targeted root lift, or spritz throughout your mane for all-over body that lasts. For amplified lift and fullness, finish by using a comb to tease your hair.
For heat-free texture…pick up the L'Oréal Paris Studio Line Overworked Hair Putty. This hair pomade is perfect for defining your natural texture and cut without the need for heat. Simply start with a dime-sized amount of putty, rub it between your palms, and work it through your hair to shape as you please. Add more product as needed, keeping in mind that a little goes a long way.
Next: If you want to clean up your skin care routine, you can do just that with the help of Our Best Paraben-Free Skin Care Products.
Discover more tips & tricks
Keep your skin happy
See all articles
Shop Featured Hair Care products
Discover More