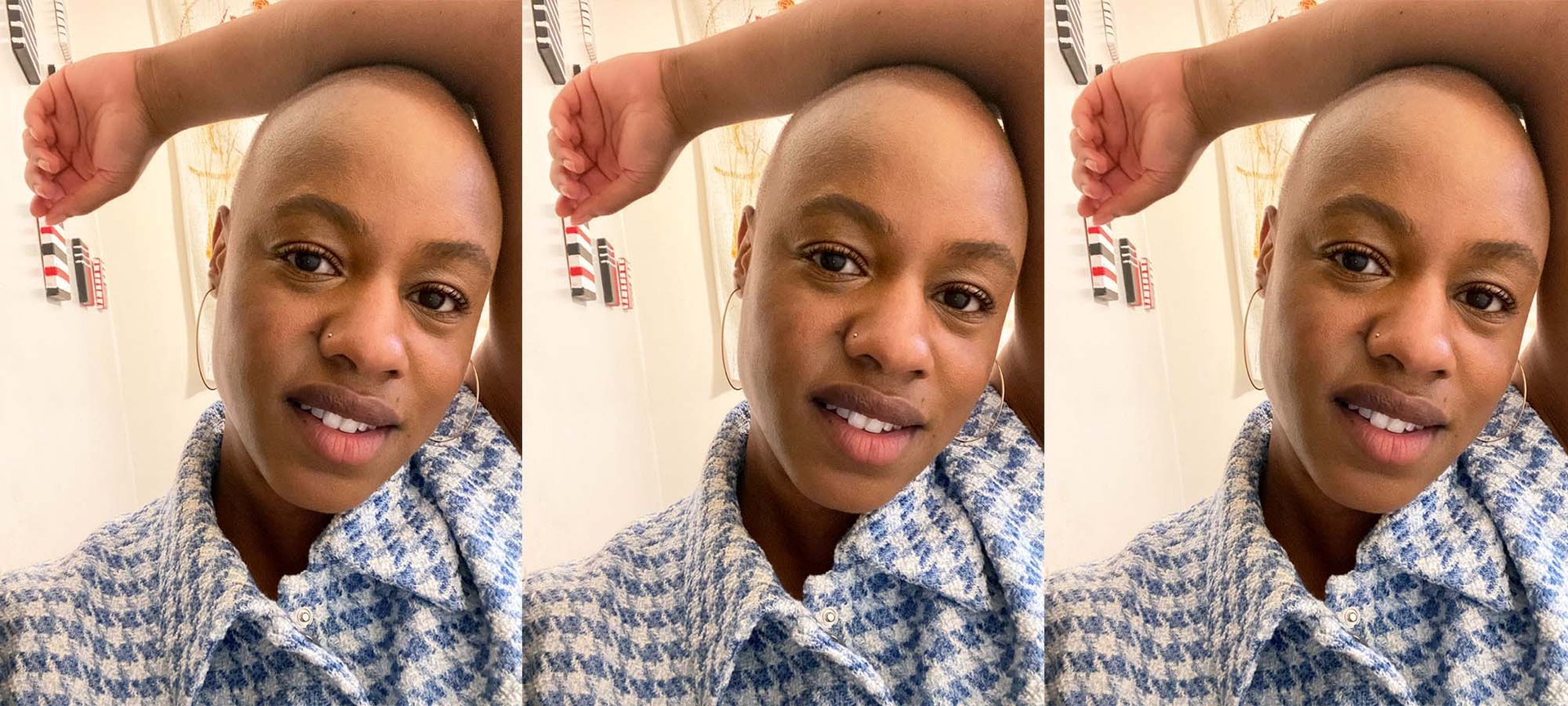 all hair types
How To Care For Your Bald Head In The Winter
Scalps need love too.
If you've recently shaved your head with the hopes of putting hair care completely in your rear view, you've likely learned that the notion was too good to be true. While we can't deny that going super short or buzzing off all your hair offers a low-maintenance hair care solution, it doesn't mean that you should ignore what's happening up there completely. Your scalp is skin, so even if there are no lengthy strands growing out of it, you still need to properly care for it. Factor in how weather changes can affect the health of your scalp, and you'll discover that you still need a full-on arsenal equipped with the right products and techniques.
If you've recently become a bald baddie or you're thinking of doing the ultimate big chop you may be wondering how to care for your bald head during these cold winter months. Keep reading, as we share our tips on how to keep your scalp healthy and feeling good when those temperatures drop.
1. Exfoliate
No matter if it's the skin on your face, the skin on your feet or the skin on the top of your head, exfoliating can help you clear away any impurities that may build up there. How often you exfoliate and what you use depends on your skin type and what part of the body you're focusing on, so listen to your body. But if you want to keep a healthy scalp — hair or no hair — don't skip this step in your routine. We love the L'Oréal Paris EverPure Sulfate-Free Scalp Care + Detox Scrub. Formulated with apricot seeds to gently scrub away excess dirt, flakes, oil and impurities, and menthol to soothe, it's the perfect start to a proper scalp care regimen.
2. Moisturize
Since this probably goes without saying then it doesn't hurt to say it: Be sure to moisturize your scalp. Yes, leave-in and rinse-out conditioners and other types of moisturizers are made to give your tresses nourishment, but your scalp can also be in need of moisture. It may look different when you have a bald head than when you have a full mane, but it's still important. The best part is that you don't have to worry about product weigh down that makes your hair look flat. As per the National Center For Biotechnology Information (NCBI), caring for your scalp can help you avoid diseases of the scalp. So find a scalp serum, oil, or lotion made to care for your bare crown and keep it polished.
3. Use SPF
When it comes to your skin the best line of defense against premature signs of aging and skin cancer is sunscreen. So it's no wonder that if you've shaved your head that you want to be sure to put SPF on your scalp. According to a study by the NCBI, hair works as a physical blocker for harmful UV rays, so when you no longer have that protection your scalp is susceptible to the effects of ultraviolet radiation. That's where SPF comes in.
There are now scalp sunscreens available and other sunscreen products specially formulated for the hair to ensure that bald beauties don't miss this step. If your go-to SPF works for you then no need to invest in new products — just talk to your dermatologist to ensure that it offers the right sun protection for that part of the body.
Editor's Tip: Be sure to include your scalp in your monthly skin self-exams. It's easy to miss the areas that we don't see often, so now that you have more access to the surface areas of your scalp, be diligent about checking on the skin up there.
4. Cover Your Crown
We get it — not everyone is a hat lover, but doesn't having a bald head actually increase your likelihood of looking fabulous in a hat? The Cleveland Clinic states that wearing a hat — especially one with ultraviolet protection factor (UPF) 50 or greater — is probably the best protection for your scalp. The good news is that there are so many different hat styles to choose from that there's a match out there for everyone. Plus, when that dry winter air completely moves in or those temperatures dip, you'll be glad you have a head covering arsenal at your disposal.
5. Avoid Scratching
Scalp itching (known as scalp pruritus) is a common, yet rarely studied complaint, according to the NCBI. But before you claw away at your beautiful bald head, you may want to see an expert. Scalp itch can stem from a variety of conditions, including scalp psoriasis, neuropathy (an issue along the nerve), scarring alopecia and seborrheic dermatitis. Not only could scratching create visible nicks, sores and scabs on your scalp (not a good look), but it also doesn't get to the root cause of what's happening up there. Plus, scratching can lead to infection if you end up with broken skin, which could make your condition worse.
If you find that you have an itchy scalp that doesn't calm down with proper scalp care, you may want to see your dermatologist to ensure that there isn't an underlying condition that's causing it. No matter what, avoid scratching so you don't end up with a scalp that looks beat up and feels even worse.
Next: Alopecia 101: Signs, Symptoms And Causes
Written and photographed by: Shalwah Evans
Discover more tips & tricks
Keep your skin happy
See all articles
Improve your routine
Show your new look more love:
makeup