all hair types
What You Should Know About Hair Perming
Give your mane a boost of volume.
May 16, 2022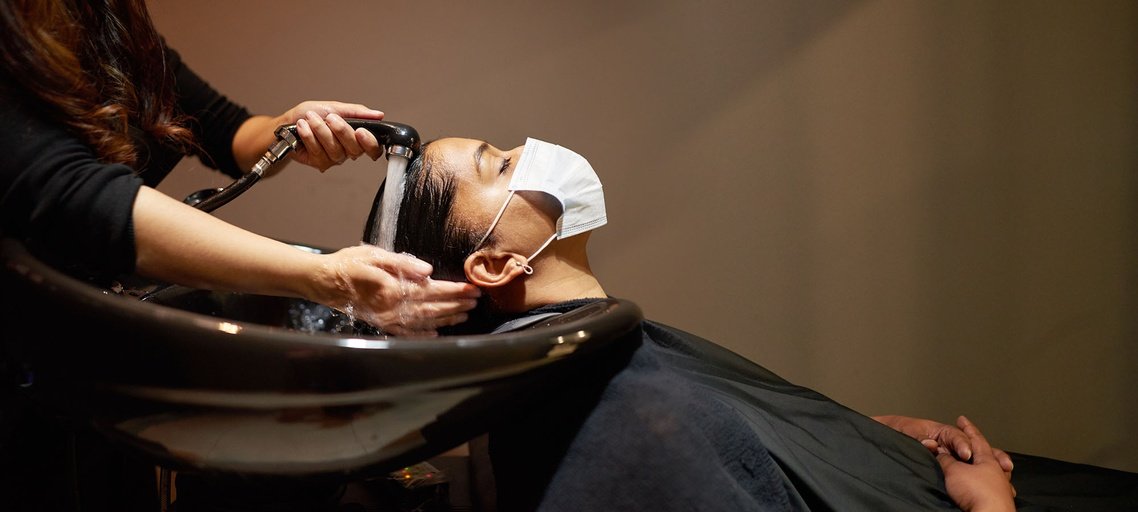 Eighties inspired looks have been making quite the comeback and If you're here for the resurgence of nostalgic hair and makeup looks, you may consider getting a perm. That's right — the curly hair perm from back in the day is actually trending again, and for good reason.
A perm is the perfect way to add texture and volume to your mane. Curious about hair perming? Below, we're sharing what a hair perm is, how to take care of permed hair and ways to style a perm — including both short hair and long hair options — to try yourself.
What is Hair Perming?
Hair perming chemically alters the hair fibers, according to the American Academy of Dermatology (AAD). This alteration restructures your strands to create texture and body, even for those who have thin or fine hair. Of course, hair perming isn't a one-size-fits-all kind of deal.
There are various techniques and ways to perm hair that can result in different looks, from spiral perms to multi-textured perms. Perms aren't to be confused with relaxers, though, despite having historically been referred to as perms for the natural hair community. Do your research on the style you like best, and then turn to the pros at your favorite salon to get the look.
Keep in mind that similar to coloring or relaxing your hair, hair perming can be damaging and require special care. The AAD recommends only having one service done — color, perm or relaxer.
How Much Does a Perm Cost?
If you think you want a perm you'll probably want to know how much it will cost you. As with most hair treatments and processes, there's a pretty big range in prices. Where you go and how experienced your stylist is are factors that will make a big impact on the cost. A fairly standard price for a perm is around $100, with costs ranging from $60 to $300.
7 Hair Perm Types and Techniques
Since we've already covered that hair perms transform your strands into a wide array of textures, you likely know that there are a few hair perming options available. No matter what hair texture you're working with, the right hair perm can easily take your hairstyle up a few notches. The hardest part is picking which type of perm to get. Below, we're filling you in on seven different hair perm types.
Spiral Perm
For those who can't resist tight curls, the spiral perm might be your best match. While this look is all about rocking bouncy and defined curls, you can totally customize your mane by using various sizes of perm rods to make this look your own.
When it comes time for a wash, we recommend using the L'Oréal Paris Elvive Dream Lengths Curls Moisture Push Shampoo. It's formulated with hyaluronic acid and castor oil to gently cleanse and hydrate curls.
Try a chin-length bob with your spiral perm. It'll give you a messy, carefree vibe that makes styling your permed hair super easy.
Pin-Curl Perm
Similar to the no-heat pin-curling technique, the pin-curl perm works wonders to give your hair natural-looking curls with the perfect touch of volume. As the name suggests, after a chemical solution is applied to your strands, pin curls will be created throughout your mane and then set in place.
Once you unravel your curls, you'll have bouncy strands to play with. Not to mention, it's also a great way to add retro styling to your everyday look.
Root Perm
Calling all thin-haired folks! The root perm may tickle your fancy. This technique combines the best of both worlds — volume and thickness — to give your strands some extra oomph. A root perm, which is a perm for just your roots, is an easy way to add volume to your roots and give your overall style more life without committing to a full hair perm.
Stack Perm
Ready to add some pizzazz to your medium or long locks? It's time to put the stack perm on your radar. This option comes right in handy for those who won't shy away from volume and are willing to experiment with layered lengths. With curls sitting at the middle and bottom sections of your mane, this perm is a great way to switch up your 'do.
Spot Perm
On the flip side, if you would much rather rock curls on a specific area of your head, you may want to give a spot perm a go. With perm rods placed strategically on a certain section of your hair, you can bring a unique hairstyle to life.
Body Wave Perm
If loose, beachy waves are your idea of the ideal hair perm, look no further than a body wave perm. Offering everything you adore about wavy strands, the body wave perm relies on a large curling rod to create luscious waves all throughout your head.
If you have longer hair, consider a beachy perm by adding shaggy layers. It takes little to no time to style and the result is seriously chic.
Multi-Textured Perm
If you're one that loves to take risks in the hair department, it's time to get acquainted with a multi-textured perm. This method allows you to play with various curl patterns for a look that will turn heads.
When it comes to styling this perm type, a wind-swept style is all about loose, messy curls that add a crazy amount of volume to your mane. It's perfect for those who want a standout, tousled head of curls.
How to Take Care of Permed Hair
So, you're sold on the idea of hair perming. Just make sure you keep these hair care tips in mind to keep your curly perm looking its best.
Protect Your Hair From the Sun
You (hopefully) know all about the importance of sun protection for your skin by now, but did you know your hair requires sun protection of its own? To keep your permed hair on point, the AAD recommends wearing a wide-brimmed hat or using a leave-in conditioner that contains zinc oxide whenever you're in the sun.
Don't Skip Conditioner
Conditioner, like the L'Oréal Paris Elvive Dream Lengths Curls Moisture Seal Conditioner, is a must when you perm your hair, as your strands tend to be on the dry side post-perm. Leave it on for one minute, then rinse thoroughly.
Extend Touch-Ups
Just like with any hair process, you'll eventually be in need of a touch-up. The AAD suggests stretching the time between touch-ups, especially during the winter, when the air is dryer. They recommend waiting eight to ten weeks or longer if possible.
Use the Right Hair Care System
To keep your curly hair perm looking its best, swap your usual hair care products for a line made specifically for curls, like the L'Oréal Paris Elvive Dream Lengths Curls line. In addition to the aforementioned shampoo, conditioner, we recommend also adding the L'Oréal Paris Elvive Dream Lengths Curls No Build-Up Curls Micellar Shampoo, L'Oréal Paris Elvive Dream Lengths Curls Non-Stop Dreamy Curls Leave-in Conditioner and the L'Oréal Paris Elvive Dream Lengths Curls Refresh & Reshape Leave-In Spray to your hair care routine for curls.
How Long Does a Perm Last?
If you decide to embrace a curly perm or any other type of perm, for that matter, how long can you expect your new texture to last? The answer is, it varies.
How long a perm lasts depends on how you take care of your hair (following the tips above will help extend the life of a perm) and how fast your hair grows. Generally, you can expect a perm to last for around six months.
Next: 16 Hot Protective Hairstyles for Natural Hair
Edited by: Caitlyn Martyn, Photo: iStock
Discover more tips & tricks
Keep your skin happy
See all articles
Shop Featured Hair Care products
Discover More