all hair types
10 Lazy Day Hair Hacks To Streamline Your Routine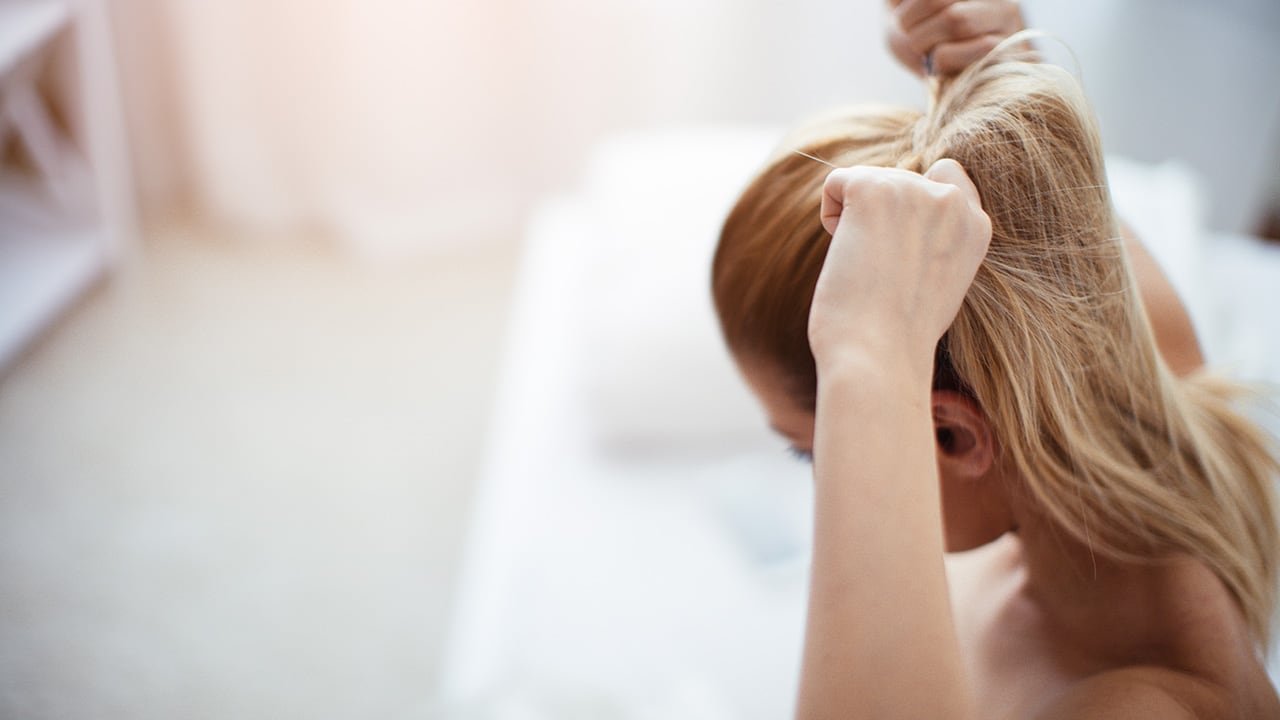 We all need a lazy day every once in a while—and that certainly extends to your hair-care and hair-styling routines. Not only can taking it easy on your strands help your sanity, but it can also help keep your strands at their healthiest. We know the last thing you want to do on your beloved lazy days is struggle with taming your strands into an acceptable hairstyle. That's exactly why it's essential to nail the best techniques for keeping your mane in tip-top shape. As always, we're here to help. Follow along as we share 10 easy hair tips for lazy days that will add some extra oomph to your beauty look.
EASY HAIR TIP #1: SMOOTH FLYAWAYS WITH A TOOTHBRUSH
If your frizzy hair looks like it's standing on end due to an overload of flyaways, there's a hack for that. Just grab a clean toothbrush—not the one you use for your teeth—and the L'Oréal Paris Elnett Satin Hairspray Extra Strong Hold. Spritz the hair spray directly onto the bristles, then brush over your flyaways. This creative combo will take care of stray strands, helping to smooth them down and lock them right into place.
EASY HAIR TIP #2: GIVE YOUR PONY HEIGHT
A ponytail is the ultimate lazy girl style, but why not take yours to new heights? If your 'do is looking limp, you can use bobby pins to pump it up. Pull your strands into a ponytail at the back of your head and secure it with a hair tie. Lift the ponytail straight up and insert two bobby pins at the base. The pins should stick into your locks vertically, starting where your ponytail is. That's it: The pins prop up your pony and instantly boost your hairstyle! It's an easy way to add some volume to the classic lazy-day look.
EASY HAIR TIP #3: BRAID YOUR WAY TO BEACHY WAVES
We bet you don't want to deal with heat tools all the time—especially if you have the day off. Just because you're laying off the irons and wavers doesn't mean you can't rock a stylish 'do. Instead of using a curling wand to make waves, sleep with your strands in two tight braids. In the morning, remove your hair ties and finger comb through your locks to fluff up beautiful beachy waves. For more texture, finish with a hair spray, like the L'Oréal Paris BOOST IT High Lift Creation Spray, for a voluptuous look.
EASY HAIR TIP #4: RELY ON A SOCK BUN FOR HEATLESS CURLS
If you love the idea of flaunting gorgeous curls, you don't have to carve out time for a curling session. You can rely on the timeless sock bun hairstyle to create a loosely curled mane and leave the heat behind. Sock curls have become a popular trend among curl-lovers with long locks. Start by splitting your damp strands into two sections, a top and a bottom, and clip the bottom half out of the way. Place the ends of the top section of hair on the center of your sock. Roll the sock toward your roots along with your locks. When you reach your roots, use the ends of your sock to tie a knot. Repeat on the lower half of your mane.
Cover your strands with a silk scarf and let the sock buns sit overnight. In the a.m., undo the knots and gently comb through with your fingers.
EASY HAIR TIP #5: WASH ONLY YOUR BANGS
A lazy day is not the time to deal with shampooing your whole head first thing in the a.m., but you don't exactly want to traipse around with dirty tresses either. One happy medium is to only wash where you need to. Bangs are likely to become greasy before the rest of your strands, so wash only them with a purifying hair-care system, like the L'Oréal Paris Elvive Extraordinary Clay Shampoo and L'Oréal Paris Elvive Extraordinary Clay Conditioner. Cleanse and condition in the sink before giving your bangs a blast of heat with the blow-dryer. As a result, your hair looks refreshed in a fraction of the time.
EASY HAIR TIP #6: CURL YOUR LOCKS IN A PONY
If you want to create a fabulous curly style—while saving yourself some time—this is the trick for you. Starting with your locks in a ponytail, take small sections and curl them using a curling iron or wand. With your hair pulled up, there will be fewer sections to tackle. You'll also be able to cut your styling time down significantly. Once you've curled the length of your ponytail, let your locks down and run your fingers through. Finish with a coat of the L'Oréal Paris Advanced Hairstyle LOCK IT Bold Control Hairspray to help keep your spirals in place.
EASY HAIR TIP #7: ADD ACCESSORIES
If your style is looking lackluster, nothing is a faster (and more lazy-friendly) fix than adding an accessory. Take your pick of headbands, pins, clips, and ties. Scrunchies are one of the most popular hair accessories of the moment that can add a little '90s retro flair to your look. Use a scrunchie to tie your strands up into a top knot or a side-parted low bun. No matter your choice, adorning your locks with something special will immediately take your style to the next level. It's a quick, easy hairstyle that's ideal for those lazy days.
EASY HAIR TIP #8: TRY AN UNDONE STYLE
Instead of dedicating yourself to creating perfect-looking styles during your rare relaxation days, opt for undone, no-fuss hairstyles that look just as good. There's no need to waste time fussing with every piece of hair to get it just right. The messier, the better. Read our article, 20 Messy Hairstyles For Men and Women, to find your next easy-to-create look.
EASY HAIR TIP #9: PINEAPPLE YOUR LOCKS
Another fabulous way to perfect your hairstyle for lazy days is to give your tresses some support. The pineapple is a hairstyle that works double-duty to keep your curls intact while flaunting a voluminous pony. Plus, this style keeps your strands stylishly tucked away. Gather your curls toward the top of your head and secure them into a ponytail. Fluff your strands to highlight your texture.
EASY HAIR TIP #10: DRY SHAMPOO
When all else fails, it's always a smart move to reach for dry shampoo. This handy product will help refresh your hair without leaving any residue, and it can also provide a bit of a volume boost. In other words, it's a solid pick for those days when you just can't be bothered to pick up any hot tools. We totally get it and assure you that this is exactly why every girl needs a bottle of dry shampoo in their bathroom or on their vanity.
Discover more tips & tricks
Keep your skin happy
See all articles
Shop Featured Hair Style products
Discover More