beauty trends
Cloud Nail Art Is Trending and It's 100% Doable at Home
March 12, 2020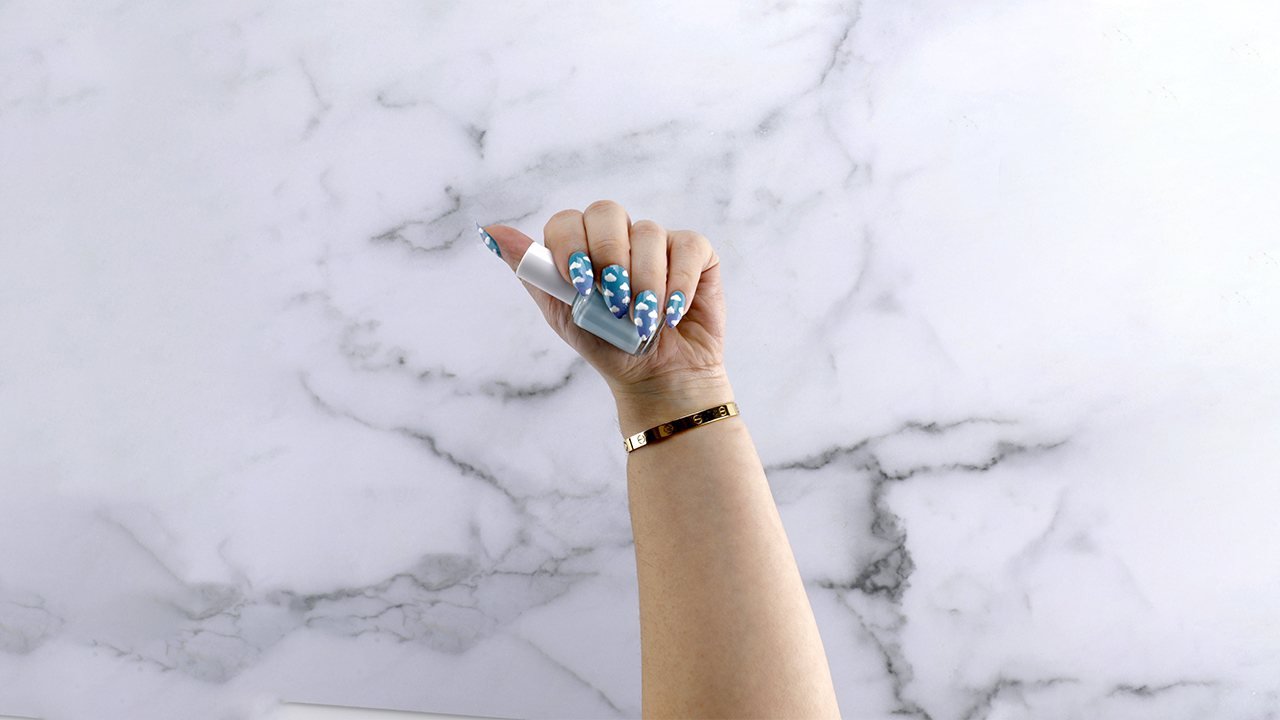 We have our head in the clouds—cloud nail art, that is. This Instagram nail trend has quickly begun to take the beauty world by storm. You could say it's sky-high on our list of manicures that you need to try. The best part? It's totally easy to do at home! Yup—no need to head to the salon to get this stunning nail look. Interested in learning how to do cloud nails for yourself? Follow the steps below—then snap a pic for some serious nail-envy!
What you'll need:
Nail clippers
Nail file
Base nail polish color(s)
White nail polish
Dotting tool (or a makeshift alternative like a bobby pin)
Top coat
Get the look:
STEP #1. SHAPE AND FILE
Any at-home manicure should start with the proper prep work. Clip your nails to your desired length, then use a nail file to fine-tune their shape and buff away any harsh edges. Not sure which shape you'd prefer? Here's How to Choose the Right Nail Shape.
STEP #2. CHOOSE YOUR BASE
Next, you'll want to choose your base color. This is a step that you can use your creative liberty with, as there are plenty of sky-themed hues to choose from. Want a daytime look? A whimsical sunset? We have a few options that fit the bill.
For a simple daytime look…swipe on a pretty sky blue nail polish. It doesn't get much simpler than that!
For a simple sunset look…paint your nails with a rosy pink, sunny orange, or soft lavender polish.
For a detailed daytime look…create an ombré base with various shades of blue. To do so, paint a disposable makeup sponge in a bright blue, medium blue, and light blue nail polish. Press the sponge onto your nail, leaving a seamless gradient of blue hues behind. Repeat on the rest of your nails. Clean up the edges with a cotton swab and a nail polish remover.
For a detailed sunset look…give yourself ombré nails using shades that resemble the evening sky. Paint a makeup sponge with lavender, pink, and orange nail polish. Then press to sponge onto your nail. Repeat on the rest of your nails and clean up any messy edges.
STEP #3. PAINT YOUR CLOUDS
When it comes to creating your clouds, you have a couple of options. The most popular and foolproof method is to use a dotting tool, which is a handy tool specifically made for creating dotted nail art designs. To work with things you already have on hand, you can also use the balled end of a bobby pin, a paper clip, or a toothpick to create your clouds. Once you pick your tool, here's what to do.
Step #1. Grab your nail polish. Dip your tool into a white nail polish. Make sure not to pick up too much, as you don't want an overload of product that will result in messy clouds!
Step #2. Dot away. Create a small mass of connected dots to form your cloud, painting two or three clouds in total. Remember: No two clouds are the same, so yours don't have to be perfectly uniform!
Step #3. Repeat. Continue the dipping and dotting process on each of your nails until you're left with a complete cloud manicure.
STEP #4. ADD FINISHING TOUCHES
Want to add a little extra glitz to your cloud nail look? Not a problem! Consider adding a few rhinestones to an accent nail or swiping on a glitter coat.
STEP #5. SEAL IN YOUR LOOK
Of course, we're sure you'll want your cloud nail design to last, no? To seal in your manicure and expand its lifespan, apply a top coat with a high-shine finish.
Next up: Now that you know how to create a dreamy cloud manicure, perhaps you'd like to give another trendy nail look a try. To do just that, check out our articles, How to Do Sea Glass Nails and How to Do Hole Punch Nail Art at Home.
{ "@context": "https://schema.org/", "@type": "WebPage", "speakable": { "@type": "SpeakableSpecification", "cssSelector": ["speakable-content"] }, "url": "https://www.lorealparisusa.com/beauty-magazine/beauty-tips/beauty-trends/cloud-nail-art-design" }
Discover more tips & tricks
Keep your skin happy
See all articles
Improve your routine
Show your new look more love:
makeup
{ "@context": "http://schema.org", "@type": "BreadcrumbList", "itemListElement": [ { "@type":"ListItem", "position": 1, "item": { "@id": "/", "name": "Home" } } , { "@type":"ListItem", "position": 2, "item": { "@id": "https://www.lorealparisusa.com/beauty-magazine", "name": "Beauty Magazine" } } , { "@type":"ListItem", "position": 3, "item": { "@id": "https://www.lorealparisusa.com/beauty-magazine/beauty-tips", "name": "Pro Ideas For Your Unique Look" } } , { "@type":"ListItem", "position": 4, "item": { "@id": "https://www.lorealparisusa.com/beauty-magazine/beauty-tips/beauty-trends", "name": "Beauty Trends" } } , { "@type":"ListItem", "position": 5, "item": { "@id": "https://www.lorealparisusa.com/beauty-magazine/beauty-tips/beauty-trends/cloud-nail-art-design", "name": "cloud-nail-art-design" } } ] }