sun care and self tanning
Why You Need to Wear SPF All Year Long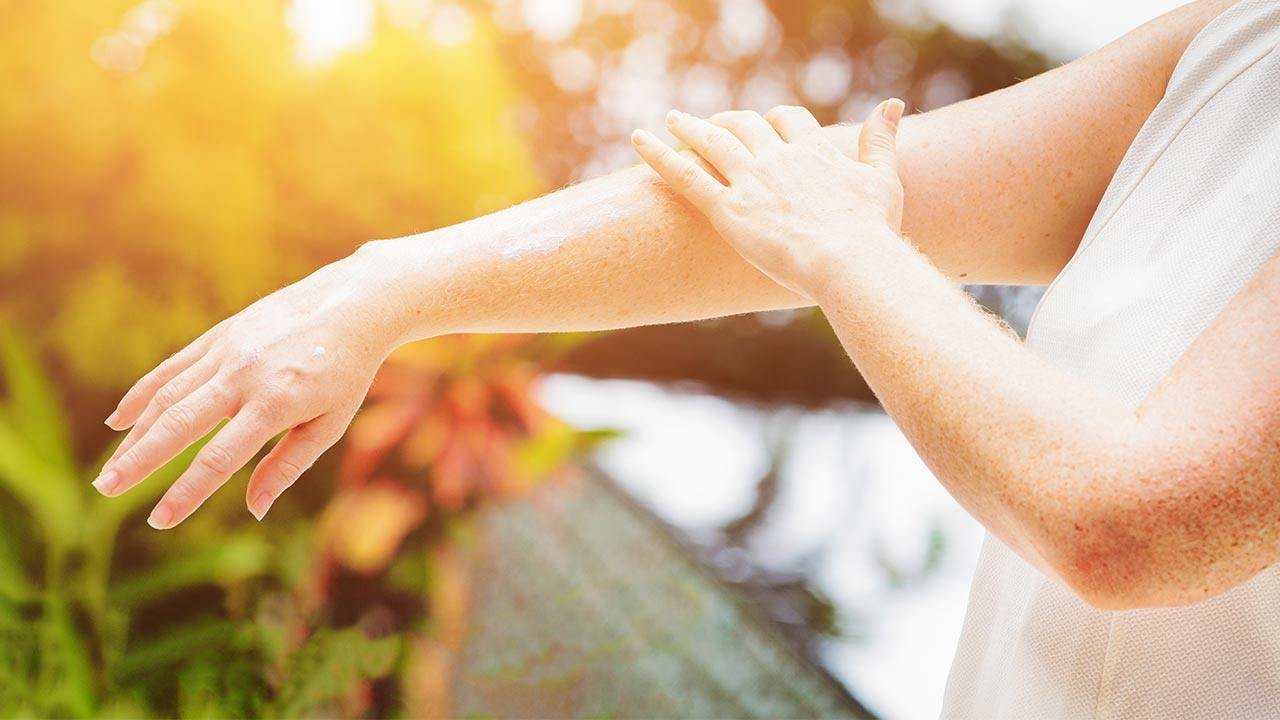 When you pack all your stuff for a trip to the beach, sunscreen is probably the first product on your check list (along with a giant umbrella and beach ball, of course!). But where does SPF fall on days that aren't filled with tropical vacations and extended hours under the sun? If your answer is, "packed away in the back of your closet, collecting dust until it's time to once again be thrown into your beach bag," it's time to change that pronto! No excuses. That's right: Skipping this all-too-important skin care step can lead to some major skin issues. After all, the sun doesn't just emit rays during the summer—in fact, according to The Skin Cancer Foundation, you can even get burned on cloudy days. Below, learn more about how the sun can affect your skin and why it's important to apply sunscreen every day.
What You Need to Know About Sun Damage
First things fist, it's important to understand the different types of ultraviolet rays and how they affect your skin and its appearance. According to The Skin Cancer Foundation, there are UVA and UVB rays. UVA rays penetrate deep into the skin and are responsible for the sun damage that can lead to visible signs of aging such as wrinkles and dark spots. Meanwhile, UVB rays cause surface level damage—these are the rays that cause sunburns. Unprotected sun exposure can also increase your risk of developing skin cancer. Hence why it's so crucial to slather on the SPF every morning before you go outside!
The Importance of Using Broad-Spectrum SPF Daily
Point blank: Sunscreen is essential. While many people think that wearing SPF is only necessary on long summer hikes, days at the beach, or when lounging by the pool, you now know that's not the case. The truth is, UV rays are just as harmful in the winter as they are during the summer. So, if you find yourself spending a lot of time outdoors despite the cooler temperatures—whether you're shoveling snow or going snowboarding or in an office or home environment that is exposed to a lot of natural light—it's best to generously apply SPF every day. You can thank us later. Some good guidelines to follow: The Skin Cancer Foundation recommends applying sunscreen 30 minutes before you go out in the sun and reapplying it every two hours. As far as how much you should apply, The Skin Cancer Foundation suggests using an ounce (two tablespoons) on your entire body.
6 L'Oréal Paris Sunscreen Options You Should Try
Now that you know how vital it is to make SPF part of your daily skin care routine, find the right product for you. Here are a few product picks to consider trying. Whether you opt for an SPF lotion or a moisturize with SPF (the perfect solution to save time in your routine!) for your face, or a spray for body, there's something out there for everyone's preferences. When it comes to your face, just keep in mind that sunscreen should be the last step in your skin care routine (after you cleanse, apply serum, and apply moisturizer) before you put on your makeup.
For your face:
L'Oréal Paris Advanced Suncare Silk Sheer Face Lotion 50+
This water-resistant sunscreen provides broad spectrum protection for your face.
L'Oréal Paris Age Perfect Hydra-Nutrition—Facial Oil SPF 30
Don't love lotions? Try a facial oil with SPF instead, like this one, which is formulated with broad-spectrum SPF 30.
L'Oréal Paris Age Perfect Hydra-Nutrition—Face Lotion SPF 30
This moisturizer with broad-spectrum SPF 30 is formulated for mature, very dry skin.
L'Oréal Paris Revitalift Bright Reveal SPF 30 Moisturizer
This moisturizer with broad-spectrum SPF 30 is formulated with glycolic acid.
Discover more tips & tricks
Keep your skin happy
See all articles
Shop Featured products
Discover More