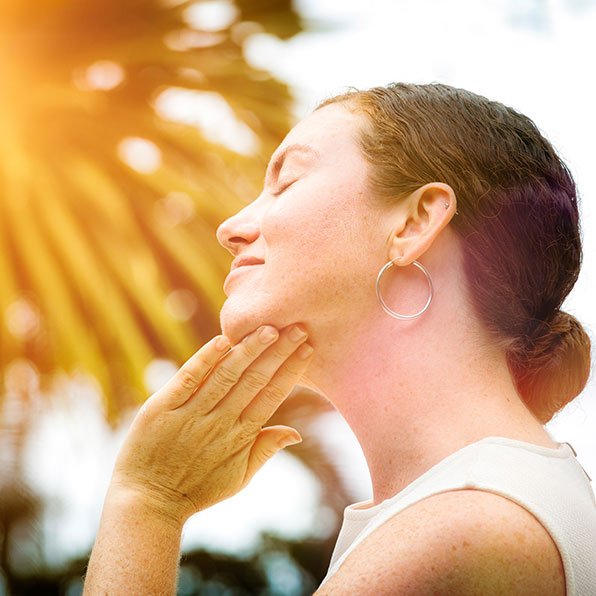 sun care and self tanning
Summer Skin SPF Tips: Don't Miss These 5 Spots
With the summer sun and heat will come long days spent at the beach or poolside. Getting to spend time outside with your family and friends is just one perk of the summer season. You'll get to give the TV a break, enjoy your patio and dine al fresco. But, with so much time spent soaking up the sun, you have to remember to protect your skin and to pay special attention to some parts of your face and body in particular. While you should always apply SPF with broad spectrum protection to your face and areas of your body that will be exposed to the sun, these areas tend to need a little extra special attention as they can be easily overlooked.

Summer skin tip #1: Protect your nose. Your nose is more prone to get sunburned when compared to some other parts of your face. Look for SPF options formulated for your face that offer broad spectrum protection so that you are protected from both the skin burning rays, UVB, and skin aging rays, UVA – and aim to get a SPF level in between the range of SPF 15 and SPF 50. You could also consider looking for a zinc product to use on your nose specifically.

Summer skin tip #2: Protect your eye lids. Another often overlooked part of your skin that may go unprotected: Your eye lids. This especially thin and delicate area of the skin can burn just like other areas and may be more prone to burn if left unprotected. Consider looking for an eye cream with SPF and wear sunglasses while outside, even if the sun isn't particularly bright.

Summer skin tip #3: Protect your lips. Your lips may tend to get dry in the summer as you are in and out of the water and spending prolonged periods out in the sun. Just like other parts of your face, your lips are vulnerable to the sun's harmful rays. Use a lip balm with SPF and pack it with you when you go on a beach outing, eat brunch outdoors or shop outside. Reapply the lip balm when your lips start to feel dry, say after you've taken a dip or after you've had something to drink.

Summer skin tip #4: Protect your ears. Even if your hair is long enough to cover your ears, you should apply SPF to their tops, sides and bottoms. Also, consider wearing a wide brimmed hat while outside to offer further protection.

Summer skin tip #5: Protect your neck and chest. This area shows signs of skin aging, like fine lines, wrinkles, age spots and sagging skin, just as your face does, so protect it from damaging UV rays with SPF and wear lightweight shawls when you can.

It's important to apply SPF everyday, but what more than simply slathering it on and heading out, you have to remember not to miss an important spot. Try to not rush your daily application and take special care of the areas that may otherwise go uncovered. Bring your SPF with you this summer to the beach and on other outings so that you can reapply as necessary. Think beyond SPF too; when it comes to protecting your skin from the sun, seek and create shade when you can and use a self tanner to get a bronzed glow in place of a tan.


Discover more tips & tricks
Keep your skin happy
See all articles
Improve your routine
Show your new look more love:
makeup