sun care and self tanning
Self-Tanner 101: How to Get a Golden Glow with Self-Tanning Lotion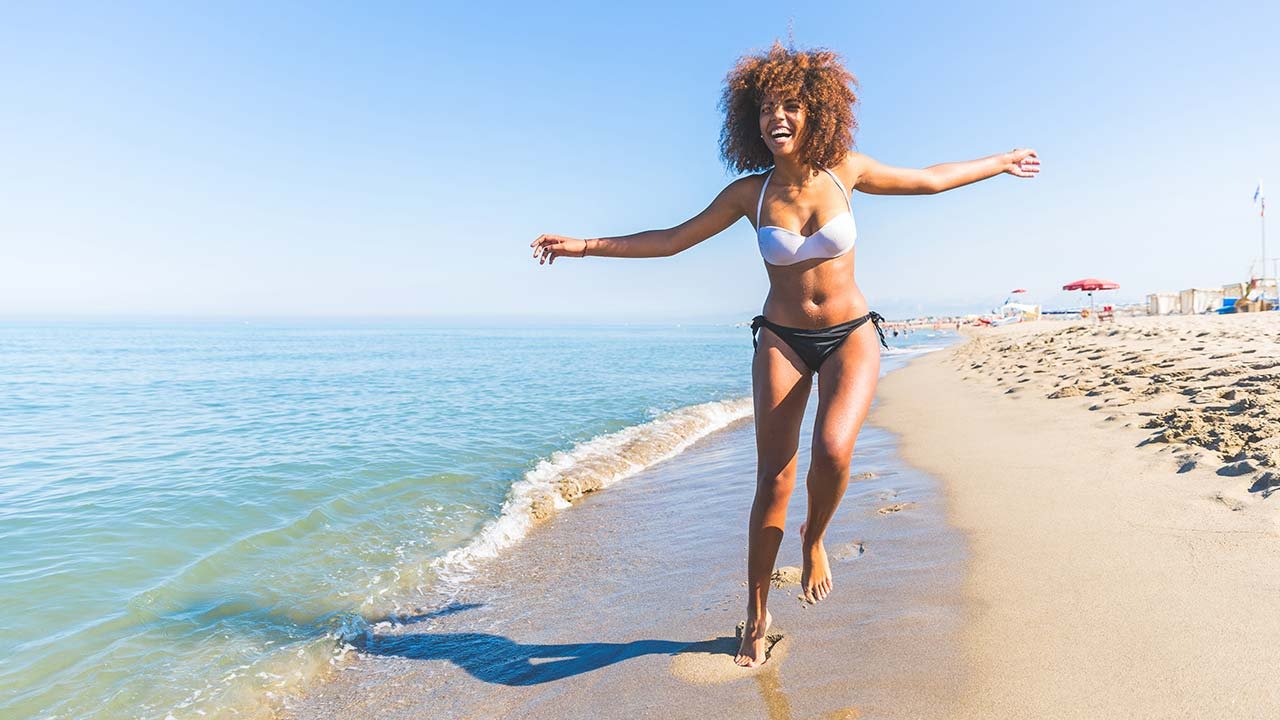 'Tis the season for spending days lounging at the beach with a good book, chowing down on hot dogs and hamburgers at all those outdoor BBQs, and using self-tanner.
And the good news is, there are plenty of different types of self-tanners out there to meet a variety of different needs. Going on vacation? Toss a few individually-wrapped self-tanning towelettes into your suitcase! Just looking for color that lasts a day? Use wash-off body bronzer! As you can see, you've got a lot of different options to choose from when it comes to self-tanner.
However, sometimes, basic is better—which is why we're here to tell you exactly how to use a self-tanning lotion to help create a golden-looking glow this summer. You're probably familiar with self-tanning lotions, as they're one of the most popular kinds of self-tanner out there. But it's always good to get a refresher on how to use it—after all, you don't want your legs to end up looking orange or streaky, do you? Nope, we thought not! Ready to learn how to use a self-tanning lotion? Keep reading for our tutorial.
Try This Self-Tanning Lotion from L'Oréal Paris
In the market for a new self-tanning lotion this summer? We've got you covered. The L'Oréal Paris Sublime Bronze™ Tinted Self-Tanning Lotion is an advanced skin-smoothing formula with alpha hydroxy acids (AHAs) and vitamin E for a perfect, streak-free tan. This transfer- and water-resistant formula creates an instant streak-free bronze tint with a hint of shimmer.
How to Use the L'Oréal Paris Sublime Bronze™ Tinted Self-Tanning Lotion
Follow these steps to applying self-tanner like a pro. Then go ahead and show off those arms legs in your tank tops and denim cutoffs!
Step 1: Cleanse and exfoliate skin. Dead skin cells can build up on the surface of your skin, which can cause your self-tanner to go on streaky. That's why it's important to exfoliate beforehand. Do so with a gentle scrub while you're in the shower, applying it in circular motions before rinsing off.
Step 2: Apply an oil-free moisturizer to any dry areas. After you hop out of the shower, apply an oil-free lotion to your body, paying particular attention to areas that are prone to dryness, like your elbows and knees. This can help your self-tanner go on more smoothly.
Step 3: Apply the self-tanning lotion evenly all over your body. It's go time! You may want to invest in a self-tanning mitt to help prevent staining your hands, but it's up to you. Try using circular motions to blend in the self-tanner.
Step 4: Use sparingly around ankles, knees, and elbows. Since these areas are prone to dryness, they tend to soak up more color—so be prudent when you're applying self-tanner there. In this case, less is definitely more!
Step 5: Wash hands thoroughly with soap and water after use. You don't want your hands to look darker than the rest of your body, do you? Once you're done applying your self-tanning lotion, wash your hands to help prevent that from happening.
Step 6: Let skin dry completely before putting on makeup or clothes. Be patient! Wait for your self-tanning lotion to dry before getting dressed or doing your makeup. When you are dry, reach for loose, dark clothing to help prevent staining.
You can use the L'Oréal Paris Sublime Bronze™ Tinted Self-Tanning Lotion daily until you reach your desired level of tan, then once or twice a week to maintain results. You see, now that wasn't so hard! Using a self-tanning lotion to fake a summer tan is all about following a few simple steps when it comes to application. With that in mind, go forth and get your golden glow on—the safe way!
Discover more tips & tricks
Keep your skin happy
See all articles
Shop Featured Skin Care products
Discover More