skin care essentials
6 Tips For Your Winter Body Care Routine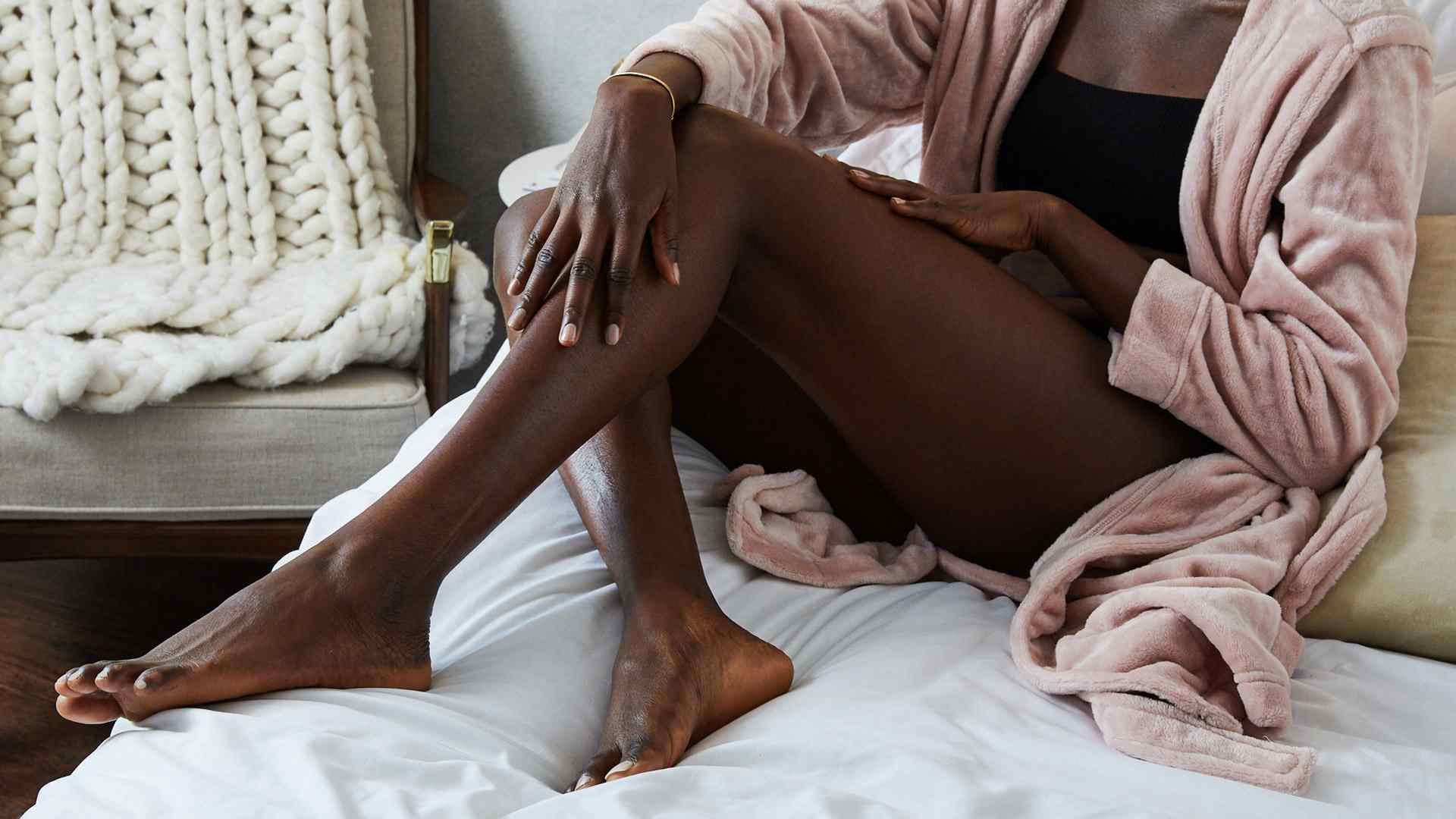 We put our bodies through a lot—stressful workdays, rigorous workouts, running around with the kids and other physical day to day activities that can leave skin looking tired. And in the wintertime, the cool, dry air can add to that and leave the skin looking dull. That's why a body care routine is a must year-round, but especially when the temperatures start to dip. Yet, we often skimp on the time we dedicate to giving our bodies some necessary TLC. Since keeping your skin in order doesn't have to be exclusive to designated self-care days, we're sharing six winter body care tips to help you care for your body from head to toe.
6 Tips For A Winter Body Care Routine
Tip #1: Get A Humidifier
According to the Mayo Clinic, the level of moisture in the air, drops sharply in the winter. And the artificial heat used indoors also sucks up all the moisture in the air, so your skin will definitely begin to feel the impact of dryness pretty soon. One way to add moisture back into the air in your home is with a humidifier. After frequent use, a humidifier can help soothe and relieve skin dryness.
Tip #2: Exfoliate
Exfoliating in moderation can be beneficial during the wintertime. When you exfoliate, you remove dirt, oil, and dead skin cell build-up from the skin's surface, which will help it look more radiant. Plus, regularly exfoliating will allow your favorite body care products to absorb faster and easier into the skin. We recommend using exfoliating gloves paired with your favorite exfoliating body wash or shower gel for the best results. Follow up one to two times a week with a similar routine for your face, using the L'Oréal Paris Pure-Sugar Purify & Unclog Kiwi Scrub, L'Oréal Paris Pure-Sugar Nourish & Soften Cocoa Scrub or the L'Oréal Paris Pure-Sugar Resurface and Energize Kona Coffee Scrub. Each scrub is formulated with nourishing ingredients ranging from coconut oil, kiwi seeds, and kona coffee, which will leave your skin feeling buttery-soft and glowing after use.
Tip #3: Limit Your Shower Time + Temperature
The shower may seem like a safe haven in the winter time–especially when you turn on the hot water. And while we know long hot showers can be comforting, too much hot water can strip your skin of natural oils and moisture that you need. Which means you'll be leaving the shower with super dry skin. Replace that scorching hot H20 with warm water and limit your showers to five minutes. We know this can be hard to do, but trust us—your skin will thank you for it.
Tip #4: Moisturize Frequently
While moisturizing regularly (read: daily and every time you shower or wash your hands) is important, when you apply moisturizer is also important. Moisturizing as soon you come out of the shower will help plug the spaces between your skin cells and seal in moisture while your skin is still damp. Reach for a thick and creamy formula is the colder months. We also love the L'Oréal Paris Age Perfect Hydra Nutrition Manuka Honey All Over Balm - Face, Neck, Chest and Hands. It's formulated with Manuka Honey Extract and nurturing oils to help soothe dry skin and leave it with a healthy glow.
Tip #5: Wear Sunscreen
One of the most important skin care essentials to have in your beauty arsenal is sunscreen, and we can't stress enough that you should also wear sunscreen in the winter. Anytime you plan to be outdoors for an extended period of time, especially when the sun is out, it's crucial to have a sunscreen of SPF 30 or higher on your face and body. According to the Skin Cancer Foundation, UVA rays can penetrate through clouds and can reach your skin through glass, so don't assume you're protected solely by avoiding outdoor winter activities. For your face, use a moisturizer with broad-spectrum sunscreen. The L'Oréal Paris Revitalift Triple Power Day Lotion Spf 30 works as an anti-aging moisturizer, formulated with Vitamin C and hyaluronic acid. It will help to soften and soothe skin while offering a layer of sun protection.
Tip #6: Stay Hydrated
Drinking water is one of the most effective and easiest things you can do to improve your health and appearance. It may seem like a no-brainer, but it's just as easy to not get enough hydration. And it's possible to get dehydrated when it's cold outside, just like you can in the summer. While you may not feel as thirsty as you would when it's hot, it's still important to drink plenty of water throughout the day. Our bodies lose moisture continuously through sweat and other bodily functions, and if you notice your overall complexion and skin looks dull it may be a sign you need to drink more water.
Taking care of your body right now will prevent you from dealing with health and skin care issues later on. Be sure to refer to these tips as you look for new products to incorporate into your winter body care routine. And finally, make sure you're getting enough sleep to keep your body happy and properly functioning.
Photo Credit: Chaunte Vaughn
Next: How to Make the Most of Your Beauty Sleep
Discover more tips & tricks
Keep your skin happy
See all articles
Shop Featured Skin Care products
Discover More