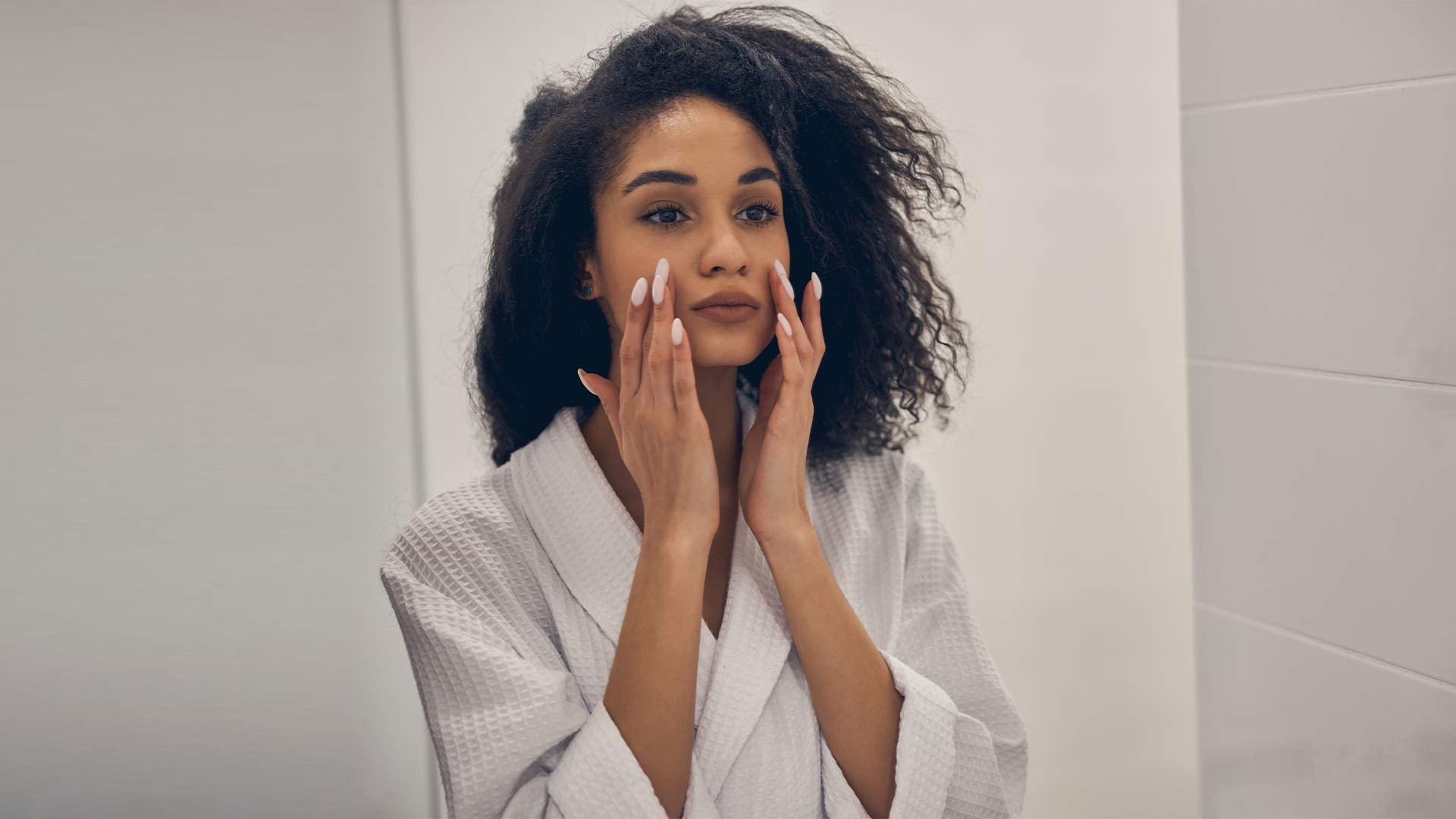 skin care essentials
You Can Manage This Simple Skin Care Routine On Your Busiest Days
We've all been there—after juggling seemingly a million tasks at work, squeezing in a workout in at the gym, catching up with your mom on the phone, and somehow managing to find time to make yourself more than microwavable soup for dinner, the idea of spending more than a few minutes on your skin care routine can seem utterly exhausting. But just because your schedule is jam-packed doesn't mean you have to sacrifice caring for your complexion. Yup, good skin doesn't have to call for a complicated, 10-step Korean skin care routine daily (unless you're into that). A simple skin care routine can cover all the bases in just a few quick minutes. Ahead, find an easy, simple regimen that won't feel like a burden, even on your busiest days.
Step #1. Cleanse Your Skin—And Remove Your Makeup
Whether you're following this simple skin care routine in the morning or night, the first thing you'll want to do is wash your face. That said, if you're breaking out this regimen before bed, chances are you'll have a bit of makeup you'd like to remove as well. That's where a multitasking cleansing product like micellar water comes into play.
Our L'Oréal Paris Micellar Cleansing Water Complete Cleanser Waterproof - All Skin Types is powered by micelle molecules that cluster together to surround and lift away impurities and makeup with no rinsing or harsh rubbing. This means you can wipe away your makeup look—even waterproof mascara—and cleanse your skin all at once. Saturate a cotton pad and glide it gently over your skin to remove makeup and cleanse. And since this is a no-rinse cleansing option, you won't need to spend extra time splashing your face with water and cleaning up any mess around the sink.
Editor's tip: If you notice a bit of makeup still left behind, saturate a new cotton pad and glide it over your face once more for a thorough cleanse.
Step #2. Focus On Your Eyes
Sure, there are other steps you could dive into, such as using a face scrub or serum, but if you want to keep things simple, you can move right along to an eye cream. Just as your face needs moisture, the skin around your eye area needs its own TLC. While you can use the same offering in your morning and evening routines, we recommend using an option that works in your favor to color-correct dark circles in the a.m., like the L'Oréal Paris Age Perfect Rosy Tone Anti-Aging Eye Brightener Paraben Free. It has a whipped texture that instantly blurs and reduces the appearance of dark under-eyes. Pat it onto your eye area using your pointer finger.
At night, opt for our L'Oréal Paris Revitalift Triple Power Eye Treatment. This eye cream contains Pro-Retinol, vitamin C, and hyaluronic acid and works to visibly reduce wrinkles, de-puff, and brighten the eye area. Use the metal tip applicator to massage the formula gently around the eye area until thoroughly absorbed.
Step #3. Lock In Moisture
Now that you have a clean slate and a cared-for eye area, you can replenish the rest of your complexion with hydration. This is an ideal thing to do while your skin is still slightly damp. In the morning, you can speed up your routine even more by using a multitasking moisturizer with SPF. This will help hydrate your skin while also protecting it from the sun's harmful rays. Give our L'Oréal Paris Revitalift Triple Power Day Lotion SPF 30 a try, which contains Pro-Retinol, vitamin C, and hyaluronic acid to reduce wrinkles and firm and brighten skin in one week in addition to broad-spectrum SPF 30.
At night, using SPF isn't necessary. Instead, we recommend amping up your hydration even further with a moisturizing overnight mask like the L'Oréal Paris Revitalift Triple Power Anti-Aging Overnight Mask. The mask is also formulated with Pro-Retinol, vitamin C, and hyaluronic acid to visibly reduce wrinkles, firm, and brighten your skin overnight.
Next: 11 Quick and Easy Hairstyles You Can Do in 3 Minutes or Less
Discover more tips & tricks
Keep your skin happy
See all articles
Shop Featured Skin Care products
Discover More