skin care essentials
What to Know Before Getting a Massage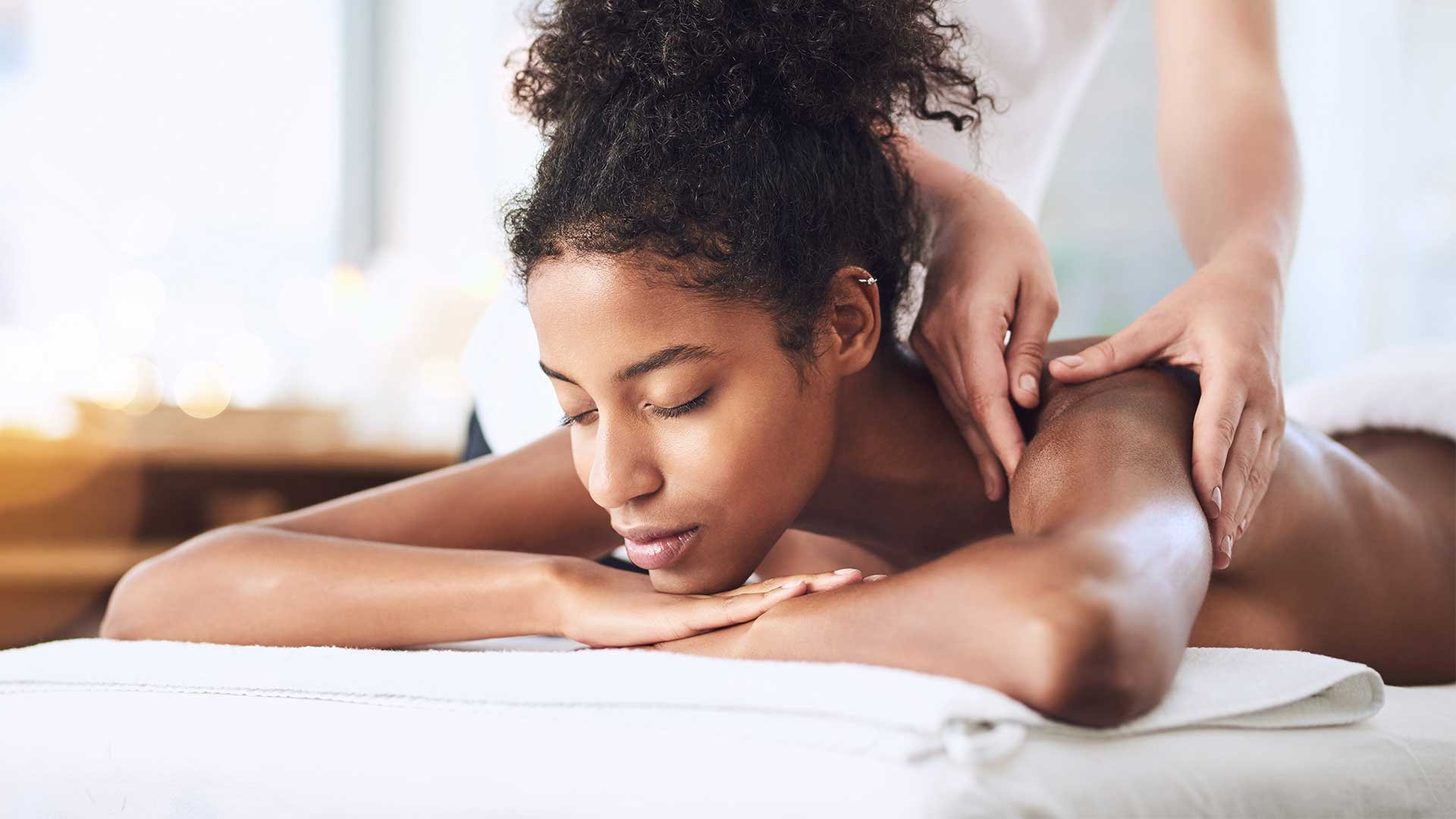 When it comes to enjoying some R&R, you likely rely on your self-care routine to help you feel your best. You know, a face mask, a glass of wine, and a calming bath. While you can't go wrong with an at-home spa routine, some days, you need to go the extra mile to soothe your mind and body. That's when a massage is the perfect way to treat yourself.
This self-care indulgence has become a hot commodity in the beauty community. And with so many massage options, you'll be sure to find a technique that's guaranteed to put you at ease. Of course, if you've never tried massage therapy, there's a lot to learn. As always, we're here to help. Keep reading as we give you the lowdown on everything you need to know about getting a massage.
WHAT IS MASSAGE THERAPY?
First things first, what is massage therapy all about? According to the Mayo Clinic, massage therapy is a type of treatment in which a certified medical professional manipulates the soft tissues of your body. By using varying degrees of pressure and movement, studies share that massage therapy is a great way to reduce stress, pain, and muscle tension.
9 TYPES OF MASSAGES
Now that you know the benefits of a massage, it's time to find the right option for you. As we mentioned, there are quite a few. Here are nine massage treatments you can choose from.
1. AROMATHERAPY MASSAGE
Aromatherapy massages have been getting tons of attention in the beauty world for a good reason. Complete with delicious smelling essential oils and soft pressure, this treatment not only helps to boost your mood, but it also works in your favor to alleviate pain related to menstrual cramps, according to the Journal of Obstetrics and Gynecology. While the thought of rubbing your stomach through painful cramps may not be your idea of a good time, it may actually be worth trying out.
2. CHAIR MASSAGE
For individuals interested in keeping things simple on the massage front, a chair massage may be your best bet. A common treatment at many nail salons and spas, a chair massage focuses on the shoulder, back, and neck to help relieve tension and promote relaxation. A great way to start your journey in the world of massage therapy, this treatment can last anywhere from 10 to 45 minutes.
3. DEEP MASSAGE
Chronic aches and pains got you down? You may want to give a deep massage a go. Per the Mayo Clinic, deep tissue massages consist of slower, more forceful strokes to target the deeper layers of muscle and connective tissue. This technique is commonly used to help with muscle damage from injuries. While you may experience some discomfort during certain points of the massage, the results can really be worth it. Keep in mind, however, that before addressing pain with a massage, it's best to consult with your doctor.
4. SWEDISH MASSAGE
If you're new to massages, you can't go wrong with a Swedish massage. Per the Mayo Clinic, a Swedish massage is one of the gentlest forms of the popular treatment. This technique, typically using long strokes, kneading, deep circular movements, vibration, and tapping, works wonders to help you relax and energize. You can expect this massage to last anywhere between 60 to 90 minutes per session.
5. HOT STONE MASSAGE
Do you want to take your Swedish massage to the next level? You may want to test out a hot stone massage. An excellent option for those who are tackling muscle pain or tension, this treatment involves professionals using heated stones instead of their hands to help provide warmth and relaxation to your muscles. Similar to Swedish massages, this massage uses gentle pressure to soothe your body. This massage treatment typically lasts 60 to 90 minutes.
6. SPORTS MASSAGE
Calling all fitness babes! When it comes time to relax and unwind, you may want to add a sports massage to your routine. Per the Mayo Clinic, this massage is similar to the Swedish massage in that it uses gentle pressure to improve your level of relaxation. Geared toward people who indulge in sports activities, it also comes in handy to help prevent and treat injuries. This massage can last from 60 to 90 minutes.
7. TRIGGER POINT MASSAGE
Do you consider yourself to be injury-prone? Well, like many body conditions, there is a massage that can help. It's time to get acquainted with the trigger point massage. This treatment mainly focuses on areas of tight muscle fibers that can form in your muscles after injuries or overuse, per the Mayo Clinic.
8. REFLEXOLOGY
If you're looking to only target specific areas of your body, it may be worth testing out reflexology. According to the Mayo Clinic, reflexology is the application of pressure to areas on the feet or the hands. They also share that studies indicate the possibility of reflexology reducing pain and psychological symptoms, such as stress and anxiety, and enhancing relaxation and sleep.
9. PRENATAL MASSAGE
Oh, baby! If you're on your way to experiencing the joys of motherhood, chances are you can use some relaxation. That's why you'll want to include a prenatal massage on your registry. According to the American Pregnancy Association, prenatal massage therapy uses Swedish massage techniques to relax muscle tension and improve lymphatic and blood circulation through mild pressure.
HOW MUCH DOES A MASSAGE COST?
Like it or not, prices vary depending on your location, treatment, and length of service. Some people can spend around $30 for a session, while others may spend upward of $250. However, you shouldn't allow the price to be the determining factor for your service. You always want to make sure that you're getting a massage from a licensed professional to get the best results.
HOW MUCH SHOULD YOU TIP AFTER A MASSAGE?
Now that we have massage costs on your mind, it's important to know how much you should tip. It's common practice to tip at least 20 percent of the service cost. Of course, depending on how satisfied you were with the treatment, you can totally increase your tip—it's all up to you!
3 TIPS TO REMEMBER BEFORE A MASSAGE
Now that you know some of the basics about massages, it's time to prep! Keep these three tips in mind when you're getting ready for a massage.
1. WEAR OR BRING LOOSE CLOTHING
If you're pondering about what to wear to a massage, you can't go wrong with loose clothing. Depending on the massage service you opt for, it's common to experience some soreness or tenderness post-treatment. Wearing loose clothing will go a long way in keeping you comfortable before and after your session.
What you wear during a massage may also be a question. Typically, your massage therapist will let you know that you can undress to your comfort. Remember: They're professionals, and it really is about what you'll be most comfortable with. They'll keep you covered with a sheet during the massage and will leave the room when you're getting undressed and dressed.
2. RELAX
Getting a massage can be a little intimidating, but there's no need to fret. This service is all about helping you relax, ease tension, and rejuvenate your body. So, shake off the jitters!
3. DON'T BE AFRAID TO SPEAK UP
Keep in mind, the purpose of your massage is to help you feel better. So, if you find that you're experiencing too much pressure, don't be shy to speak up. Your therapist will be able to adjust their technique to suit your needs. You can also request that they focus on specific areas. Is your neck bothering you? Are you dying for a scalp massage? Prefer to skip the face massage and give your back more attention? Discuss it with your therapist!
WHAT TO DO AFTER A MASSAGE
When it comes to getting a massage, your work doesn't stop after you leave the massage table. In fact, you may have heard that it's important to drink water after your session. Simply put, since a massage consists of working your muscles, it's easy for them to become dehydrated. And when your body feels dehydrated, it naturally calls for water. So, make sure to drink plenty of water post-massage.
Discover more tips & tricks
Keep your skin happy
See all articles
Improve your routine
Show your new look more love:
makeup