skin care essentials
How to Take Care of Your Skin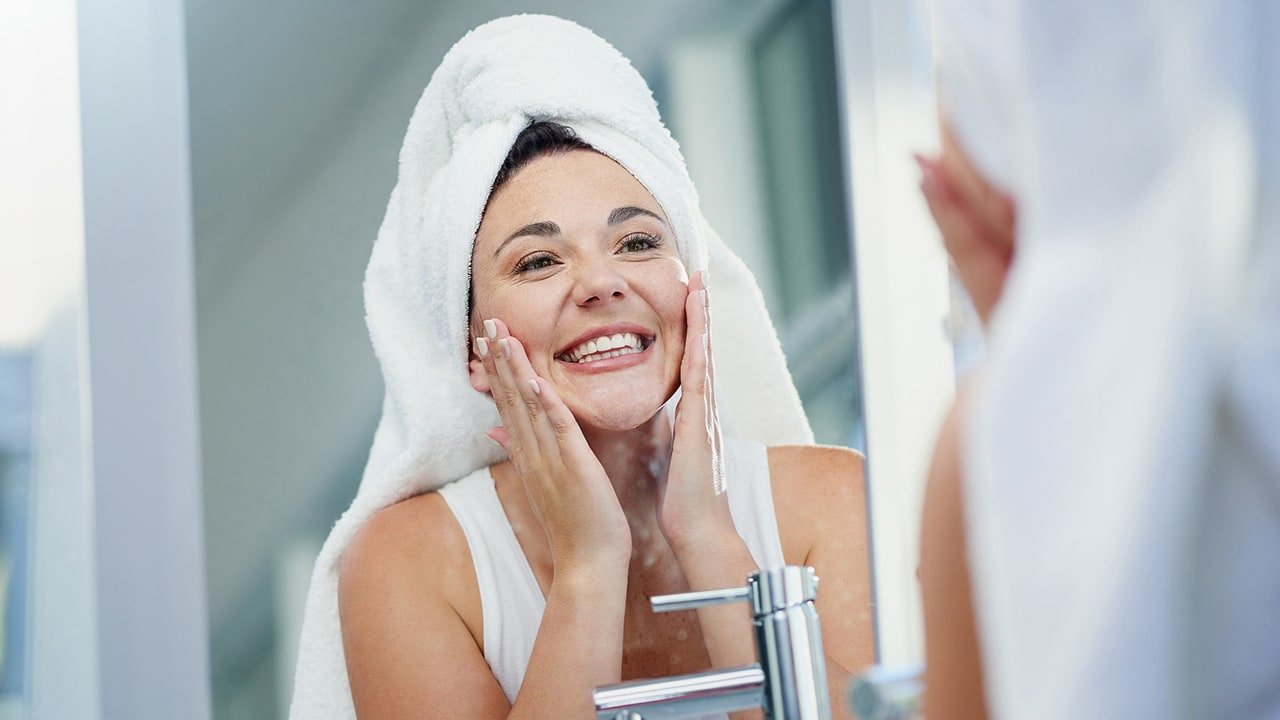 It's no secret that skin care is bigger than ever. What an exciting time—with more products and ingredients to try out than ever before! However, too many choices can also feel pretty overwhelming, especially if you're just starting out and trying to determine the basics of how to take care of your skin. If you're getting into skin care for the first time, don't panic, putting together a proper skin care routine is easier than you might think—and we're here to guide you through it. From the basics of cleansing and moisturizing to incorporating more specialized products like serum, we've got you covered. Here, we're sharing everything you need to know about how to take care of your skin.
THE BASICS OF HOW TO TAKE CARE OF YOUR SKIN
If you've been asking yourself, 'what is a good skin care routine?', it's time to listen up. There is a range of different skin types—from oily skin to dry skin to everything in between—with different needs but, in general, cleansing, exfoliating, and moisturizing is the foundation of a good skin care routine for everyone. If you're not already doing these three steps, it's time to start ASAP. Trust us, if you follow this routine regularly, your future self (and skin) will thank you. Here are the key skincare tips you need to follow to take care of your skin.
STEP 1: CLEANSE
First things first, cleansing your skin is a must. Per the American Academy of Dermatology (AAD), you should aim to cleanse your complexion twice per day—every morning and evening—as well as after you finish a workout (or sweat in general). Reach for a mild facial cleanser that will remove surface-level impurities from your skin—excess oil, makeup, and dirt—without drying it out. Whichever facial cleanser you choose, the directions remain the same: Squeeze a quarter-sized amount of product into your hands, create suds, then gently massage onto your face in circular motions, avoiding the eyes. Rinse thoroughly with lukewarm water and pat dry.
As for how to pick a facial cleanser, we're naming two options below.
L'Oréal Paris Pure-Clay Detox & Brighten Cleanser: Looking for a skin care detox? Formulated with three pure clays and charcoal, this cleanser works gently to purify the skin of dirt, oil, and pollution.
L'Oréal Paris Pure-Clay Exfoliate & Refine Cleanser: If you're tired of large pores, use this targeted facial cleanser to help minimize the appearance of pores and refine rough, clogged skin.
STEP 2: EXFOLIATE AS NEEDED
Everyone's skin is different, and the frequency with which you should exfoliate your complexion varies from person to person. Despite this, everyone does need to exfoliate. A quick refresher: Exfoliating can be done either manually (with a scrub) or chemically, but the end goal is the same—to slough away dead, dull cells that accumulate on the surface of your skin. Doing so will not only help to reveal a more radiant complexion, but it will also improve the overall health of your skin. If you're a beginner, start with a gentle face scrub, which, per the AAD, should be applied using small, circular motions. Pick your potion below:
L'Oréal Paris Pure-Sugar Resurface & Energize Kona Coffee Scrub: This face scrub, which is formulated with real Kona coffee grounds, instantly energizes tired skin and reduces the signs of fatigue.
L'Oréal Paris Pure-Sugar Nourish & Soften Cocoa Scrub: Gentle yet effective exfoliation is the name of the game with this face scrub, which is formulated with rich cocoa butter and leaves skin feeling more nourished.
L'Oréal Paris Pure-Sugar Smooth & Glow Grapeseed Scrub: The ultra-soft sugar scrub provides deep exfoliation for visibly smoother, glowing skin.
L'Oréal Paris Pure-Sugar Purify & Unclog Kiwi Scrub: Clogged pores are no match for this face scrub, which is formulated with real kiwi seeds to remove impurities from the skin effectively.
STEP 3: MOISTURIZE
The ultimate key to healthy-looking skin? That would be moisture. Whatever skin type you have—yes, even oily skin—you must moisturize every single day. In fact, you should moisturize twice per day, every morning and evening, after each of your cleansing sessions. Choose a moisturizer that's suited to your skin type, and use one that's both lightweight and formulated to deliver long-lasting hydration. If you have combination skin that falls on the dry side, try the L'Oréal Paris Hydra Genius Daily Liquid Care – Normal/Dry Skin. For skin that's oil-prone, reach for the L'Oréal Paris Hydra Genius Daily Liquid Care – Normal/Oily Skin. If your skin is very dry, try the L'Oréal Paris Hydra Genius Daily Liquid Care – Extra Dry Skin.
Each of these water-based moisturizers is formulated with aloe water and hyaluronic acid and provides deep and intense hydration that feels lightweight on the skin. To use, apply generously onto clean skin (face and neck) every morning underneath your makeup and every evening right after cleansing.
STEP 4: PROTECT
You should wear some form of SPF on your complexion every day—no excuses! Even if you spend most of your day indoors or it's a rainy day, the sun's harmful ultraviolet rays can still find a way to reach your skin. What's more, over time, these rays contribute to visible signs of sun damage, such as fine lines, wrinkles, and dark spots, and even some types of skin cancer. In order to truly take care of your skin and keep it healthy for the long haul, sunscreen is a must. The Food & Drug Administration recommends that everyone use a sunscreen with an SPF value of 15 or higher daily.
After applying sunscreen as the final step in your morning skin care routine, it's also a good idea to take additional sun protection measures. These include seeking shade when you spend time outdoors, especially between the peak hours of 10 a.m. and 2 p.m., and wearing protective accessories like sunglasses and a broad-brimmed hat.
HOW TO TAKE YOUR SKIN CARE ROUTINE TO THE NEXT LEVEL
Now that you've got the essential steps down and understand the core of how to take care of your skin, it's time to take things up a notch. If the question 'how can I improve my skin' is on the top of your mind, the answer comes down to adding specific skin care products to your routine that address your unique skin care concerns. For example, sometimes, you might notice your complexion feeling extra dry—which is when you should reach for a serum. Feeling oilier than usual? Reaching for a toner could be a good idea. If you want to up the ante on both your morning and nighttime skin care routines, the following products may do the trick.
PRODUCT #1: SERUM
Serums are highly-concentrated products that are meant to address more targeted skin issues. Looking to stave off fine lines and wrinkles? There's a serum for that. Want to add a boost of antioxidant power into your skin care routine via some vitamin C? We've got one for that, too. We'd guess there's a serum out there for just about every skin issue under the sun.
For beginners, we recommend adding a super-hydrating serum into your routine whenever your skin is craving extra moisture, such as after a long flight or during the winter months. Look for one that's formulated with hyaluronic acid, such as the L'Oréal Paris Revitalift Derm Intensives 1.5% Pure Hyaluronic Acid Serum, which immediately replenishes skin with moisture and helps maintain visibly plumped, youthful-looking skin.
Another option is the L'Oréal Paris Revitalift Derm Intensives 10% Pure Vitamin C Serum, which is formulated with vitamin C and restores radiance to the skin. Whatever serum you choose, it should be applied on clean skin before other products; then you can layer your moisturizer on top.
PRODUCT #2: TONER
This old-school skin care product is still relevant—because it works! Whenever your skin is feeling less than radiant, swiping on a toner can help restore a brighter-looking complexion. Try the L'Oréal Paris HydraFresh Toner, which is 99 percent alcohol-free and has a gentle, non-drying formula. To use, saturate a cotton pad with the toner and swipe it over your complexion right after cleansing, then follow up with your serum and moisturizer.
PRODUCT #3: EYE CREAM
Believe it or not, the skin around your eyes is more delicate than any part of your face. So, when it's not properly nourished and hydrated, this area is also the first to show signs of aging. While you may not be worried about tackling crow's feet just yet, it's important to understand that the skin around your eyes requires a different type of moisturizer than your traditional face cream. That's right—it's high time to invest in an eye cream. Try the L'Oréal Paris Age Perfect Hydra Nutrition Manuka Honey Eye Gel, which is formulated to nurture and de-puff under-eye bags.
For a bit of simultaneous color correction and hydration, reach for the L'Oréal Paris Age Perfect Rosy Tone Anti-Aging Eye Brightener Paraben Free, which helps visibly mask dark circles while also hydrating and smoothing the skin.
PRODUCT #4: MAKEUP REMOVER
We already covered cleansing, but when you're rocking a full face of makeup, sometimes your cleanser alone just won't cut it. Sleeping in your makeup is a recipe for disaster—or rather, future breakouts. Instead, when you're wearing a full face of makeup, you need to remove it all, then cleanse. Keep things simple and quick, and reach for a makeup remover wipe or micellar water. Both options work to remove makeup and cleanse away dirt, debris, and oil from the skin in just a few swipes.
Try the L'Oréal Paris Micellar Cleansing Water Complete Cleanser Waterproof – All Skin Types, which you can use with a cotton pad, or the L'Oréal Paris Ideal Clean All Skin Types Makeup Removing Towelettes, which can even be kept on your nightstand for easy access.
Discover more tips & tricks
Keep your skin happy
See all articles
Shop Featured Skin Care products
Discover More