skin care essentials
Get Clean Skin by Finding a Cleanser to Match Your Skin Type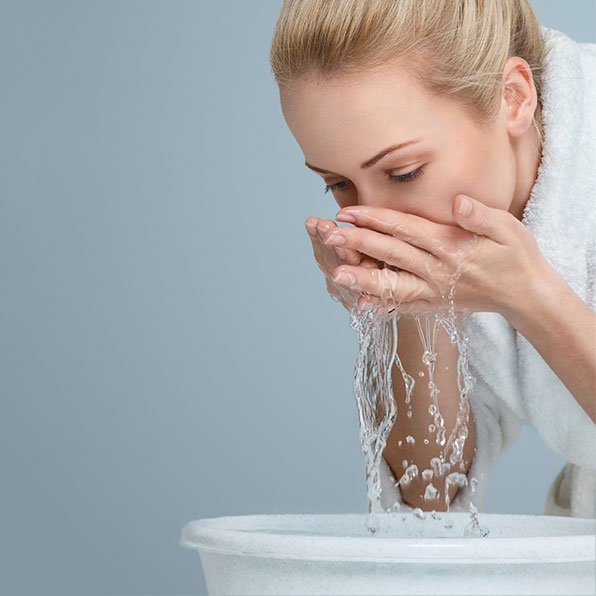 Truly having clean skin means that you've washed away excess oil, sweat and dirt that can build up on your skin throughout your day and overnight. Still while it may seem like a simple skin care step, achieving clean skin can be easier said than done – and more important than you think. "Science has proven that not cleansing your skin on a regular basis will enhance the appearance of fine lines and wrinkles," Dr. Rivera advises. It can be difficult to remove stubborn makeup, like waterproof mascaras and long lasting make up, and not strip your skin; or make it too dry. And, if you have oily skin or combination skin your face can still appear shiny after cleansing. If your daily cleansing routine isn't providing the nourished, clean skin results you were hoping for, you might want to consider switching out your current cleanser for an option that better suits your skin type.
If your skin type is dry: Try a nourishing cream cleanser. Foaming or gel-based cleansers may be too harsh for dry skin. Many of these formulas are better suited for those with oily skin as the foaming action can help cut through excess oil. If your skin is dry to begin with, a foaming or gel-based cleanser may tend to make your skin even more dry. Instead, look for creamy cleansers like RevitaLift® Radiant Smoothing Cream Cleanser, which is formulated with revitalizing vitamin C and gentle exfoliating action. This cleanser can help to remove all traces of makeup and impurities, while gently exfoliating dead skin cells from skin's surface and enhancing skin smoothness and radiance.
If your skin type is oily. Try a cleanser with salicylic acid. Salicylic acid can help unclog pores of excess oil and some surface build up, like dead skin cells. When you have oily skin, the excess oils can mix with sweat and makeup and can clog your pores. Go 360° Clean Anti-Breakout Facial Cleanser is formulated with two percent salicylic acid and comes with a mini scrubblet tool to help better control breakouts and clear blackheads.
If your skin type is combination: Try a glycolic acid cleanser. Glycolic acid is a hydroxy acid great for most skin types – including those with both dry skin and oily skin. Glycolic acid helps to loosen dead skin cells on your skin's surface, making them easier to remove during your cleansing process. Additionally, some cleanser formulas with glycolic acid like RevitaLift® Bright Reveal Brightening Daily Scrub Cleanser are also equipped with gentle micro-pearls to help further exfoliate dullness and impurities to improve skin tone, texture and clarity.
If you have mature skin: Try a gentle exfoliating cream cleanser. Mature skin can experience dryness and may seem dull and sunken. Dr. Rivera adds: "By the time you hit 50, your oil production levels go down by forty percent." Refine your mature skin by cleansing skin with a nourishing and gentle exfoliating cleanser like Age Perfect® Nourishing Cream Cleanser, which encourages softer, smoother and more supple skin. This daily cleanser is equipped with replenishing oils that gently and effectively remove traces of makeup, without causing over-dryness.
No matter your skin type, always moisturize after cleansing while skin in still damp to replenish and protect it. Look for lightweight serums and face lotions if you have oily skin and consider heavier creams and facial oil if your skin is on the drier side.
Look for a cleanser to best match your skin type and you'll not only have clean skin, but skin that is better nourished too.
Discover more tips & tricks
Keep your skin happy
See all articles
Shop Featured Skin Care products
Discover More