skin care essentials
How to Get Clean Skin and a Fresh Face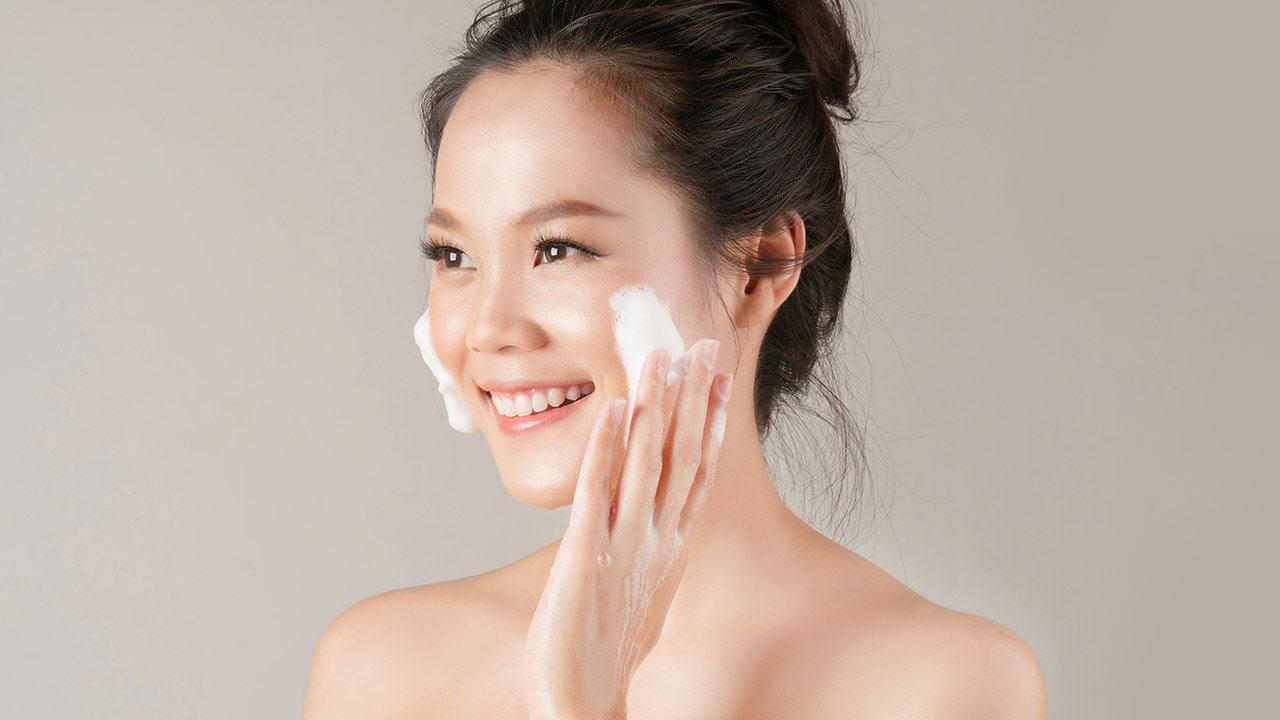 While doing a full face of makeup is fun in the moment, at the end of the day, nothing feels better than taking it all off to be left with a clean, fresh face. That being said, it can be difficult to remove all traces of makeup, oil, dirt, and impurities that have built up throughout the day. We've all been there—going to bed with what we believe to be clean skin, only to wake up with flecks of mascara and smudged eyeliner residue under our eyes. No, thanks! So, how does one go about getting clean skin and a fresh face for real? Follow the steps below for a simple skin care routine that will give your complexion a thorough, well-deserved cleansing.
STEP #1: REMOVE YOUR MAKEUP
The first thing you'll want to do is remove your makeup. Look for a makeup remover that's suitable for all skin types, including sensitive skin, so as not to irritate your face! The L'Oréal Paris Ideal Clean All Skin Types Makeup Removing Towelettes fit the bill, gently yet effectively removing all traces of makeup, mascara, and even long-wear makeup. Wipe your face and eye area with one ultra-soft towelette to start getting clean.
STEP #2: CLEANSE YOUR SKIN
Next, you'll want to cleanse to remove any excess makeup your towelette may have left behind. Use a no-rinse cleansing option, like the L'Oréal Paris Micellar Cleansing Water Complete Cleanser Waterproof - All Skin Types. Powered by micelle molecules that cluster together to surround and lift away impurities and makeup, there's no rinsing or harsh rubbing required with this micellar water. Saturate a cotton pad and gently wipe it over your skin.
STEP #3: CLEANSE—AGAIN
We're not done yet! To ensure your skin is squeaky clean, finish your triple cleanse with the L'Oréal Paris Revitalift Radiant Smoothing Cream Cleanser. This cream cleanser is specially formulated to nourish skin and boost radiance while gently exfoliating and removing all traces of impurities and makeup. Moisten face, lather a small amount of cleanser in wet hands, and—avoiding the delicate eye area—massage onto skin. Rinse thoroughly.
STEP #4: EXFOLIATE
Aside from a buildup of makeup, dead skin cell buildup can also prevent you from having a clean, clear complexion. That's where a face scrub comes into play. A few times a week, based on your skin's needs, use the L'Oréal Paris Pure-Sugar Smooth & Glow Grapeseed Scrub to deeply yet gently exfoliate your skin for a baby-soft, glowing finish. With dry fingers, smooth a small amount onto clean, dry skin. Massage over your face with wet fingers, then rinse with warm water.
STEP #5: USE A FACE MASK
Next up: a face mask! Another product you won't use every day, a face mask can help pamper your skin while drawing out any impurities that were left behind post-cleansing. Try the L'Oréal Paris Pure-Clay Clarify & Smooth Face Mask, which draws out the buildup of impurities, dirt, and pollution for smooth, even, and resurfaced skin. Apply an even layer to clean dry skin, avoiding the eye and lip area. Leave on for 10 to 15 minutes, then remove with water and clean hands, using circular motions to exfoliate.
STEP #6: MOISTURIZE
We bet your skin is feeling and looking extra clean! And while that may be so, it's important to finish your routine by applying a moisturizer to replenish hydration, as you can remove your skin's natural oils during the cleansing process. Smooth on the L'Oréal Paris Hydra Genius Daily Liquid Care - Normal/Oily Skin, L'Oréal Paris Hydra Genius Daily Liquid Care - Normal/Dry Skin, or L'Oréal Paris Hydra Genius Daily Liquid Care - Extra Dry Skin, picking the right moisturizer based on your skin type. Each water-based moisturizer is formulated with aloe water and hyaluronic acid to give your skin continuous hydration.
Next: Not all skin types are created equal, and not all routines are suited for every skin type. Check out our article, How to Curate a Face Care Routine, to learn how to put together a skin care routine fit for you and your skin's needs.
Discover more tips & tricks
Keep your skin happy
See all articles
Shop Featured Skin Care products
Discover More