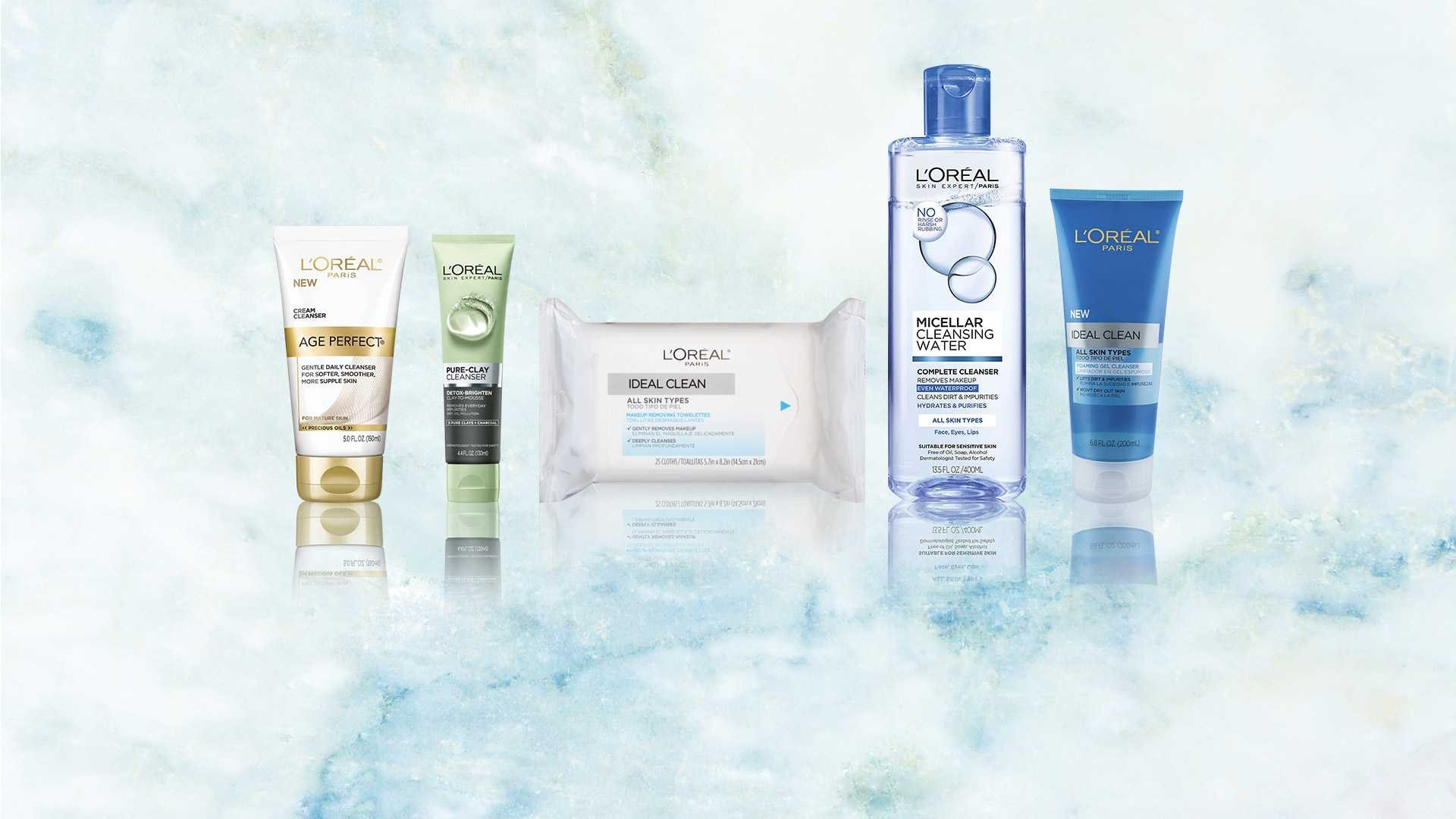 skin care essentials
5 Gentle Cleansers That Won't Dry or Irritate Skin
There's no denying that skin can feel dry or irritated after a cleansing session, but there's no rule that says it has to be that way. There are gentle cleansers that can give your skin a deep clean without the discomfort. They're even available in various forms, including cream, clay, and foaming cleansers. If you're ready to find your gentle cleanser match, we can help. Ahead, we're sharing five of the best gentle face wash formulas from L'Oréal Paris.
#1: L'OREAL PARIS AGE PERFECT NOURISHING CREAM CLEANSER
If you're dealing with dry skin, you'll want to seek out a gentle face wash that hydrates and soothes your skin. That's where the L'Oréal Paris Age Perfect Nourishing Cream Cleanser comes into play. This creamy offering is formulated with replenishing oils and works to gently yet effectively remove all traces of makeup without over-drying your skin. As a result, you'll be left with a soft and supple complexion.
How to use it: Every morning and evening, start by moistening your face. Lather the cleanser into wet hands and gently massage it onto your skin. Rinse thoroughly with lukewarm water and pat dry.
#2: L'OREAL PARIS IDEAL CLEAN ALL SKIN TYPES MAKEUP REMOVING TOWELETTES
When you're too tired to go through a long routine that features separate steps dedicated to removing your makeup and cleansing your skin, it's wise to already have a gentle, one-step cleanser in your arsenal. The L'Oréal Paris Ideal Clean All Skin Types Makeup Removing Towelettes are one of our favorites for that purpose. These super-soft wipes work to gently remove all traces of makeup and dissolve dirt and oils to leave you with a purified complexion. We also dig that these towelettes, which are suitable for all skin types, don't dry out your skin.
How to use it: Gently wipe the towelette over your face and eye area. No rinsing required. Re-seal the pack to prevent the remaining cloths from drying out.
#3: L'OREAL PARIS PURE-CLAY DETOX AND BRIGHTEN CLEANSER
It's no secret that bright, radiant-looking skin is one of the most sought-after beauty traits. And if you find yourself tackling a dull, lackluster complexion, it's time to take action. The L'Oréal Paris Pure-Clay Detox and Brighten Cleanser can give your skin the TLC that it needs. This gentle cleanser is formulated with charcoal and three pure clays and is suitable for all skin types. It helps to purify the skin's surface of dirt, oil, and debris. After every use, you'll be left with a clean, clear, and healthy-looking visage with a luminous glow.
How to use it: Squeeze the cleanser into your hand and add water to transform it from clay to mousse. Gently massage the cleanser onto your face in circular motions, making sure to avoid your eye area. Rinse and pat dry.
#4: L'OREAL PARIS IDEAL CLEAN ALL SKIN TYPES FOAMING GEL CLEANSER
While an oily complexion can sometimes be a pain to deal with, using the right gentle cleanser can help balance out your complexion. By this, we mean using a foam or gel-based cleanser. Nourishing cream cleansers won't suit your skin.
Consider trying the L'Oréal Paris Ideal Clean All Skin Types Foaming Gel Cleanser. It's formulated to remove makeup and deeply purify skin while minimizing pores—all without a tight feel post-cleansing.
How to use it: Wet your face and hands with lukewarm water. Work a small amount of gel into a foamy lather and massage it onto your face in gentle, circular motions. Rinse well.
#5: L'OREAL PARIS MICELLAR CLEANSING WATER COMPLETE CLEANSER WATERPROOF- ALL SKIN TYPES
It's always smart to have a multi-tasking essential in your collection, and micellar water is one of our favorites. This French-favorite cleanser allows you to cleanse your skin without having to be tethered to a sink. The L'Oréal Paris Micellar Cleansing Water Complete Cleanser Waterproof - All Skin Types works to lift dirt, oil, makeup, and debris from your skin without any rinsing or harsh rubbing. So, you can pack this essential in your gym or travel bag to get a quick cleansing session in on the go.
How to use it: Saturate a cotton pad with micellar water and gently wipe it across your skin until clean.
Next up: Now that you have the intel on the best gentle cleansers from L'Oréal Paris, you may want to introduce gentleness to the rest of your skin care routine, too. Check out our article, How To Create a Skin Care Routine For Sensitive Skin, to help keep discomfort at bay.
Discover more tips & tricks
Keep your skin happy
See all articles
Shop Featured Skin Care products
Discover More