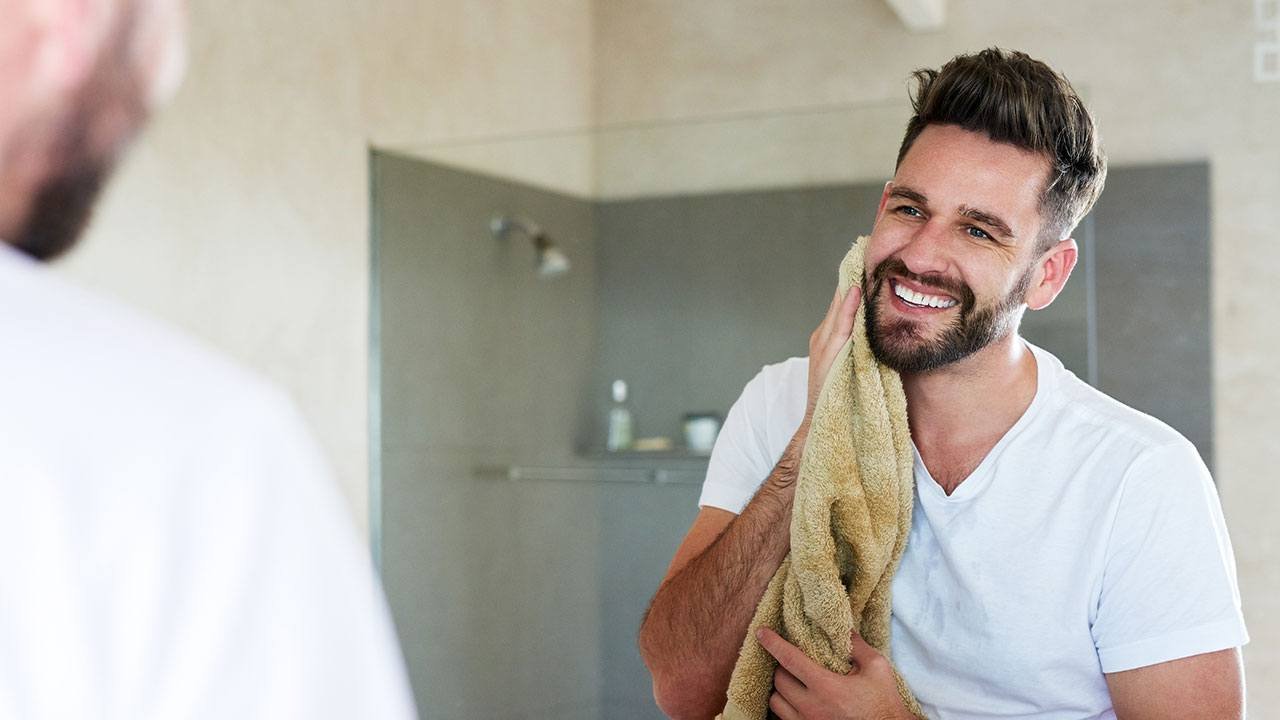 skin care essentials
6 Fall Skin Care Tips for Men
It may be hard to believe that fall is already here—really, how did summer go by so fast—however, that doesn't give you a pass to slack on your skin care. As the weather changes, you may find that your skin's needs are different now, too. We're making it simple for you and sharing six basic tips to transform your fall skin care regimen. Read on to find out the best ways for men to care for their complexions in autumn.
Fall Skin Care Tip #1: Cleanse Twice a Day, Plus Post-Sweat
No matter how badly you may want a break from the responsibility of washing your face, it's a 365-day a year kind of duty. The American Academy of Dermatology suggests washing your face twice a day, once in the morning and again in the evening. Plus, anytime you go hard at the gym and work up a sweat, you'll want to cleanse your skin again. Look for a facial cleanser formulated specifically for men, like the L'Oréal Paris Men Expert™ Hydra Energetic Extreme Cleanser Infused with Charcoal. Splash some water on your face, then gently massage the cleanser into your skin, concentrating on your forehead, nose, and chin, which tend to be oilier than the rest of your face. Rinse off with lukewarm water, then you're ready to proceed with your skin care routine!
Fall Skin Care Tip #2: Max Out on Moisture
As winter approaches, it's time to start taking hydration more seriously. That means making sure your moisturizer is up to par. After you cleanse your skin (while your face is still damp), smooth on an all-day moisturizer, like the L'Oréal Paris Men Expert™ Hydra Energetic Anti-Fatigue 24HR Moisturizer, that addresses all your complexion concerns: dry skin, rough texture, dull appearance, tight feeling, and loss of firmness. For smoother-looking skin this fall, you can also try exfoliating two or three times a week before moisturizing.
Fall Skin Care Tip #3: Keep Up with Your Sun Protection Routine
The summer sun may be a thing of the past, but that doesn't mean you should stow away your sunscreen for the rest of the year. In fact, broad-spectrum sunscreen is a necessity all year long. According to the Food and Drug Administration, you should apply a broad-spectrum sunscreen with an SPF of 15 or higher daily as directed. In addition to that, you should also take other sun protection measures: reapply sunscreen at least every two hours or immediately after swimming or sweating, limit your amount of time in the sun—especially during the sun's peak hours between 10 a.m. and 2 p.m., seek shade, and cover up exposed areas in long sleeves, pants, a broad-brimmed hat, and UV-blocking sunglasses.
Fall Skin Care Tip #4: Apply a Balm After Shaving
Fall is as good a time as any to perfect your shaving routine. After carefully removing your facial hair, it's a must to apply an after-shave balm. The L'Oréal Paris Men Expert™ Hydra Energetic After Shave Balm can help prevent the nasty side effects that can come with shaving, like razor burn and redness. To use, simply squeeze out a dime-size amount into your palms, rub it between your hands, and apply it all over your face—not just where you shave. For more facial hair-specific tips check out our article, The Guy's Guide to Taking Care of and Removing Facial Hair.
Fall Skin Care Tip #5: Work on Facial Hair Maintenance
Not everyone keeps a clean shave through the fall. It's a common practice to start growing out a beard once November hits. If you're looking to get in on the trend, you'll want to stock up on a beard moisturizer, like the L'Oréal Paris Men Expert™ 3-Day Beard Moisturizer. It's exactly what it sounds like—a moisturizer meant for your beard. Apply on clean skin and facial hair to keep both feeling soft, without sacrificing that much-desired scruffy look.
Fall Skin Care Tip #6: Make Changes at Home
Gone are the days when you have to keep the AC on 24/7. But with the drop in temps comes another issue—the air is getting drier. And that can leave your skin feeling drier, too. So, set up a humidifier in your bedroom and turn it on before you go to bed. This will add moisture back into the air while you sleep—a must for your skin.
For more guy-centric skin care tips, check out our article, 4 Skin Care Hacks Every Man Should Try.
Discover more tips & tricks
Keep your skin happy
See all articles
Shop Featured Skin Care products
Discover More