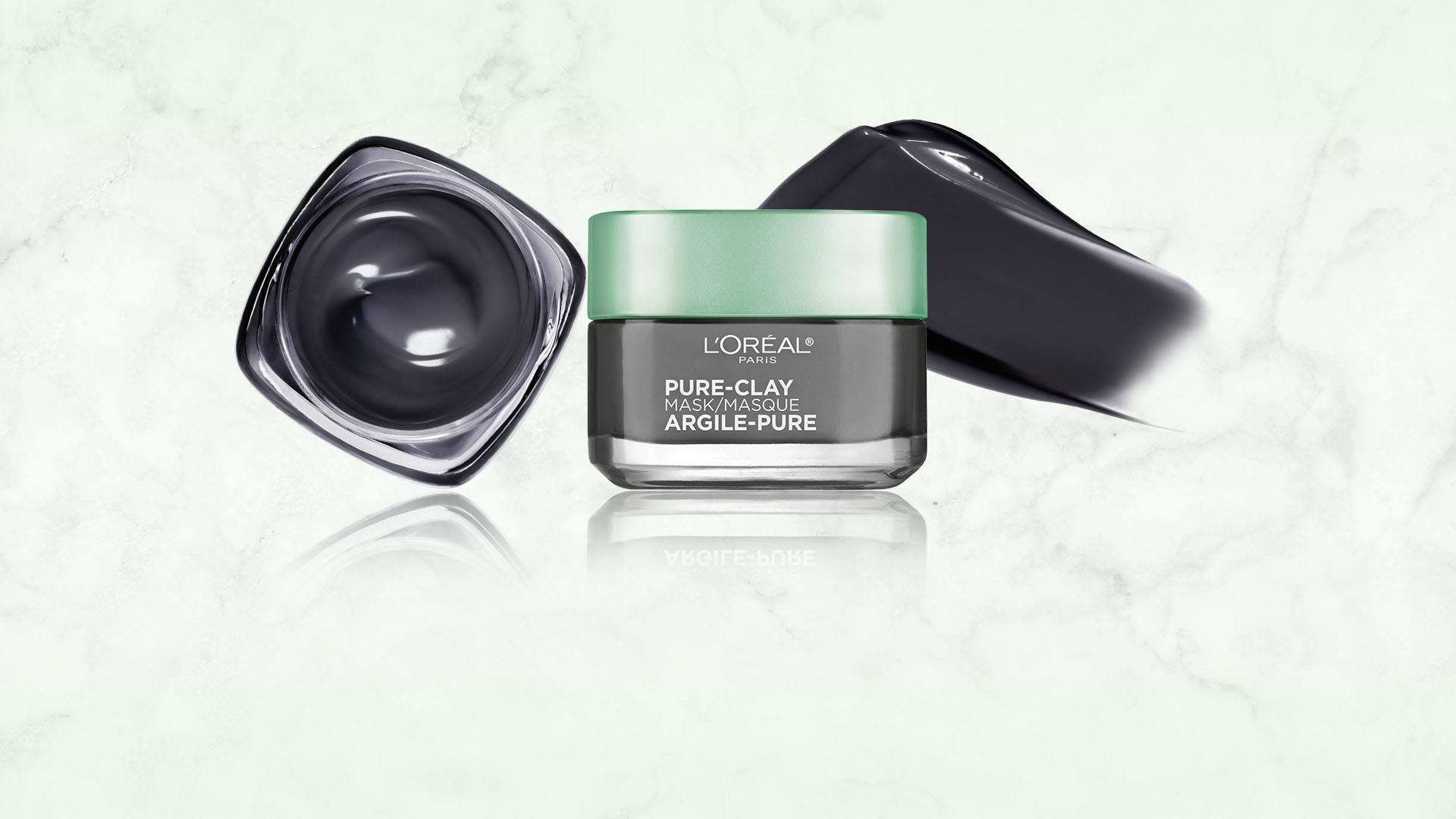 Let's be honest: Most of us dream of having clear, glowing skin. Of course, it's easier said than done when it comes to actually achieving it. If your complexion has been looking a little lackluster as of late, you may be wondering how you can switch up your skin care routine to get radiant, dewy skin. While there are plenty of skin care products that can help you reach your goals, we're here to talk about one in particular: face masks! More specifically, our best brightening face mask, which will leave you with the radiant skin you're after. Want to learn more? Glow on!
OUR BEST BRIGHTENING FACE MASK
We won't make you wait for a second longer—allow us to introduce you to our best brightening face mask, the L'Oréal Paris Pure-Clay Detox & Brighten Face Mask. This powerful mask is formulated with three pure-clays and charcoal and can help detoxify and illuminate your complexion in just a few minutes. With its indulgent formula, you'll have a luxurious experience while potent pure clays and charcoal act like a magnet to clean out pores and draw-out and capture deep impurities such as dirt, oil, and pollution. The creamy, non-drying charcoal mask leaves skin feeling clean, velvety, and rebalanced, addressing your dull, tired skin to reveal a purified, even, and radiant complexion. Immediately, skin looks brighter with a healthy glow. Need we say more?
HOW TO USE OUR BEST BRIGHTENING FACE MASK
Putting our brightening mask to use is as easy as 1, 2, 3. Here's what to do.
Step #1. Apply your mask. Smooth an even layer of the creamy clay formula onto clean, dry skin, avoiding your eye and lip areas.
Step #2. Wait it out. Leave your mask on for 10 to 15 minutes.
Step #3. Rinse thoroughly and repeat. Remove with lukewarm water. For the best results, use three times per week.
HOW TO CREATE A ROUTINE FOR BRIGHT SKIN
Like we mentioned, there are quite a few skin care products out there that can help you achieve your glowing skin goals. Why not combine them with our best brightening face mask for a full-on bright skin routine? Learn how to do just that, below.
STEP #1. APPLY YOUR FACE MASK
You know what to do—put our charcoal face mask to the test following the steps above.
STEP #2. WASH YOUR FACE
After rinsing off your mask, you'll want to cleanse your complexion. Give the L'Oréal Paris Revitalift Bright Reveal Brightening Daily Scrub Cleanser a try. Formulated with gentle micro-pearls and glycolic acid, this cleanser exfoliates dullness and impurities to reveal visibly brighter, more radiant skin. Lather into wet hands, gently massage onto your skin, rinse thoroughly, and pat dry.
STEP #3. SMOOTH ON A SERUM
Next, you'll want to show your complexion some TLC with the help of a face serum. More specifically, the L'Oréal Paris Revitalift Derm Intensives 10% Pure Glycolic Acid Serum. Formulated with 10% pure glycolic acid, the serum absorbs quickly to visibly even skin tone and reduce wrinkles and dark spots.
STEP #4. DOT ON AN EYE CREAM
You wouldn't want dark circles to spoil your radiant skin, would you? To reduce their appearance, use your ring finger to pat on the L'Oréal Paris Age Perfect Rosy Tone Anti-Aging Eye Brightener Paraben Free.
STEP #5. LATHER ON MOISTURIZER
Finish your routine by smoothing on a moisturizer that'll help combat the look of dull skin. The L'Oréal Paris Age Perfect Rosy Tone Moisturizer for Mature, Dull Skin is formulated with imperial peony extracts and LHA and helps gently exfoliate dull, sallow skin and revive skin's natural rosy tone. Smooth it on to seal in your youthful-looking, radiant complexion.
Next up: Now that you know how to get glowing skin with the help of our best brightening face mask, perhaps you'd like to learn about other face masks that can boost your complexion. Why not pick one based on what you like to binge watch? Seriously, pick Your Face Mask Match According to Your Favorite TV Show.
{ "@context": "https://schema.org/", "@type": "WebPage", "speakable": { "@type": "SpeakableSpecification", "cssSelector": ["speakable-content"] }, "url": "https://www.lorealparisusa.com/beauty-magazine/skin-care/skin-care-essentials/brightening-face-mask" }
Discover more tips & tricks
Keep your skin happy
See all articles
Shop Featured Skin Care products
Discover More
{ "@context": "http://schema.org", "@type": "BreadcrumbList", "itemListElement": [ { "@type":"ListItem", "position": 1, "item": { "@id": "/", "name": "Home" } } , { "@type":"ListItem", "position": 2, "item": { "@id": "https://www.lorealparisusa.com/beauty-magazine", "name": "Beauty Magazine" } } , { "@type":"ListItem", "position": 3, "item": { "@id": "https://www.lorealparisusa.com/beauty-magazine/skin-care", "name": "Skin Care For Every Age" } } , { "@type":"ListItem", "position": 4, "item": { "@id": "https://www.lorealparisusa.com/beauty-magazine/skin-care/skin-care-essentials", "name": "Skin Care Essentials" } } , { "@type":"ListItem", "position": 5, "item": { "@id": "https://www.lorealparisusa.com/beauty-magazine/skin-care/skin-care-essentials/brightening-face-mask", "name": "brightening-face-mask" } } ] }