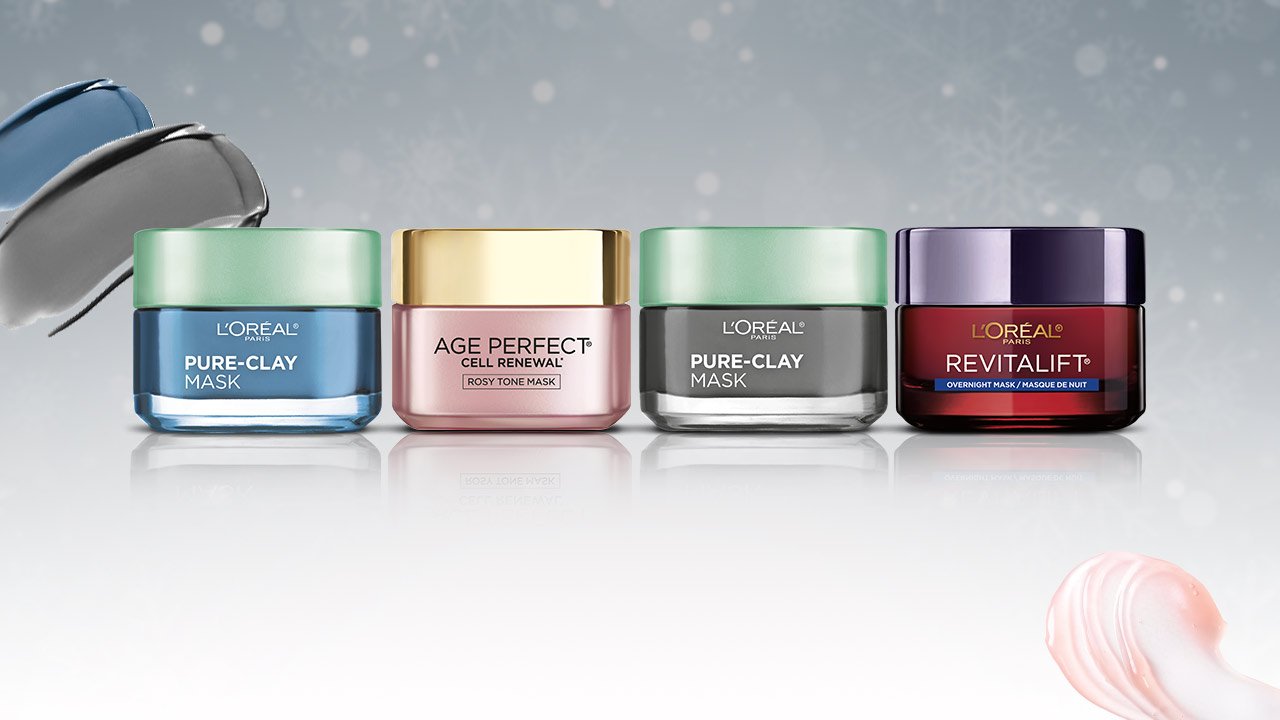 The weather outside is indeed frightful—especially in regards to how it impacts your skin. Cold temperatures, a lack of humidity, and cranking up the heat in the winter can all cause your skin to become dry, according to Mayo Clinic. Luckily, with a few tweaks to your skin care routine—including using winter face masks—you can beat the cold weather and your dry skin! That's right, a relaxing masking routine could be just what your complexion needs come winter. Keep reading to find the perfect winter face mask for your seasonal skin care concerns.
OUR BEST WINTER FACE MASKS
It's time for the reason you're here—our best winter face masks! With so many different face masks to choose from, it can be challenging to narrow down which is the best for your skin's individual needs. Here's a breakdown of our best winter face masks based on your skin care concerns during the winter months.
BEST WINTER FACE MASK FOR STRESSED SKIN
When your skin is feeling the opposite of relaxed, we recommend the L'Oréal Paris Pure-Clay Clear & Comfort Face Mask. Your skin is likely to become dry, irritated, and stressed during the winter months—so this mask is a must. This super-charged face mask is formulated with seaweed and three pure clays to clear and comfort skin in just 10 to 15 minutes. The creamy mask addresses your skin's imperfections to reveal purified and healthier-looking skin all winter long.
BEST WINTER FACE MASK FOR DULL SKIN
For those with dull skin, there are two winter face masks for you to choose from. The L'Oréal Paris Age Perfect Cell Renewal Rosy Tone Mask has a gel formula and is formulated with AHA, imperial peony, and an ultra-fine mineral exfoliant to smooth and refresh your skin. The mask, which is meant for mature skin, works in just five minutes to revive the skin's rosy, radiant look.
Another option is the L'Oréal Paris Pure-Clay Detox & Brighten Face Mask. Formulated with three pure clays and charcoal, the powerful face mask provides a luxurious experience while drawing out and capturing deep impurities such as dirt, oil, and pollution. Your skin will be left feeling clean, velvety, and rebalanced with a healthy glow.
BEST WINTER FACE MASK FOR ROUGH SKIN
If you have rough skin, which can often become an issue in the winter as your skin begins to flake and peel, try the L'Oréal Paris Pure-Clay Exfoliate & Refining Face Mask. Enhanced with red algae extract, this face mask exfoliates and refines your skin by addressing rough skin and deeply clogged pores to reveal a polished, pore-minimized, and smooth complexion.
You can also use the L'Oréal Paris Pure-Clay Clarify & Smooth Face Mask in your skin care routine for rough skin. This face mask also exfoliates and is formulated with three pure clays and yuzu lemon to address your skin concerns for smooth, even, and resurfaced skin.
BEST WINTER FACE MASK FOR AGING SKIN
As skin ages, it loses its ability to efficiently repair the visible signs of aging, including loss of firmness and elasticity, less defined facial contours, and more pronounced wrinkles. Use the L'Oréal Paris RevitaLift Triple Power™ Intensive Overnight Mask to instantly hydrate your skin and help improve skin's firmness and elasticity while you get your beauty sleep.
BEST WINTER FACE MASK FOR COMBINATION SKIN
The truth is, you'll need more than one mask to meet your skin's varying needs—which means it's time to multi-mask! The L'Oréal Paris Pure-Clay Multi-Mask Clay Tripod Kit contains three clay masks for dull skin, rough skin, and oily skin. This kit will allow you to customize your winter face mask experience based on what each area of your combination skin needs most.
HOW TO USE FACE MASKS IN THE WINTER
How you use face masks won't differ dramatically from season to season. In the winter, you will want to keep a couple of things top of mind, however. First, when it comes time to rinse off your mask(s) of choice, don't wash off with scorching water. Even though it can feel nice when it's chilly out, you'll want to use lukewarm water to avoid drying out your skin.
Once your face is completely clean, be sure to follow-up with a moisturizer that can help you combat the dry skin that often goes hand in hand with cooler temperatures. We're fans of L'Oréal Paris Hydra Genius Daily Liquid Care - Normal/Dry Skin and L'Oréal Paris Hydra Genius Daily Liquid Care - Extra Dry Skin for giving skin a boost of moisture.
Want more winter skin care tips to follow? Head on over to our article on What Causes Dry Skin in the Winter?
{ "@context": "https://schema.org/", "@type": "WebPage", "speakable": { "@type": "SpeakableSpecification", "cssSelector": ["speakable-content"] }, "url": "https://www.lorealparisusa.com/beauty-magazine/skin-care/skin-care-essentials/winter-face-mask" }
Discover more tips & tricks
Keep your skin happy
See all articles
Shop Featured Skin Care products
Discover More
{ "@context": "http://schema.org", "@type": "BreadcrumbList", "itemListElement": [ { "@type":"ListItem", "position": 1, "item": { "@id": "/", "name": "Home" } } , { "@type":"ListItem", "position": 2, "item": { "@id": "https://www.lorealparisusa.com/beauty-magazine", "name": "Beauty Magazine" } } , { "@type":"ListItem", "position": 3, "item": { "@id": "https://www.lorealparisusa.com/beauty-magazine/skin-care", "name": "Skin Care For Every Age" } } , { "@type":"ListItem", "position": 4, "item": { "@id": "https://www.lorealparisusa.com/beauty-magazine/skin-care/skin-care-essentials", "name": "Skin Care Essentials" } } , { "@type":"ListItem", "position": 5, "item": { "@id": "https://www.lorealparisusa.com/beauty-magazine/skin-care/skin-care-essentials/winter-face-mask", "name": "winter-face-mask" } } ] }