skin care essentials
Our Best Facial Oils for Every Skin Concern
August 21, 2017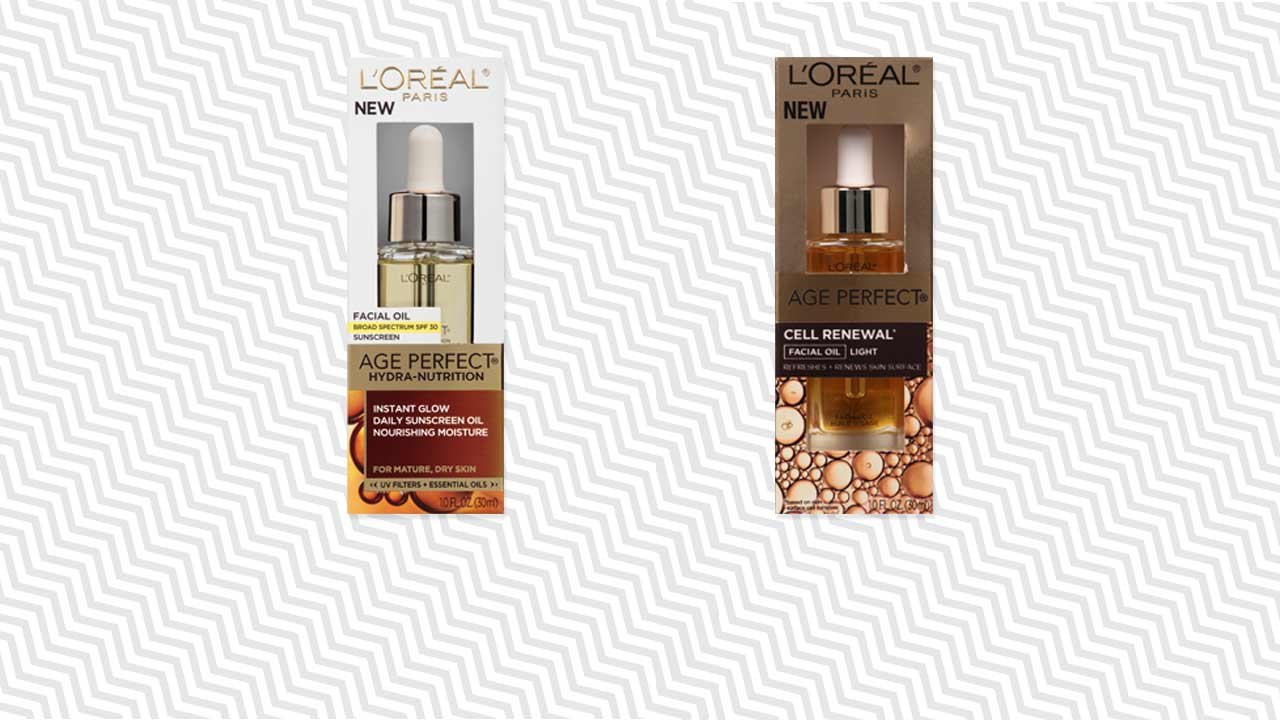 Sometimes, your skin just needs a little extra hydration. And that's where a facial oil can come in handy. Never used one before? Well, this could be the perfect time to add one to your skin care routine! Here, learn about the best facial oils from L'Oréal Paris and how to use them for gorgeous-looking skin. Find your perfect facial oil match below!
L'Oréal Paris Age Perfect Cell Renewal Facial Oil Light: Thought you couldn't use a facial oil if you had oily skin? Think again! This lightweight, non-greasy facial oil is suitable for use by combination and oily skin types. It's formulated with a purifying blend of eight essential oils (including lemongrass, chamomile, argan, and clove oils) and has a weightless finish that leaves skin looking dewy and vibrant, not greasy. (Follow these tips for using a facial oil when you have oily skin.)
L'Oréal Paris Hydra-Nutrition Facial Oil SPF 30: We're all about using double-duty products, as they can help us cut down on the number of steps in our skin care routine—and if you've ever rushed to make it to an appointment on time, you know how useful this can be. This lightweight, non-greasy facial oil absorbs quickly to moisturize and nourish mature skin. It's formulated with eight essential oils and broad-spectrum SPF 30 sunscreen. (Here are more double-duty products that can save you time.)
Now, when it comes to sun protection, there are a few things you need to keep in mind. The Food and Drug Administration (FDA) recommends wearing a broad-spectrum sunscreen with an SPF of 15 or higher daily as directed and reapplying at least every two hours—or immediately after swimming or sweating. But that's not the only sun protection measure you should take. Additionally, you should also limit your amount of time in the sun (especially during the sun's peak hours from 10 a.m. to 2 p.m.), seek shade, and cover up exposed areas in long sleeves, pants, a broad-brimmed hat, and UV-blocking sunglasses.
How to Apply a Facial Oil
Once you've determined which of the facial oils above is right for you, it's time to actually, you know, apply it. Here's how to do it: Every morning and evening, apply 4-5 drops of your facial oil of choice into the palm of your hand. With a finger, dab the oil in small dots onto cleansed skin. Then, gently smooth and press in the oil onto your face and neck using the whole surface of your hands. Smooth the facial oil from nose to ears, eyebrows to hairline, and neck to jawline.
If this sounds totally spa-like, then you'd be right! Consider using a facial oil as your chance to treat your skin to a pampering massage—without ever leaving the comfort of your own home. As far as when to apply facial oil, you should do so after cleansing. You can use a facial oil in place of moisturizer or you can apply a moisturizer overtop if you feel like you need added hydration. It's up to you!
Want to learn how to use a facial oil as part of your larger skin care routine but not sure where to start? Don't worry, we've got you covered! Just check out our article, How to Incorporate a Facial Oil into Your Skin Care Routine, for tips on doing that. We have a feeling facial oil is about to become your new favorite skin care product.
Discover more tips & tricks
Keep your skin happy
See all articles
Improve your routine
Show your new look more love:
makeup