skin care essentials
Help Shed Your Winter Skin with These Face Scrubs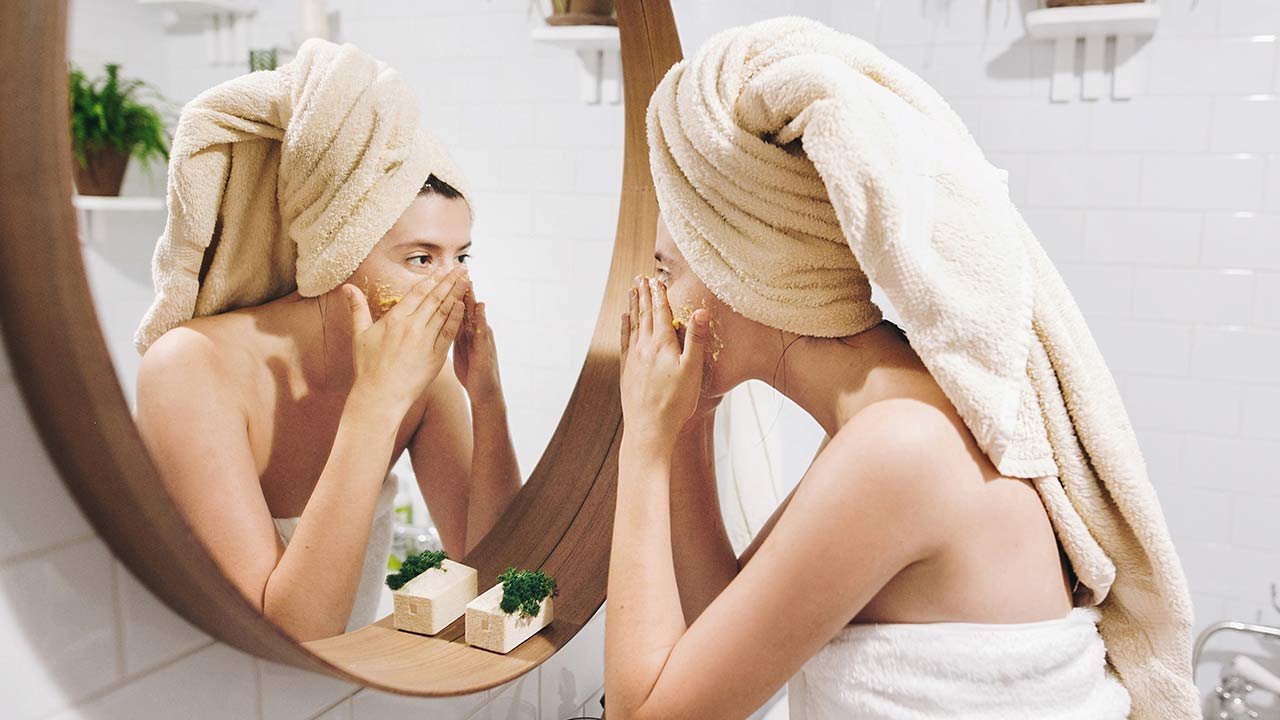 It's the most wonderful time of year—er, except when it comes to your complexion, that is. During these last few cold months before spring, you may notice that your skin is still feeling the effects of winter. In other words, you're probably still experiencing things like dry skin and dullness, courtesy of the frigid temps and dry air. Since spring is the season of renewal, it's time to show your skin some love by adding a face scrub into your skin care routine. Here, we've rounded up our best face scrubs for the season, as well as tips to help you exfoliate like a pro.
HOW EXFOLIATING WORKS
First things first, don't get to scrubbing until you know all the details. Exfoliation is the process of sloughing off dead skin cells from the surface of your skin. There are two ways to exfoliate: chemically, such as with glycolic acid, or mechanically, such as with a face or body scrub. As far as how often you should exfoliate, it depends on your individual skin type and needs, and thus it varies from person to person. Some people's skin can only handle exfoliation once a week, while others may be able to tolerate it more often. Pay attention to how your skin responds post-exfoliation so you can determine what works best for you.
THE LOWDOWN ON MECHANICAL EXFOLIATION
Like we said, mechanical exfoliation involves physically scrubbing your skin's surface with a scrub or a dry brush, and that's the type of exfoliation we're focusing on today. (Chemical exfoliation utilizes salicylic acid, alpha hydroxy acids (AHAs) like glycolic and lactic acid, or enzymes to chemically break down the surface buildup.)
Exfoliating tools: Dead skin cells on the surface of your skin can be loosened and removed by creating friction using tools like brushes and sponges. Just keep in mind that these scrubby tools might not be the best choice for sensitive skin, so go easy and test a patch of skin before committing to this method. If you are going to use an exfoliating tool, be sure to work in light strokes and be gentle!
Face scrubs: When you think of exfoliation, the image that pops into your head is probably of a face scrub—and there's a good reason for that. They're super-popular and there are plenty of different options out there, which makes this an easy option if you're ready to add exfoliation to your skin care routine. Don't worry—we've got product picks for you coming up soon!
THE BENEFITS OF EXFOLIATION
Whether you decide to use the mechanical or chemical method of exfoliation, the main purpose of exfoliating is to slough off the buildup of dead skin cells from the surface of your skin. These dead skin cells can contribute to dullness and uneven texture, which is why you'd want to remove them. Sloughing your skin regularly can leave you with a brighter, smoother complexion. Since using a face scrub is one of the easiest ways to exfoliate, we're sharing our favorite scrubs below.
OUR BEST FACE SCRUBS TO HELP SHED YOUR WINTER SKIN
Ready to get your exfoliation on this spring? Find the right skin product for your skin's individual needs below!
L'Oréal Paris Pure-Sugar Nourish & Soften Cocoa Scrub: This face scrub leaves skin feeling softer and smoother and looking more refined. Immediately, skin feels smooth and comforted, while skin feels nourished with continued use over time.
L'Oréal Paris Pure-Sugar Purify & Unclog Kiwi Scrub: This face scrub effectively removes dirt, oil, and impurities from the surface of skin and polishes away dead skin. With continued use over time, pores look tighter, unclogged, and less visible.
L'Oréal Paris Pure-Sugar Smooth & Glow Grapeseed Scrub: This face scrub gives skin a glowing appearance immediately and leaves skin feeling baby-soft, smooth, and comforted with continued use over time.
L'Oréal Paris Pure-Sugar Resurface & Energize Kona Coffee Scrub: Formulated with real Kona coffee grounds, this face scrub helps to instantly revive tired skin and reduce signs of fatigue.
HOW TO USE A FACE SCRUB
When it comes to exfoliating, being gentle is key. Here's how to use any of the four face scrubs recommended above.
Step 1: Prep yourself
Don't start until you've readied your hair and face. If you have long hair, pull it back so that it doesn't get in the way, then wet your face before exfoliating.
Step 2: Apply gently
There's no need to vigorously scrub. Treat your complexion with care by using small circular motions to massage your face scrub of choice onto your face and neck. Apply it to your skin with dry hands, then use wet fingers to gently massage the face scrub over your complexion.
Step 3: Wash off with lukewarm water
Avoid rinsing with hot water, which can dry out skin further.
Step 4: Moisturize
Smooth on a hydrating lotion or cream to help lock in hydration. We love the L'Oréal Paris Hydra Genius Daily Liquid Care for Normal to Oily Skin, L'Oréal Paris Hydra Genius Daily Liquid Care for Normal to Dry Skin, and L'Oréal Paris Hydra Genius Daily Liquid Care for Extra Dry Skin, all of which are formulated with hyaluronic acid and aloe vera water to help provide long-lasting hydration.
Step 5: Find your schedule
As we told you earlier, how often you should exfoliate depends on the individual. In general, our Pure-Sugar Scrubs should be used three times a week for best results.
HOW TO EXFOLIATE THE REST OF YOUR BODY
Extend the scrub love down past your jawline! Here's how to do it right.
HOW TO EXFOLIATE YOUR Lips
Flaking lips are no fun—and applying lipstick over dry lips isn't exactly the recipe for a great look. To help remove dead skin cells from the surface of your lips, use a lip scrub. If you own one of our Pure-Sugar scrubs, you won't need to purchase anything new because they double as lip scrubs. So convenient! You can also use a clean toothbrush (no toothpaste residue!) to help slough away dead skin. Afterward, apply a hydrating lip balm (bonus points if it has broad-spectrum sunscreen!).
HOW TO EXFOLIATE YOUR Elbows and knees
These areas are especially prone to dryness, so show them some TLC in the shower. Use a gentle body scrub, applying it in circular motions while you're in the tub.
HOW TO EXFOLIATE YOUR Legs
Ready to show off those legs in cute floral skirts now that the weather is getting warmer? Try using a dry brush before hopping in the shower.
Editor's note: For a more in-depth look at the best ways to exfoliate, here's How to Exfoliate from Head to Toe.
HOW TO TAKE CARE OF YOUR SKIN NEXT WINTER
Now that you know all there is to know about exfoliating with a face scrub, we're here to share a few tips to help prevent excess winter dryness next year. Whenever you feel your skin starting to get dry, keep these tips in mind.
WINTER SKIN CARE TIP #1. Try a no-rinse cleansing option
Micellar water has been a French-favorite cleanser for quite a while, but over the last few years, it's also gained major traction stateside. The L'Oréal Paris Micellar Cleansing Water Complete Cleanser for Normal to Dry Skin hydrates and soothes. It's powered by tiny micelles—oil molecules—that act as a magnet to lift dirt and oil up and away from the skin. Simply pour some out onto a cotton pad and wipe the pad across your face.
WINTER SKIN CARE TIP #2. Switch up how you shower
How you bathe can have a major impact on the way your skin looks and feels. Say no to the hot showers that may tempt you when it's chilly outside. Hot water can strip your skin of essential oils, so turn down the dial and cleanse in lukewarm temps instead.
WINTER SKIN CARE TIP #3. Moisturize, moisturize, moisturize
This step is key! Extra dry skin has a very fragile skin moisture barrier that can be easily damaged by external factors like pollution and UV rays. Skin consequently loses its ability to retain moisture, becoming easily dehydrated, feeling tight and uncomfortable. So, reach for a moisturizer that comforts and soothes skin.
WINTER SKIN CARE TIP #4. Slather on the broad-spectrum sunscreen
It's a common misconception that once the sun sets on summer, you can lay off the sunscreen. Not true! You can get burned even on cloudy days, which is why you should still layer a broad-spectrum sunscreen over your moisturizer in the morning. Schedule jam-packed? Consider using a moisturizer formulated with broad-spectrum sunscreen, like the L'Oréal Paris RevitaLift Bright Reveal Brightening Day Lotion SPF 30, which is also formulated with glycolic acid, vitamin C, and Pro-Retinol to help brighten the look of your skin.
WINTER SKIN CARE TIP #5. Use a humidifier
When your heat turns on in the winter, moisture is drawn out of the air. Using a humidifier can help put the moisture back in the air, which is good for your skin!
Now that you've officially shed your winter skin, it's time to take in spring in all its glory. To ensure your skin looks its best all season long, check out our article, 8 Hacks for Glowing Skin This Spring.
Discover more tips & tricks
Keep your skin happy
See all articles
Shop Featured Skin Care products
Discover More