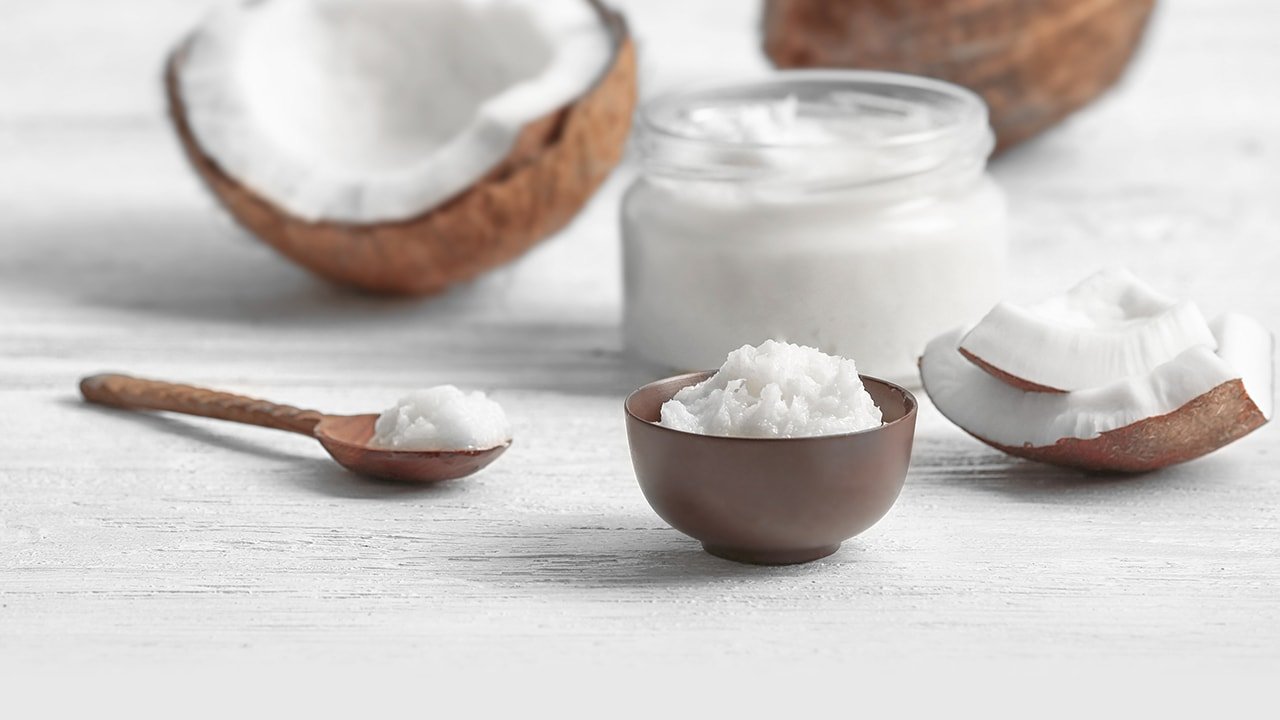 skin care essentials
How Does Coconut Oil Benefit the Skin?
If you keep up with trending ingredients in skin care, then you've almost certainly heard about coconut oil. Yes, the same fruit oil that you might cook your veggies in is also becoming known for its skin benefits. As such, coconut oil for the face is becoming increasingly popular and it has started to be a common ingredient in a variety of different skin care products, from facial cleansers and moisturizers to face scrubs and face mists. Keep reading to learn more about how coconut oil benefits skin, plus the best way to add it into your own skin care routine. Bonus: We're also sharing our best skin care products formulated with coconut oil!
WHAT IS COCONUT OIL AND WHAT ARE ITS USES FOR SKIN?
It isn't too difficult to determine what coconut oil is—it's oil that has been extracted from the coconut fruit. But how does coconut oil benefit skin?
According to the Harvard School of Public Health, coconut oil is comprised of mainly saturated fats (triglycerides), lauric acid, vitamin E, and proteins. To get even more scientific, coconut oil is actually 100 percent fat, and fat is made up of fatty acids like lauric acid. It's this quality that makes coconut oil such an effective moisturizer for skin and hair. According to research published by the National Institutes of Health (NIH), when applied topically, coconut oil has antioxidant effects, which could help support a healthy skin barrier. What's more? The same research found that coconut oil also holds promise in preventing signs of skin aging.
Additional research published by the NIH shows that coconut oil aids in significant improvement in skin hydration and an increase in skin surface lipid levels. Because of these coconut oil benefits, it can be used as an effective moisturizer to help with a variety of different skin care concerns, including dry skin.
As you can tell, the research on coconut oil and the skin is well documented, which is why it's become such a popular ingredient in skin care products. But which skin care products should you use in order to reap some of the moisturizing benefits of coconut oil? Keep reading to find out.
OUR BEST SKIN CARE PRODUCTS WITH COCONUT OIL
We wouldn't educate you on all of the many skin benefits of coconut oil, and then leave you hanging to figure out which products to use. Instead, we're sharing our best products formulated with coconut oil. Use them and prepare to say hello to more nourished, hydrated skin!
L'Oréal Paris Pure-Sugar Nourish & Soften Cocoa Scrub: This gentle yet effective facial scrub is formulated with three pure sugars plus nourishing coconut oil and rich cocoa butter. The scrub sloughs off dead skin cells and debris and keeps skin soft, smooth, and comforted. The result is nourished, hydrated skin that looks and feels healthier.
L'Oréal Paris True Match Lumi Shake & Glow Dew Mist: Just a few spritzes of this facial mist will prime and awaken skin, in addition to providing a boost of healthy hydration. Formulated with coconut oil, you can use this facial mist to hydrate bare skin, as a primer to help prep skin before makeup application, or as a setting spray to lock your final makeup look into place. Just shake to activate, then spritz over your skin.
We've covered the benefits of using coconut oil on your face—next, it's time to read up on aloe vera. Check out our article, Is Aloe Vera Good for Your Face?
Discover more tips & tricks
Keep your skin happy
See all articles
Shop Featured Skin Care products
Discover More