skin care essentials
The ABCDE's of Facial Creams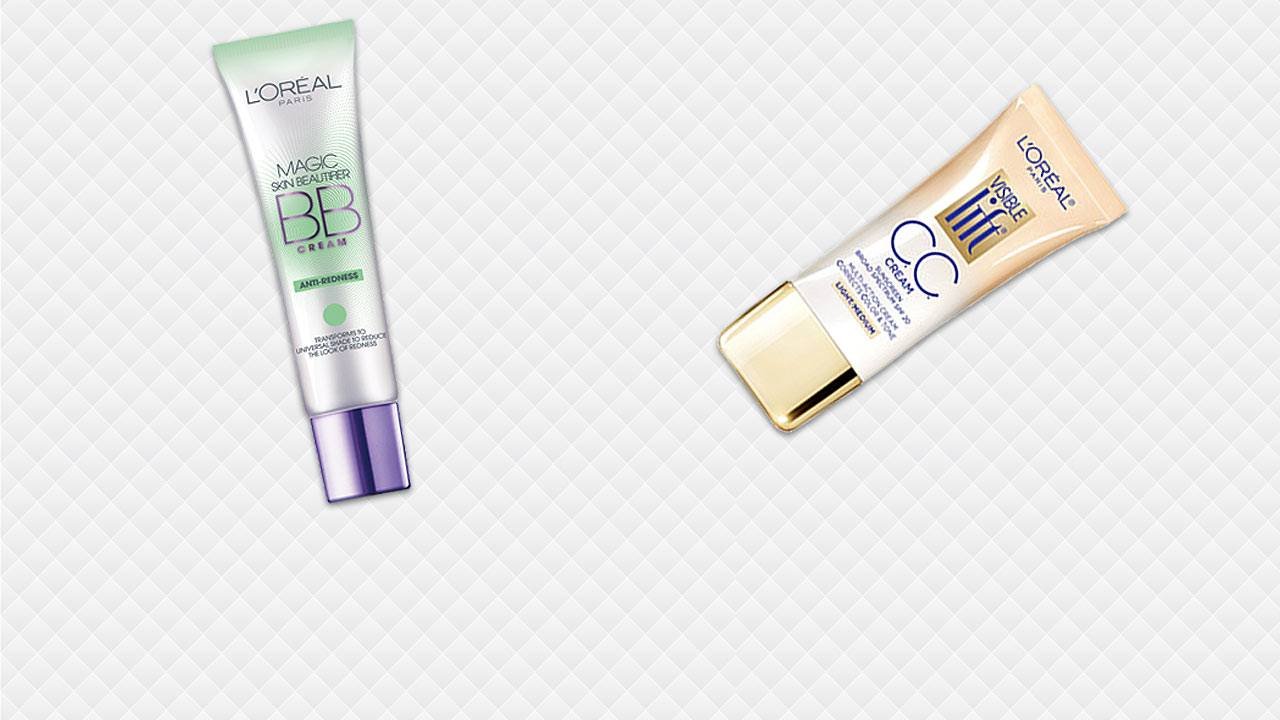 It's hard not to get confused with all the types of facial creams out there in the beauty world right now. There are BB creams, CC creams, DD creams, and yes, there could potentially even be EE creams in the future. It might feel like we're just spewing letters of the alphabets at you, but it turns out that each type of cream has a different function. Ready to learn your ABCDE's? Here's everything you need to know about these trendy facial creams.
What Is BB Cream?
The "BB" in BB cream usually stands for beauty balm or blemish balm. It's a hybrid skin care/ makeup product—essentially, it's makeup that has some skin care benefits. Think of BB cream like a souped-up version of tinted moisturizer. Its benefits can include anything from SPF protection to antioxidants to hydration to shine control. BB cream differs from foundation in that it's usually lighter in feel. Plus, the main purpose of a BB cream is to focus on things like hydrating, illuminating, mattifying, or protecting your skin rather than coverage (which is generally what a foundation is there to do). Applying BB cream is easy—all you have to do is use your fingertips to rub it across your face.
BB Cream Product Pick from L'Oréal Paris
Have redness you want to disguise? Try the L'Oréal Paris Magic BB Anti-Redness. The BB cream is initially green but transforms to a universal shade when you apply it to your skin to help reduce the look of redness. (Green helps to neutralize the look of redness since these colors are opposites on the color wheel.) In addition to diminishing the appearance of redness, this BB cream also helps to correct uneven skin tone and provide hydration.
What Is CC Cream?
CC Cream is a color correcting facial cream—and it takes the concept of BB cream a step further. As the name suggests, CC creams (the "CC" stands for color correcting) can help to cover up redness and other color-related skin issues like sallow-looking skin. While BB creams are typically lightweight and sheer, CC creams are usually a little thicker to provide heavier coverage. CC cream is also usually formulated with SPF. If you have areas on your skin you want to hide—or you just want to brighten the look of your complexion—a CC cream could be a good option for you.
CC Cream Product Pick from L'Oréal Paris
The L'Oréal Paris Visible Lift CC Cream is a great option for busy days, since it's formulated with broad-spectrum SPF 20. This CC cream is formulated with color capsules to help correct dullness and uneven skin tone. Plus, it also has five age-correcting actions: it reduces the appearance of dark spots, evens and corrects skin tone, nourishes the skin, and protects your complexion with SPF 20. In the mornings, take a dime-sized amount and apply on your entire face using your fingers.
What Is DD Cream?
And the trend continues! The "DD" in DD cream typically stands for "dynamic do-all" or "daily defense." While DD cream is meant to have the benefits of both BB cream and CC cream (such as sun protection), the main focus is on its anti-aging benefits. In addition to providing coverage, a DD cream can offer some anti-aging skin care benefits, such as reducing the look of wrinkles.
The Final Word on BB Cream, CC Cream, and DD Cream
These three types of facial creams can be a good option for anyone who's looking for a multitasking product that provides coverage and skin care benefits. For those days when you don't want to wear a ton on your face, a sheer, lightweight BB cream can be a good choice. For those days that you want a little heavier coverage, opt for a color correcting CC cream. And, if you're looking for a product that provides coverage along with anti-aging benefits, consider reaching for a DD cream.
Discover more tips & tricks
Keep your skin happy
See all articles
Shop Featured Makeup products
Discover More