skin care essentials
Our Best All-Over Skin Balm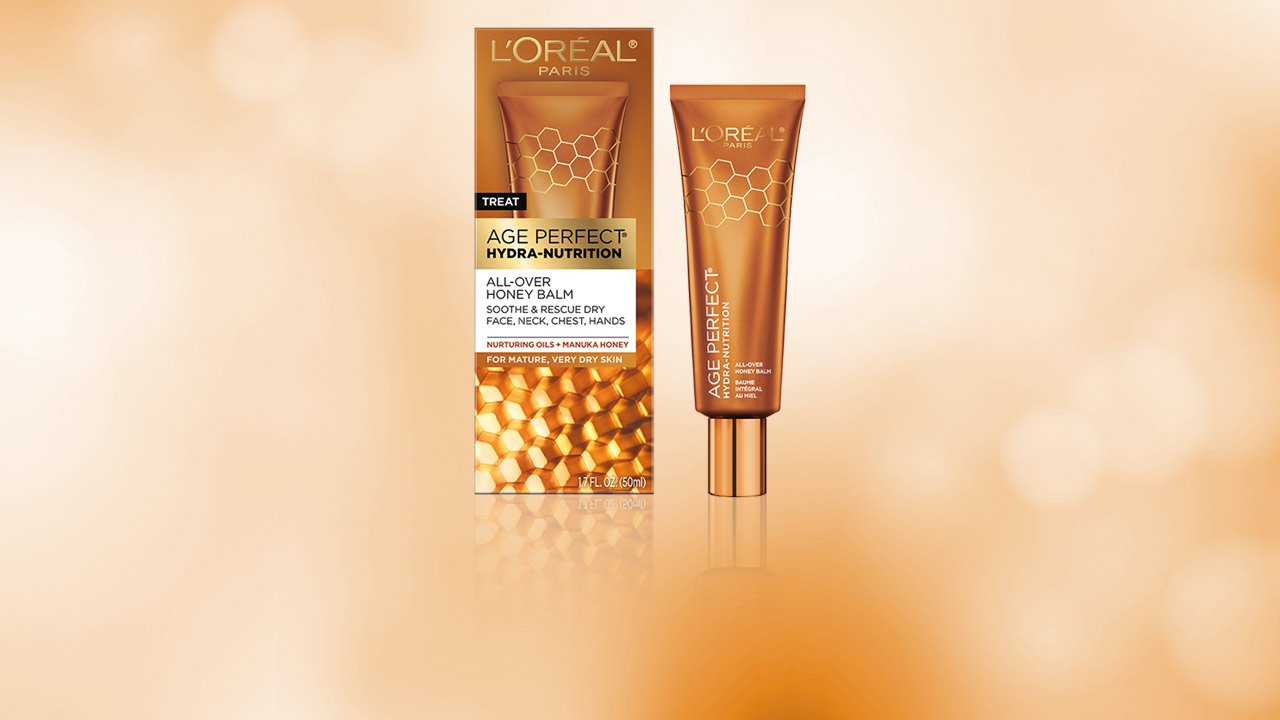 When it comes to your skin care routine, you most likely have skin care products like facial cleansers and face masks in your arsenal, but what about an all-over skin balm? While a facial moisturizer is a great way to hydrate your skin, its moisturizing formula may not be right for hydrating other areas where you experience dryness. Not to mention, sometimes your skin just needs a little extra TLC. That's when an all-over skin balm comes in handy. Here's everything you need to know about this must-have, multi-tasking moisturizer.
OUR BEST ALL-OVER SKIN BALM
If your skin seems as if it needs a little something extra in the moisture department, an all-over skin balm is the way to go! This type of hydrating balm can be used on areas other than your face, including your neck, chest, and hands. For a super nourishing balm, try the L'Oréal Paris Age Perfect Hydra Nutrition Manuka Honey All Over Balm - Face/Neck/Chest/Hands. This skin care essential is formulated for mature, very dry skin. The silky honey balm contains key ingredients including manuka honey, nurturing oils, calcium, and antioxidants. Even better? This balm smells as great as it feels with its indulgent, honey-inspired fragrance. After using, your skin will be softened, nourished, and appear more youthful, with a healthy glow.
HOW TO USE AN ALL-OVER SKIN BALM
Now that you know all about our best all-over skin balm, you're probably wondering how to incorporate this skin care product into your daily routine. We've got you covered! Here's a step-by-step guide on how to use it.
Step #1: Cleanse your skin
Just as with any skin care routine, you want to start by using a facial cleanser to wash away any impurities, excess oil, and makeup that may be on your skin. The L'Oréal Paris Micellar Cleansing Water Complete Cleanser - Normal To Dry Skin helps to remove all of the above while hydrating and soothing dry skin. To use, simply apply the product to a cotton pad and gently wipe it over your skin until you're completely clean.
Step #2: Use an exfoliating scrub
Exfoliating should be a regular aspect of your skin care routine—and that doesn't mean breaking out a face scrub once every few weeks. Three times a week, use a nourishing scrub like the L'Oréal Paris Pure-Sugar Nourish & Soften Cocoa Scrub, which will be gentle on your skin. The formula contains three pure sugars, finely crushed cocoa, coconut oil, and cocoa butter. After using this buttery-soft sugar scrub your skin will look more refined and feel softer and smoother. Apply a small amount to your face, then massage it over your skin with wet fingers before rinsing thoroughly with lukewarm water.
Step #3: Apply a face serum
To go the extra mile with your skin care routine, use a face serum. The L'Oréal Paris RevitaLift Derm Intensives 1.5% Pure Hyaluronic Acid Serum is a light-as-air gel serum with an intensive hydrating formula that contains 1.5% hyaluronic acid. Apply two to three drops to your face and neck in the morning and evening to be left with plumped, youthfully supple skin.
Step #4: Hydrate your skin
It's time for the star of the show. Reach for your all-over balm and smooth it onto your face in an upward and outward motion. Then, smooth the balm from your neck to upper chest until the product is fully absorbed. Use it every morning and night for extra hydration.
Bonus Step: Apply a night balm
For even more hydration, complete your routine with a nighttime moisturizer. The L'Oréal Paris Age Perfect Hydra Nutrition Manuka Honey Night Balm is a nourishing night balm that melts into skin for incredibly nourishing comfort. The balm can be used on your face, neck, and chest for firmer, stronger skin.
Want more dry skin tips? Head over to our article, Your Guide to Taking Care of Very Dry Skin.
Discover more tips & tricks
Keep your skin happy
See all articles
Shop Featured Skin Care products
Discover More