skin care essentials
9 Reasons Facial Oil Is Liquid Gold For Skin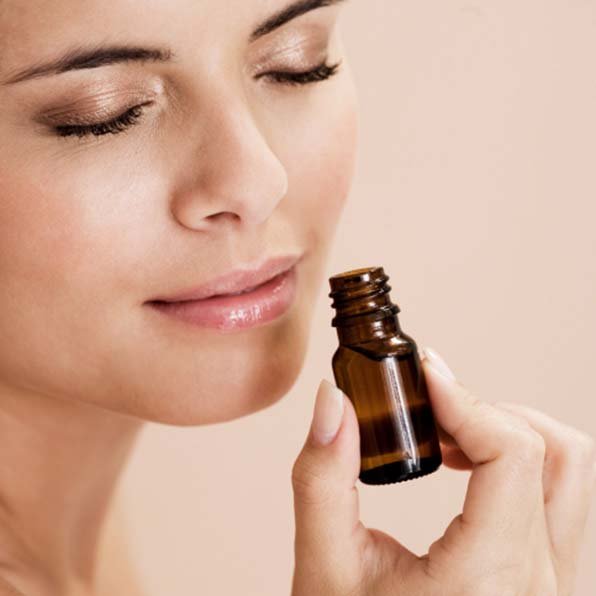 Dousing yourself in oil may seem like a counterintuitive and even archaic practice, but the results speak for themselves: Oil is a hero product for curing skin woes and giving you that coveted, luminous glow. From moisturizing to calming, there is an oil to suit every skin condition. If you're still dubious of facial oil's beautifying powers, here are nine reasons why oil is the new hero product.
1. Oils Regulate Oil Production Without Overdrying Skin
Though combating oil with yet another type of oil may sound like a losing battle, oils are a panacea for anyone with combination skin. Because your skin naturally produces oil through sebum glands, applying an oil to your skin will alert glands that adequate sebum has been produced and, therefore, curtail your skin's oil production. Look for oils with antibacterial, anti-inflammatory or astringent properties, like peppermint oil, rosemary oil, grapeseed oil or lavender oil, to treat overactive oil glands without incurring chapped skin.
2. Most Oils Are Naturally Derived, Which Is Beneficial for Sensitive Skin
As opposed to harsh chemicals and concoctions that contain a laundry list of enigmatic ingredients, oils are innately simple products. And for people with sensitive skin, the less complicated, the better in terms of skin care products. Hypersensitive-skinned actress Emma Stone admitted to Vogue in 2013 that her beauty mainstays include pure coconut oil and olive oil, as their basic consistencies keep her skin glowing and free of irritation.
3. Oils Are Potent Multitaskers
Along with serving their advertised functions, oils take on a host of additional roles. Numerous oils also possess antioxidant, antiseptic and medicinal properties, from pain relief to cough suppression. When you apply an oil to your face, you're essentially boosting your skin's defense mechanisms with one of nature's most powerful multitasking cocktails.
4. Oils Can Cleanse and Moisturize Simultaneously
If you believe tossing oil on your skin will only make it dirtier, think again. Oils are incredibly gentle and nourishing to use as a cleanser, a trick Madonna shares with her makeup artist, Gina Brooke.
5. Oils Give Your Skin an Instant Glow -- Without Highlighter
Though your daily skin routine may provide a solution for your immediate skin concerns, your favored products can easily strip skin of its natural glow if the ingredients are targeting an issue besides radiance. No matter the type, oil will restore your incandescence -- no highlighter needed. Swirling a few drops into your foundation or moisturizer will give you a lit-from-within appearance. Molly Sims' makeup artist, Nicole Bryl, blends a bit of vitamin E oil into the actress's foundation to produce a red-carpet-ready incandescence.
6. Some Oils Can Reduce Hyperpigmentation and the Appearance of Scars
Vitamin E and olive oil are commonly thought to possess the power to fade scar tissue. While the jury is still out in the medical community as to which oils, if any, are most effective at lightening scar tissue, scores of alternative medicine aficionados and former acne sufferers laud oils as the remedy to dark spots and scars.
7. There's an Oil for Every Skin Type
Oils aren't a one-size-fits-all product category; in fact, there is an oil to fit every skin type. Dry skin drinks in rosehip oil; coconut oil calms and heals combination skin; grapeseed oil de-slicks oily skin; and aging skin meets its match in sea buckthorn oil.
8. Oils Can Serve Double Duty as Aromatherapy
Nothing is worse than waking up with dull or congested skin and a medicinal-smelling cleanser or moisturizer. Luckily, oils such as lavender, chamomile and rose have been proven to calm your skin and your mind simultaneously. Miley Cyrus is a fan of beautifying oils with calming scents, including clary sage and lavender.
9. Oils Help Your Other Products Function Better
Much like exfoliating before slathering on sunless tanner, adding a dollop of oil to your skin prior to heavier treatments such as serum or cream will prime skin to receive those products and increase their effectiveness.
Discover more tips & tricks
Keep your skin happy
See all articles
Improve your routine
Show your new look more love:
makeup