skin care essentials
8 Carry-On Worthy Skin Care Products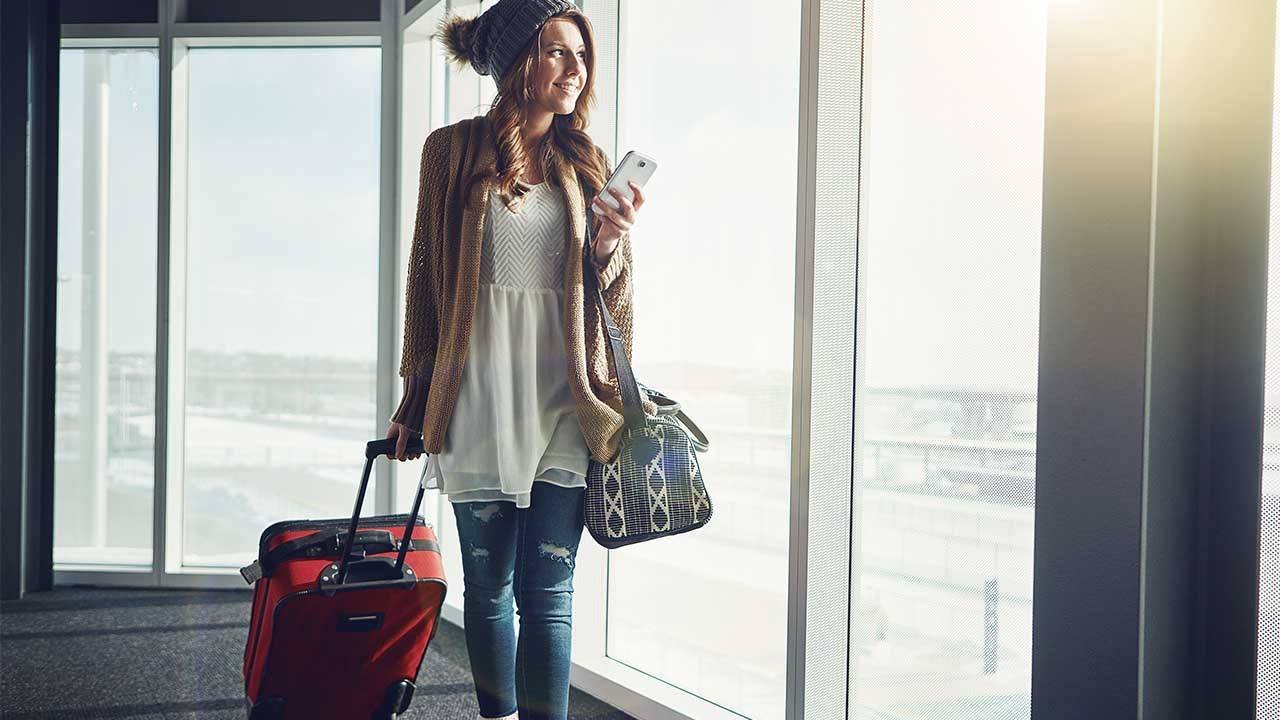 Your bags are packed and stowed away, your seat belt is fastened and your neck pillow is perfectly placed; you think you are ready for takeoff, but is your skin prepared for the flight ahead? The cabin pressure, low humidity, and recycled air may not only affect your body—it can take a toll on your skin, too, especially if you are in the air for hours at a time. No matter how well primed you are for your trip, your skin will need a little extra attention if you want to land looking—and feeling—your best. You may decide to leave behind your everyday arsenal that makes up your skin care routine, since traveling with full-sized bottles will not only add weight and bulk to your carry on, but may also be flagged by airport security if they contain more than 3.4 fluid ounces per item. However tempting it may be to lighten your load, you really do need to pack a few crucial skin care products to emerge from your flight looking rested and ready to embark on the rest of your trip. To make your must-have skin care products in-flight friendly, you can opt for travel-friendly options and make a few smart swaps in exchange for your typical facial cleansers and liquid-based items. So, before you board the plane, make sure your carry-on is stocked with these eight skin care products, including moisturizer.
Skin Care Product #1: Cooling Eye Cream
A long flight won't just make you feel tired, it can also make you look like you've been slacking on getting enough sleep. A hydrating eye cream with a cooling applicator will do wonders for perking up your under-eye area so you won't look like you're suffering from jetlag—even if you are. The good thing about eye cream is that they are already typically compact and easy to carry on—so you don't have to look for a travel size version. Try the L'Oréal Paris RevitaLift Triple Power™ Eye Treatment. It's formulated with hyaluronic acid to help surge your skin with moisture and can help reduce the appearance of under-eye bags thanks to the cooling applicator tip.
Skin Care Product #2: Ultra-Hydrating Moisturizer
Traveling via plane has its perks—but it can also fast track your skin to drying out. If you already have dry skin, you may experience extra tightening and flaking. If you typically have oily skin, it can become more prone to a breakout because of the abrupt change. Hence why you'll want to make sure your travel bag includes a hydrating moisturizer formulated with hyaluronic acid. Stick with an option that suits your skin type. Try the L'Oréal Paris Hydra Genius Daily Liquid Care for Normal/Oily Skin, L'Oréal Paris Hydra Genius Daily Liquid Care for Normal/Dry Skin, or L'Oréal Paris Hydra Genius Daily Liquid Care for Extra Dry Skin. Whichever moisturizer you decide on, deposit enough skin care product to last through your trip into a small travel container to make the moisturizer take up less space in your carry-on.
Editor's tip: Don't have time to run to the store for a travel container? Reuse a jar from a skin care sample!
Skin Care Product #3: Conditioning Lip Balm
Again, most lip balms are small, so they're easy to travel with and really can be a lip-saver when flying. Just like your cheeks, nose and forehead, your lips are more likely to become chapped and dry while flying. Swipe on some lip balm before takeoff and keep it handy so you can reapply as needed.
Skin Care Product #4: Facial Oil
Don't be afraid to take moisturizing to the next level when you're up in the sky. A great way to add extra nourishment while in the air is to apply a few drops of facial oil to your skin before takeoff. The facial oil can provide much-needed hydration to parched skin.
Skin Care Product #5: Makeup Remover Wipes
Not only are facial cleansers often too big to travel with, chances are you won't want to try to wash your face in an airplane bathroom—that takes serious talent. To cut down on the number of liquids you're traveling with and be able to cleanse your face sans sink, have a pack of makeup remover wipes on hand. Look for wipes with added benefits, like the L'Oréal Paris RevitaLift Radiant Smoothing Wet Cleansing Towelettes.
Skin Care Product #6: Brightening Sheet Mask
Use your time wisely while flying by indulging in a relaxing face mask. Before you doze off, pop a sheet mask on. Your seatmate may think you look silly, but they won't be laughing when they see how bright your skin still looks when it's time to deplane. It also doesn't hurt that sheet masks are super-easy to travel with, thanks to being lightweight and easy to apply. And don't just pack enough for the plane—take extras to use throughout your trip or share with your travel buddies.
Skin Care Product #7: Broad-Spectrum Sunscreen
A must-have for any day of the week, broad-spectrum sunscreen is definitely important to pack along with your other skin care products. Whether you are going somewhere where you'll be on the beach or on the slopes, UV rays can cause potential harm to your skin if not protected. Bring along a sunscreen with an SPF value of at least 30. If you're worried about over-packing, consider a moisturizer with SPF, like the L'Oréal Paris RevitaLift BrightReveal Brightening Day Moisturizer SPF 30. You'll even want to wear it while on the plane, because according to the Skin Cancer Foundation, UV rays can penetrate glass and cause damage even when you're inside. Make sure to take other sun protection measures as well, including limiting your amount of time during the sun's peak hours from 10 a.m. to 2 p.m., seeking shade when you're outside, and covering up exposed areas in long sleeves, pants, a broad-brimmed hat, and UV-blocking sunglasses.
Skin Care Product #8: Highlighter Lotion
Even if you won't have to confront paparazzi at the airport like a celeb, you may not want to step off the plane totally barefaced. In that case, keep a highlighter lotion in your carry-on. Try the L'Oréal Paris True Match™ Lumi Glotion Natural Glow Enhancer, which offers subtle illumination.
Now, you know what to toss in your carry-on to take care of your skin, but what about makeup for when you make it to your destination? You probably know what you'll need, but maybe not how to pack it. So, before you start jet setting, read up on How to Pack Your Makeup When You Travel.
Discover more tips & tricks
Keep your skin happy
See all articles
Shop Featured Skin Care products
Discover More