skin care essentials
5 Summer Skin Care Mistakes + How to Fix Them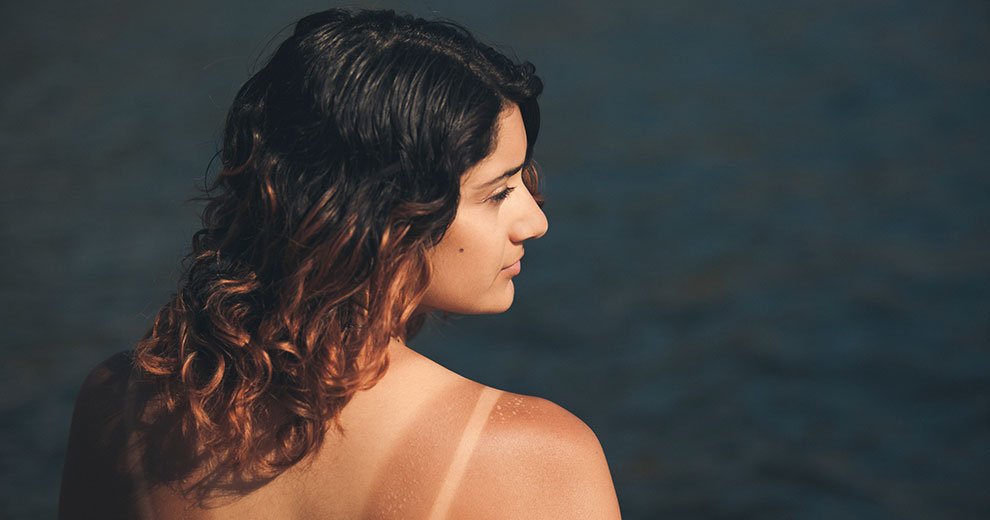 Summer can be the perfect time to relax, enjoy the outdoors and let go of some of your daily duties. But, while a vacation from work meetings and school drop-offs may be more than welcome, a break from your skin care routine can have lasting negative side effects. While you may think that most of your summer fun activities are harmless, the season and bad summer skin care habits can take their toll. But, there is good news, it's never too late to adjust your summer skin approach. As the beach days start to wind down try to correct these common summer skin mistakes so that you can end the season with not only great memories, but beautiful skin too.
Summer skin mistake #1: Tan lines and sunburns. The sun is down and it is time to put on your strapless dress for dinner, but the outline of the straps of your swim suit remain. An obvious giveaway that sunscreen doesn't top the list of your skin care priorities, tan lines and lobster-like complexions are two common skin care mistakes made by many, especially in the summer season. Whenever you spend time outside you should protect your skin from the sun's harmful rays by applying SPF with broad spectrum protection. Not only can the sun leave its mark with tan lines and sunburns, but it can also cause fine lines, wrinkles, age spots and even sagging skin to develop prematurely – and those signs of skin aging won't fade. Apply and reapply SPF as needed, wear wide-brimmed hats while lounging outside and seek shade when you can to avoid any more lines and burns this season.
Summer skin mistake #2: Shiny, oily skin. It can be hard to avoid a shiny face and oily skin when it is hot and humid outside. Get and keep a shine-free face throughout the day by prepping your skin with a gentle, non-drying toner before cleansing in the morning. Try washing your skin with a foaming or gel-based cleanser and stick with lightweight serums and lotions for daytime. You can also carry blotting papers with you in your purse or beach bag so that you can touch up areas with excess oil as needed.
Summer skin mistake #3: Breakouts & blemishes. If you typically have clear skin, but seem to have been experiencing more breakouts than usual this season it could have something to do with the beauty and skin care products you have been using. Some beauty and skin care formulas may be more likely to clog your pores than others, especially when your skin is experiencing more oil and sweat than usual. Try to look for non-comedogenic sunscreens, moisturizers and makeup that are formulated to not clog your pores. You can also give your summer skin a little break from heavy makeup and spend a few days with a fresh face to further help your skin regroup.
Summer skin mistake #4: Dry, rough elbows, knees and feet. Your face may not be the only summer skin area in trouble; days spent in chlorinated pools and walking barefoot on rocky sand can cause other areas to become rough and dry too. Encourage beautiful skin from head to toe for the rest of the season by washing your skin with tepid, never hot water, exfoliating rough areas and moisturizing with rich body creams.
Summer skin mistake #5: A dull lackluster complexion. While oily skin may be a summer skin concern for some, others may experience dry, dull skin and a lackluster complexion. This could be because your skin has become dried out by so much exposure to the sun and water this season. You may have also been too busy having fun to fit in regular exfoliation. If dead skin cells are not removed regularly, they can pile up and cause your skin to look dull and feel dry. Consider dissolving away this dullness by exfoliating with a pre-soaked glycolic acid peel pad. This chemical exfoliation method will remove dead cells from your skin's surface and reveal bright, younger cells that were buried underneath.
It's never too late to correct bad skin care habits and mistakes, take care of your summer skin in the weeks left and maintain its beauty for the seasons ahead.
Discover more tips & tricks
Keep your skin happy
See all articles
Shop Featured Skin Care products
Discover More